Kosovo Says NATO, EU Risk Repeating Ukraine Mistakes in Balkans
Kosovo's foreign minister warns: "We can read the writing on the wall"
"There might be a second misjudgment of a major security threat"
"The West came too late in Eastern Europe, in Ukraine"
Kosovo's foreign minister told Newsweek she believes Russia might seek to foment conflict in the Western Balkans to draw attention away from its devastating invasion of Ukraine and gain leverage over the West.
Donika Gervalla-Schwarz said Western allies acted too late on Ukraine, which is now in the grip of a war that threatens European security, and that they risk repeating the same mistakes by not heeding Kosovo's warnings about Russia and Serbia in the Balkans.
She said a permanent NATO presence in Kosovo and fast-tracking the country's alliance membership bid are vital steps in pre-empting malign Russian action in the troubled region, which the minister claimed might be facilitated by Moscow's allies in Serbia.
"That is the most important lesson of the development of [President Vladimir] Putin to the monster he now is: The West let it go for too long, let the danger grow instead of taking the right steps early enough," Gervalla-Schwarz said. "That is why we will continue engaging our allies in no longer looking the other way and taking quick and swift actions."
She continued: "Frankly speaking, we understand the situation in the region much better than some of our allies.
"We can read the writing on the wall. Unfortunately, many observers have been of the opinion that they know our house better than we do. That can be fatal, as Bosnia and Herzegovina, Kosovo, Georgia, Crimea, Ukraine, and other places have proven time and again."
Kosovo is pushing ahead in its goal of NATO membership, hoping the alliance can protect the Balkans from a return to the conflicts that devastated the region in the 1990s.
But only 26 of 30 NATO members recognize Kosovo, meaning it would not have the unanimous support needed to join the alliance. Its lack of international recognition means the country also does not have United Nations membership.
Last week, Kosovo's parliament requested that the government "take all necessary steps to join NATO, European Union, Council of Europe and other international organizations."
Gervalla-Schwarz told Newsweek her government still hopes for success despite the lack of full international recognition and that Kosovo is "making significant progress" in meeting NATO's membership criteria.
Like Bosnia and Herzegovina, Kosovo sees an opportunity in the chaos sown by Russia's latest attack on Ukraine.
"Now we are seeking the fast track for a real reason: We have all woken up in a totally different security environment since Russia's aggression has been proven not to stop short of invasions of neighbors," Gervalla-Schwarz said.
Serbia has long been sympathetic to Moscow, juggling this traditional partnership with its ambition to become a member of the European Union. Belgrade and President Alexander Vucic will have won few friends in the bloc with the decision not to join with the unprecedented sanctions imposed on Russia following its aggression against Kyiv.
Kosovo declared independence from Serbia in 2008. Ever since, Pristina and Belgrade have been stuck in a tense diplomatic confrontation that at times has threatened to spill over into renewed conflict.
Pristina blames Serbia for stoking tensions among Serb minority communities in Kosovo and Bosnia and Herzegovina, allegations Belgrade denies.
Even mundane bilateral issues carry the risk of war across the Kosovo-Serbia border. A dispute over license plates last year prompted Belgrade and Pristina to send security forces to the frontier and led to attacks on government offices in Kosovo's capital.
Russia's ambassador to Serbia traveled to the border to show Moscow's support. Belgrade has also significantly expanded its purchase of Russian weapons in recent years, in a move the U.S. has warned could harm Serbia's EU ambitions.
Gervalla-Schwarz noted that Kosovo last year expelled Russian diplomats for fear the officials were engaged in destabilizing activities.
"We are closely observing attempts to stage so-called false flag operations in order to create a false story which could serve Serbia and its ally Russia to militarily intervene in our country," the minister said.
"We need to be clear about it: Serbia and Russia have both been stepping up their aggression in words and deeds for quite some while. The head of Russia's FSB secret service has just visited Belgrade after the invasion of Ukraine; surely, he was not there to have coffee.
"The stakes are getting higher without any doubt. NATO has to react in a way that does not send the wrong signals to Moscow. If we continue to stay mute or to play down the threats it might invite Putin and Vucic to go for more."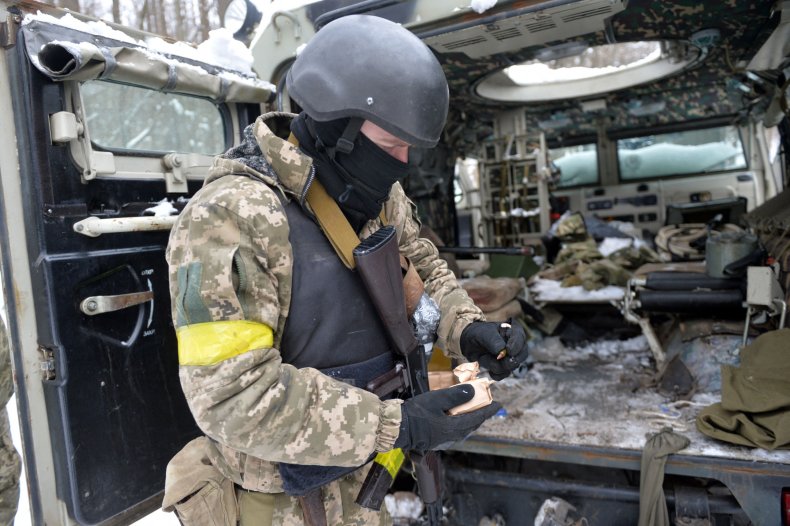 Kosovo's frustrations with Moscow and Belgrade are not new. But Gervalla-Schwarz said they should be re-evaluated by Western backers in a radically changed security landscape.
"It is obvious that the Russian aggression against a sovereign neighbor has fundamentally redrawn the security map of Europe," Gervalla-Schwarz said.
"And Serbia and Russia might not stop there; they might attempt to create a second front inside NATO and EU geography, in order to keep us busy and partly distract resources from the struggle against Putin's warfare in Ukraine."
She warned NATO and EU members not to repeat the same mistakes that meant few decision-makers properly prepared for war in Ukraine. The Balkans, she said, must be handled better: We do know the risk of escalation better than short-term visitors and faraway desk officers."
Gervalla-Schwarz accused Vucic—who served as information minister under Serbian President Slobodan Milosevic while he committed genocide in the 1990s—of "saying one thing but doing another," courting the EU but working with Moscow.
"We are warning our partners and allies about these dangers here on the ground," she added, noting that Pristina has received support from Turkey, Croatia, Albania, and politicians in the U.S. and other NATO nations.
"These are no empty warnings. Taking time to play these events down and go along with traditional diplomacy is no longer appropriate, if it ever was in the first place. We need to take their words and actions seriously.
"We are warning that there might be a second misjudgment of a major security threat. Preventing a war by sending strong military signals beforehand is key for NATO after the collective misjudgment of events leading up to the war against Ukraine."
Kosovans, she said, would also fight: "Our partners and allies should not miscalculate...Kosovo would not sit idle if Serbia would try to make an incursion into the north of our country.
"The people and the government of Kosovo would defend our citizens, our sovereignty, and our territory, if necessary. For sure we do not want to see that happening and we issue warnings because we want to prevent this. But we need to look the danger in the eye."
The West taking action early, quickly, and boldly, she said, "will signal Belgrade and Moscow that there is no way to even think about escalation or even conflict in the Balkans."
The foreign minister said she sees encouraging signs from the West: "The shock and awe of Putin's brutal aggression have not only stiffened the backbone of NATO countries. The EU is also changing and developing."
She continued: "We need to get the recognition of Kosovo not only for Kosovo anymore. It is a prerequisite for stabilizing the new security order in Europe, in light of risks that Putin will try to open up new fronts with the West.
"In his and in Vucic's eyes, Kosovo is still up for grabs. Only bold steps from EU and NATO members will put an end to that security risk."
The West, Gervalla-Schwarz said, must quickly learn the lessons from Ukraine even while that war rages: "The West came too late in Eastern Europe, in Ukraine...Ukraine has proven one fundamental thing: Ignoring a real risk or playing it down does not prevent it from materializing...Concrete steps are needed. That is why we are asking for these steps. We want to prevent another war."
Serbia's Deputy Foreign Minister Nemanja Starovic told Newsweek that Belgrade fully supports Ukraine's territorial integrity and "is committed to preservation of peace, stability and tranquility throughout the region."
He warned that this peace will be threatened if Kosovo continues its push for NATO admission, but added that his government "has reiterated many times before" that its fight for "territorial integrity" will be conducted diplomatically and lawfully.
Starovic added that Serbia renounces "any kind of unilateral measures or, God forbid, violence."
The Serbian minister accused Pristina of having "resorted to unilateral measures and unprovoked violence both in September in October last year, breaching previously made arrangements providing for non-deployment of armed forces in Serbian majority areas in the north of Kosovo and Metohija," referring to Kosovo by the name used when the area was an autonomous part of Yugoslav Serbia.
Serbia is an active participant in NATO Partnership for Peace program, Starovic noted, and attaches "great importance to our close cooperation with the Alliance, especially having in mind that NATO KFOR mission represent the only legitimate armed force in Kosovo and Metohija responsible for security of all our citizens living in the province."
Starovic added: "Portraying our country as someone's tool, being that Russia or any other great power, is a deliberate distortion aimed at achieving some short-term political goals."
He said Serbia believes the whole of western Balkans should become part of the EU and "recent tragic events in Ukraine only highlight the need for the EU enlargement in our region to gain momentum."
But Starovic also said Serbia strongly opposes Pristina joining NATO "because it would only further legitimize unilateralism and disrespect for international public law."
He continued: "Unilateral declaration of independence of Kosovo and Metohija back in 2008 set a dangerous precedent and opened a Pandora's Box, which we foresaw and [forewarned] at the time, but became obvious to many only now."
Starovic noted that four NATO member states—Spain, Greece, Romania, and Slovakia—opposed Kosovo's "unilateral declaration of independence" and still do not recognize it as an independent state.
"With that in mind, Pristina's [bid] to join NATO remains unfeasible, but raises concern about potential new unilateral measures, which they might find convenient in present circumstances and which they should be warned against," he said.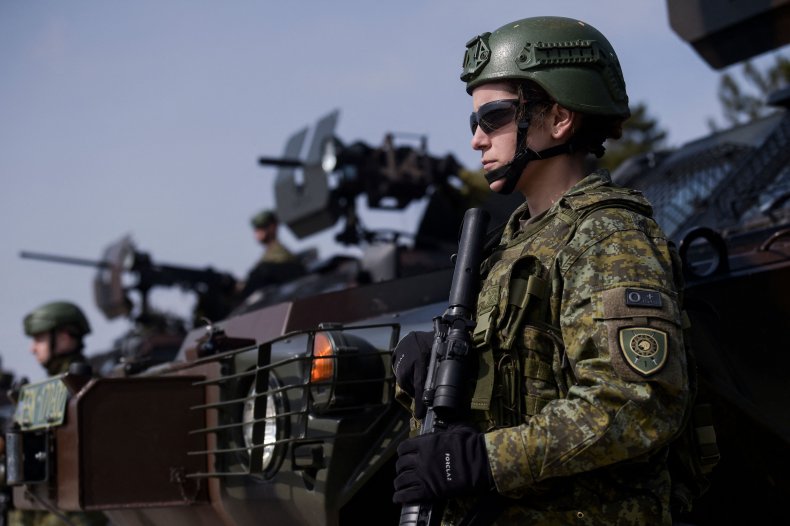 Updated, 3/9/22, 5:52am ET: The headline of this article was clarified.