As Russia's Balkan Allies Toy With War, Kosovo Banks on U.S. Protection
Kosovo's foreign minister says U.S. is the country's "life insurance"
EU has not been "serious enough in preventing conflicts and it has lost significant authority"
But EU source said Kosovo "should first of all focus on what Kosovo has to do"
Kosovo's foreign minister has called on U.S. President Joe Biden and his European allies to do more to prevent the Western Balkans from sliding back into ethnic conflict, accusing the latter powers of losing credibility and authority in the region.
Donika Gervalla-Schwarz said in an exclusive interview with Newsweek that Russia and its regional allies—particularly in Serbia and Bosnia and Herzegovina—are exploiting European Union hesitance and stoking the same ethnic divisions that dragged the Balkans into brutal violence in the 1990s.
She suggested such a shift is opening the door for greater Russian and Chinese influence in the heart of the European continent.
"By widely ignoring the rising risks the EU has lost—and is losing day by day—credibility and authority in the Balkans," said Gervalla-Schwarz, the daughter of Kosovar-Albanian activist Jusuf Gervalla who was assassinated, allegedly by Yugoslavia's secret police, in Germany in 1982.
"On one hand, they have what they call EU methodology in opening or not opening accession talks with countries of the Balkans. But on the other hand, the EU is not serious enough in preventing conflicts and it has lost significant authority by strictly avoiding addressing the aggressive bully of the Balkans," Gervalla-Schwarz added.
"Quite obviously this is Serbia who behaves increasingly aggressively to at least three neighbors; namely Kosovo, Montenegro, and Bosnia-Herzegovina," she said, accusing Serbian President Aleksandar Vucic of willfully elevating tensions.
Biden's expertise in Balkan affairs could be vital in easing regional tensions, Gervalla-Schwarz said: "The United States is for the Republic of Kosovo its guarantee, its life insurance."
"We know that Kosovo has a true and reliable friend in the White House, who has known Kosovo since the 1990s and who has been very supportive throughout our difficult journey to freedom and independence."
Gervalla-Schwarz also dismissed any suggestion that the White House is cooling on Kosovo's Prime Minister Albin Kurti, whose administration was reportedly initially left off the guestlist for Biden's Democracy Summit. The nation's President Vjosa Osman eventually did receive an invitation.
"It's on us to convince our friends and allies about the steps we are taking in various fields," Gervalla-Schwarz said. "But there is no doubt, and there should be none; the United States is standing very strongly on our side."
A State Department spokesperson told Newsweek that all Democracy Summit invitations were delivered and announced on the same day; 12 November.
"We want to engage, encourage positive change, and learn from shared experience," the spokesperson said. "We look forward to the commitments Kosovo will bring to the Summit and to working with the government, civil society, and all the people of Kosovo on implementing these commitments."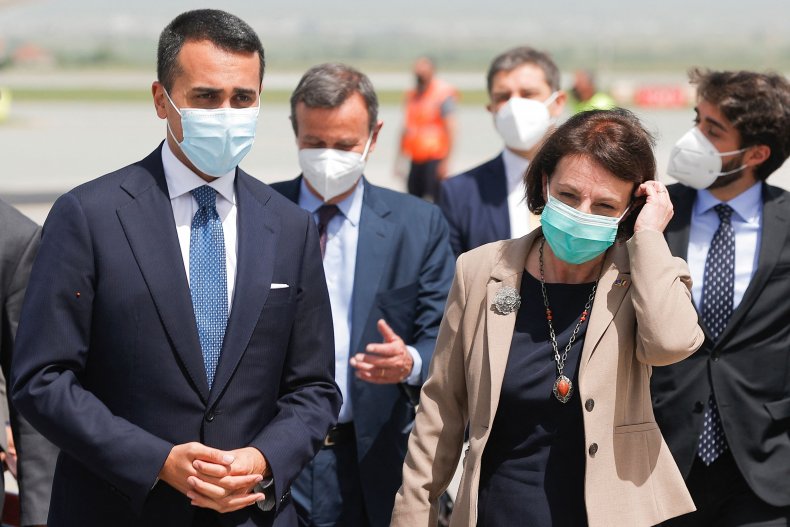 When Kosovo declared independence from Serbia in 2008, its majority Albanian communities—making up more than 90 percent of the population—were largely in favor despite protests by the small Serb minority, which makes up less than 2 percent of the population.
To date, 117 countries recognize Kosovo. These do not include Serbia, Russia, or China.
Without mutual recognition, long-running disputes can quickly spiral. Recently, troops were put on high alert on both sides of the Kosovo-Serbia border due to a dispute over license plates.
Since Kosovo declared independence, Serbia has demanded that cars crossing the border from Kosovo must display Serbia-issued license plates. Earlier this year, Kosovo pushed for parity, blocking Serbian vehicles from entering Kosovo unless they displayed license plates issued by Pristina.
Thousands of ethnic Serbs protested at the border, furious at Kosovo's perceived attempt to legitimize itself as an independent state. Grenades were thrown, the Kosovo vehicle registration office was set on fire, and Serbia deployed special forces to border checkpoints.
"We are very worried because the language in Serbia has changed a lot," Gervalla-Schwarz told Newsweek. "There have been times when you could have the impression that Serbia is trying to have better relations with all its neighbors. But that has changed in recent years under President Vucic. Serbia is now openly threatening neighbors with war."
In Bosnia and Herzegovina too, Gervalla-Schwarz accused Serbia of sowing unrest. There, Serb presidential representative Milorad Dodik is threatening to blow up a multi-ethnic power-sharing deal and withdraw the Republika Srpska—the Serb-dominated entity making up one part of Bosnia—from national institutions, including the armed forces.
"We are really concerned about what might happen there in January 2022 on the occasion of the 30th anniversary of the creation what they call the Republika Srpska, which was in fact founded on genocide," Gervalla-Schwarz said.
"Serb nationalist leader Milorad Dodik has threatened to split this entity from the rest of Bosnia. Every observer knows that Dodik is backed strongly by Serbia and Russia, and that this trio has paralyzed the functionality of Bosnia as a state for decades now."
"I'm wondering if and how the international community will react. If there will be lack of will and of clear demands to Dodik and Vucic, the West can be sure that the language and the aggressive policy in Serbia will not change, and that the 9th of January—which marks a highly symbolic 30 years since the founding of the Republika Srpska—might become a day that might change the whole Balkan region."
The Serbian Foreign Ministry told Newsweek it rejects any accusation of aggression or stoking regional ethnic divisions.
"There is no one in the Western Balkans more vested in preserving peace, stability and tranquility than the Republic of Serbia," a ministry spokesperson said.
"We have, unfortunately, seen since September several rounds of dangerous escalation in the north of Kosovo and Metohija," the spokesperson added, referring to Kosovo by the name used when the area was an autonomous part of Yugoslav Serbia.
"None of them was initiated by Serbia or local Serbian population, but solely by unilateral and unprovoked violent actions of the militarized units of Kosovo Albanian police."
Russia in the Heart of Europe
Gervalla-Schwarz said Russian influence was clear along the Kosovo border and claimed that Serbia's traditionally close ties with Moscow could pose a threat to collective European security.
"They had MiG-29 fighter aircrafts flying close to our border, and the Russian ambassador showed up along with the Serbian defense minister to express his support for that military threat," Gervalla-Schwarz said of the recent license plate standoff.
"It's not Serbia alone. Through its proxy Serbia, Russian presence is very, very close to our border."
Russia's influence is increasingly obvious in Serbian arsenals, too. Belgrade increased its weapons spending by around 70 percent between 2015 and 2021; Russia and its allies in Belarus have provided 10 MiG-29 fighters, some 30 tanks and other armored vehicles, and several helicopters.
Vucic has dismissed concerns about Serbia's armament program. "If anyone thinks that we should ask the U.S. or the EU to decide about our weapons, let's abolish our state," the Serbian president said at the opening of an October arms fair in Belgrade.
NATO's 3,800-strong Kosovo Force—known as KFOR—remains a vital bulwark against cross-border tensions, Gervalla-Schwarz said: "Our people can sleep well only because of KFOR's presence.
"Otherwise we would not feel safe at this moment: when arms and troops are becoming more and more prevalent, when Russian support and [distraction] via Serbia in the Balkans is becoming more and more prevalent. Not to mention the aggressive attempts of distortion by Russian media and other Russian activities in the Balkans."
"It's not a good idea for Vucic and Putin to increase aggression because of these NATO KFOR troops."
But KFOR is in Kosovo to guard against conventional military threats. The small force is not equipped to handle the hybrid and information warfare that has become a routine part of low-intensity conflicts between the world's great powers.
"Our options are quite limited," Gervalla-Schwarz said, though claimed such efforts have limited impact "because our people know what Putin's Russia stands for."
"Much bigger nations in the European Union have suffered from that hybrid propaganda by Russia for quite some time now. Its effects on Western democracies are measurable. In our case, we are quite effective in preventing Russia and Serbia from harming our country. But that's different in other parts in the Balkans."
"Serbian and Russian media propaganda are quite sophisticated. We are confident but a small country like ours cannot stop alone this digital war of fake news, bots and hacking attacks. We Europeans need to unite and defend in the fight against these aggressive acts."
Serbia's Foreign Ministry told Newsweek its arms purchases are defensive in nature, and rejected any suggestion it was involved in disinformation campaigns or other hybrid warfare methods.
"The Republic of Serbia is a militarily neutral country, as provided in resolutions adopted by our National Assembly and preferred by the overwhelming majority of our citizens," the ministry said.
"That doesn't mean that we consider NATO or any other military alliance our enemy or even rival. However, since we are not part of any system of collective defense, we have an unshared responsibility to provide security on our own behalf.
"That is why we engage in modernization and equipment of our armed forces in cooperation with various international partners, from Russia and China, to France, Spain and United Arab Emirates, unconcerned with geopolitical restraints.
"In fact, the equipment we are acquiring from Russia is exclusively defensive. Our armed forces serve a common purpose to dissuade potential aggressors and do not represent a threat to any of our neighbors."
The spokesperson continued: "We are not engaged in spreading disinformation about the situation in Kosovo and Metohija, not just because we find such conduct unethical and ineffective, but also because we do not have a need for it with a plethora of real-life facts that wait to be presented to an international audience."
Kosovo, the Serbian Foreign Ministry said, is blocking the return of Serbs who fled fighting in the 1990s and early 2000s, and refusing to implement provisions of the 2013 Brussels Agreement, designed to normalize ties between Belgrade and Pristina.
"It is convenient to distract attention from such major failures by some made up geopolitics," the foreign ministry said. "This brings to mind the famous line of Samuel Johnson aimed at refuting false patriotism, yet in this case Albanian leaders in Pristina are using geopolitics as their last refuge."
The Russian Foreign Ministry—which does not recognize Kosovo as an independent state—declined Newsweek's request for an on the record comment on accusations it is stoking tensions in the Western Balkans.
In October, Foreign Ministry spokesperson Maria Zakharova blamed Kosovan "agents-provocateurs" for tensions along the Serbia border, accusing Pristina-aligned agents of "perpetrating disgraceful, absurd and, to some extent, aggressive acts."
In another briefing, Zakharova said Kosovan forces were engaged in "aggressive plans" to clear Serb areas of non-Albanian residents "by creating unbearable conditions of existence for them."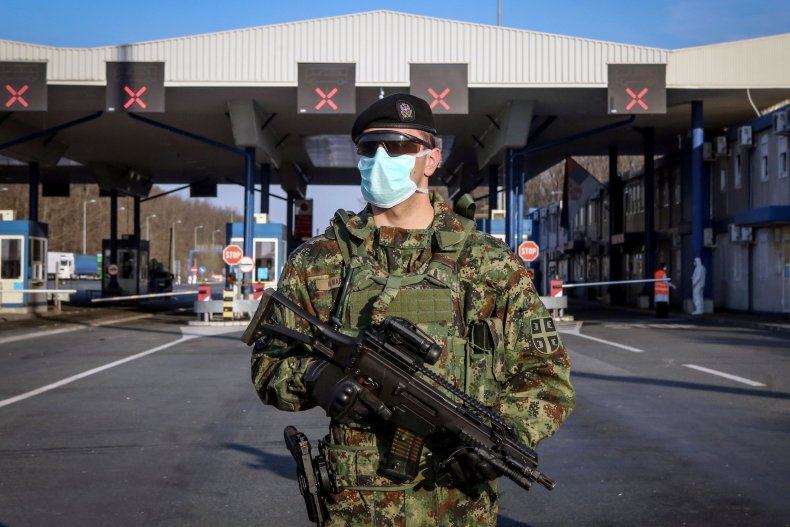 The Biden administration vowed to be tough on Russia, particularly on the hybrid and disinformation operations that have undermined American and other Western democracies in recent years.
A State Department spokesperson told Newsweek the U.S. "is proud of our longstanding support for Kosovo's sovereignty and its development as an independent, multi-ethnic democracy, as well as for Kosovo's reforms in support of its goals of peace, prosperity, and deeper European and Euro-Atlantic integration."
"It is clear that Russia does not support the strategic objectives that Kosovo and the other countries in the Western Balkans have laid out for themselves," the spokesperson added.
"In Kosovo, as well as in the Balkans region more generally, we are concerned that disinformation from Russian and other sources is destabilizing and risks further enflaming tensions."
The Rocky Road to Brussels
As Western Balkan nations play the blame game, the EU and U.S. are trying to increase their regional footprint, wary of growing Russian and Chinese influence there.
China, in particular, has been pouring money into the region, supporting major infrastructure projects as part of its Belt and Road Initiative. Serbia has been central to this push, and Belgrade and Beijing are deepening political and economic ties.
Like Russia, China does not recognize Kosovo's independence.
"In Kosovo you will find neither Chinese nor Russian investments," Gervalla-Schwarz said, though noted that the broader region is becoming a theater for the showdown between liberal democracy and authoritarianism.
"It is not the first time that we are in the crosshairs of a clash of major competing powers. What's really needed is that partners who are standing for true democracy need to identify and support their really reliable partners in the Balkans. And they should make their support more visible."
South-eastward EU expansion is one way to do this. Kosovo, Serbia, and their neighbors are all on the path to EU membership, but the process has been slower than hoped. For some, EU hesitance at Western Balkan expansion is further evidence that the region is not Brussels' priority.
In September, while visiting Bosnia and Herzegovina, European Commission President Ursula von der Leyen sought to ease concerns about the delayed membership process.
"Bosnia and Herzegovina, and all the Western Balkans, belong in the European Union," she said at a stop at the opening of the Svilaj bridge connecting northern Bosnia to Croatia. "It is in our common interest, but I also believe it is our destiny."
And in October, European Council President Charles Michel told an EU-West Balkans summit in Slovenia that "this region is of strategic importance to the EU." The bloc also pledged an additional $9 billion for the region as part of a new development and investment plan.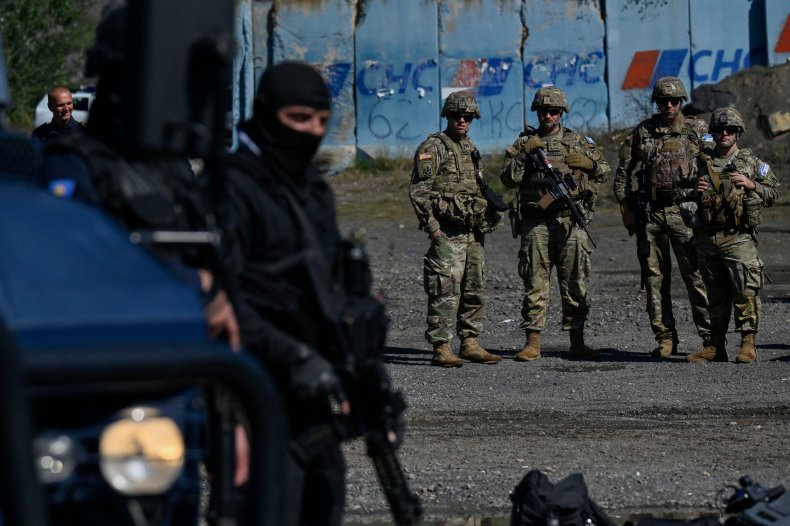 But not everyone is convinced. "The truth is that for decades now, the Balkans has not really been a focus of the European Union," Gervalla-Schwarz said.
"But in fact it's a very natural part of Europe—if you look at a map, you see that the Balkans are an integral part of the European continent, a kind of an island surrounded by EU and NATO. So thinking you just could ignore the Balkans and that might work out well for EU and NATO has proven to be rather naive."
Kosovo and Serbia have shared EU ambitions, but Pristina is accusing Belgrade of duplicity. "For the vast majority of our people, Vucic—who appears to be a partner for some in the EU—is just Putin's puppet."
"Russia has moved quite close to, and partly into, the EU via its proxies. That development does not only pose a threat to Kosovo, but to the EU as a whole. And some EU countries do not see that threat as clearly as they should."
"So far, the Serbian government and its allies are cheating on the EU. On one hand, they are pretending they want to join the EU, and for that they get billions of Euros from the EU. On the other hand, they are playing the EU. They have entered dangerous cooperation with China, Russia, they even buy weapons from Russia and China."
"Our view is clear here: you simply can't have it both ways."
"It's unclear if it's naivety from the side of the EU or if might they really plan to get Serbia on board by pumping billions into Serbia and looking the other way when violations of core European values like democracy, rule of law, and other important criteria are taking place."
Peter Stano, the lead spokesperson for EU external affairs, told Newsweek the bloc maintains "regular communication and appropriate channels both with Kosovo and Serbia or Bosnia and Herzegovina to deal with all the issues related to their relations with the EU and their European path."
"There can be no question about EU's commitment to Western Balkans in general and to our individual partners there specifically," Stano added. "No one invested more energy and resources in the region than the EU in order to help them with the transformation process, reforms and advancing towards the EU."
A senior EU official who did not wish to be named told Newsweek: "Everyone, including the Kosovo foreign minister, is entitled to their opinion and assessments, even if they might not reflect the reality.
"The representatives of Kosovo should first of all focus on what Kosovo has to do instead of investing their energy in talking about Russia, Serbia, etc.
"Right now, we expect from Kosovo that they really engage constructively in the EU-facilitated dialogue on normalization of relations with Serbia, since lately we have seen very little constructiveness there from Pristina."
Serbia—along with Montenegro the most advanced of the Western Balkan states in its EU accession journey—said bloc membership "is the most important foreign policy goal of Serbia."
"As we are moving towards it, being an EU candidate country in an advanced stage of membership negotiations, we are gradually increasing the level of alignment of our foreign policy with the common foreign and security policy of the European Union," Serbia's Foreign Ministry told Newsweek.
"Our relationship with the Russian Federation is marked by historical and cultural ties, pragmatic cooperation and mutual support in the international arena," the spokesperson added.
The Serbian Foreign Ministry said it was committed to political compromise with Kosovo, "however painful and complicated to reach it may be."
"We are fully committed to dialogue and renounce any imposed solution aimed at some binary outcome resembling a zero-sum game," the spokesperson said.
"The Kosovo and Metohija conflict has very deep historical roots, but it almost exclusively concerns Serbs and Albanians inhabiting the province and it is definitely not part of some grand geopolitical scheme.
"However convenient for some it may be to imagine a geopolitical divide, just for the sake of presenting themselves standing on 'the right side,' that kind of divide simply doesn't exist in our region."
The U.S., too, is looking to increase its influence in the region and pull feuding nations West. American engagement in the Western Balkans is a bipartisan goal, and former President Donald Trump's administration was lauded for his success in securing an economic normalization deal between Pristina and Belgrade in 2020.
Still, the agreement did not include Serbian recognition for Kosovo, which remains the most significant hurdle to true normalization and cooperation.
The State Department spokesperson told Newsweek the Biden Administration will chart a similar path: "Secretary Blinken has made clear that we intend to build upon the progress the prior administration made in the Balkans; he specifically applauded the prior administration's efforts to normalize relations between Kosovo and Serbia.
"The United States remains convinced that a comprehensive, binding normalization agreement between Kosovo and Serbia, that lays the foundations for lasting cooperation and prosperity will be centered on mutual recognition.
"The sooner this chapter can be closed, the sooner citizens in both Kosovo and Serbia will see new jobs and investment opportunities in tourism, energy, infrastructure, technology, and other sectors as a result of cross-border cooperation."
In the meantime, the White House must tread a fine line between traditional support for Kosovo, expanded cooperation with Serbia, and regional deterrence of Russia and China.
"The United States respects Serbia's sovereignty and its policy of military neutrality. Our strategic priority for Serbia is the same as Serbia's own stated strategic priority: Increased Western integration and eventual accession to the EU," the State Department spokesperson said.
"Progressive harmonization of Serbia's foreign and defense policies with those of the EU is critically important for Serbia to achieve its EU accession goal. Serbia's military procurement choices could impact its ability to harmonize its defense policies with the EU and it is an issue we are monitoring closely.
"The United States is working closely with Serbia to improve our security cooperation, including holding regular joint military training and exercises and developing Serbia's capacity to contribute to EU and UN peacekeeping operations.
"We have increased both the complexity and frequency of these exercises."