Kourtney Kardashian's D&G Wedding Follows Diana Niece's Controversial Lead
Kourtney Kardashian's lavish Italian wedding saw the unique style of the Kardashian clan overtaken by the ornate extravagance of fashion brand Dolce & Gabbana on Sunday, following the form of Princess Diana's niece, Lady Kitty Spencer's nuptials in 2021.
Kardashian "married" musician Travis Barker in what was their third ceremony in Portofino on Sunday with the bride, groom and wider bridal party wearing designs by Dolce & Gabanna.
The brand has denied reports that the ceremony was "sponsored," but conceded via a spokesperson that founders Domenico Dolce and Stefano Gabbana were "hosting this happy event," per the Daily Mail.
For the ceremony itself, Kardashian wore a mini dress described on Instagram as a "one-of-a-kind white silk lace and satin gown and a dramatic hand-embroidered veil."
The widely publicized wedding has been called by the Business of Fashion trade publication "a first for luxury marketing," being "calibrated to generate valuable online buzz."
However, this is not the first wedding of which Dolce & Gabbana has controlled the creative direction, with the designers also styling that of Lady Kitty Spencer, the eldest daughter of Earl Spencer, Princess Diana's only brother, last year.
Spencer married financier Michael Lewis in 2021 in Italy at the Villa Aldobrandini set on a hill overlooking Rome.
On her wedding day, like Kardashian, Spencer wore multiple Dolce & Gabbana designs including four gowns in addition to her traditional white wedding dress.
On Instagram following the wedding the brand posted "@kitty.spencer chose to wear Dolce&Gabbana on the most important day of her life. For this unique event #DolceGabbana created a number of exclusive hand made gowns, each celebrating the beauty of the bride, the passion for #altamoda and the absolute joy of the occasion."
The decision for Spencer to wear the brand was foregone as she acts as their global brand ambassador, nearly exclusively posting photographs of herself wearing Dolce & Gabbana designs on social media.
At the time of her appointment as ambassador, Spencer said: "I am truly honoured to be appointed as global ambassador for Dolce & Gabbana. Domenico and Stefano celebrate life's wonders: family, joy, beauty, colour and love."
She went on to add that: "Working with them is always a new experience, a unique opportunity to rediscover Italian culture, art, savoir-faire and lifestyle. When I wear their pieces I feel their passion and I feel like the best version of myself."
The wedding marketing strategy seemingly put in place by the brand has been seen as part of a wider effort by Dolce & Gabbana to rehabilitate the brand's image following a series of poor PR decisions and controversial statements made by its founders in recent years.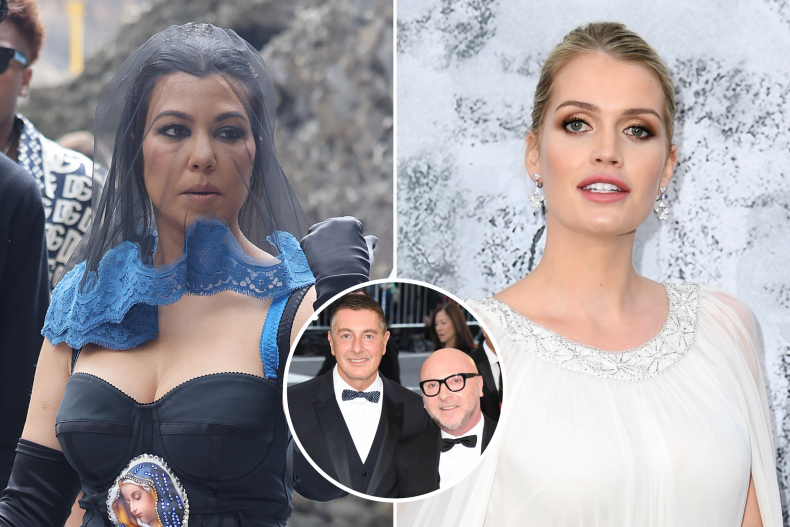 In 2015, Stefano Gabbana and Domenico Dolce said in an interview with Panorama magazine that they opposed gay adoption, stating that: "The only family is the traditional one."
This, along with comments made about babies born through IVF (in vitro fertilization) being "synthetic," saw a wave of criticism launched at the brand and a boycott by fashion industrialists and celebrities such as Elton John, who said via Instagram:
"How dare you refer to my beautiful children as 'synthetic.' And shame on you for wagging your judgemental little fingers at IVF, a miracle that has allowed legions of loving people, both straight and gay, to fulfill their dream of having children. Your archaic thinking is out of step with the times, just like your fashions. I shall never wear Dolce and Gabbana ever again."
The pair later clarified their statement in an interview with CNN, with Dolce commenting that: "Every person [has the] freedom for choosing what they want. This for me is democracy. I respect you because you choose what you want. I respect me because I choose what I want... This just my point of private view."
The brand itself has also come under fire in recent years, after a promotional campaign to market the company in Shanghai was seen as stereotypical and racially insensitive. The advertising campaign showed a Chinese model eating Italian food with chopsticks, and the fallout from the criticism saw the brand's image sustain damage which is still visible four years later.
In 2021, Hong Kong pop singer Karen Mok was forced to issue a statement of apology after images of her wearing a Dolce & Gabbana coat generated a backlash from Chinese fans.
Even the Kardashians have found themselves on the end of the founders of Dolce & Gabbana's unfiltered commentary.
In 2018, the Instagram account Diet Prada reported that Gabanna had allegedly commented on an image of the Kardashian family by saying: "The most cheap people in the world."
The rift seems to be over though, with the Portofino nuptials being attended by members of her famous family including sister Kim and mother Kris.
The couple first married in a small ceremony in Las Vegas following the Grammy Awards earlier this year, with a second bigger ceremony held in Santa Barbara this month.