Kremlin Controls Air Conditioning Around Putin to Prevent Illness: Report
The Kremlin controls air conditioning around Russian President Vladimir Putin to prevent him from catching a cold, according to a new report.
Putin's health has faced questions in recent months, especially since he launched the invasion of Ukraine in late February. People have raised concerns that the president, facing significant scorn for the conflict, is dealing with a slew of conditions, though the Kremlin has denied any reports that he is ill.
However, Putin's spokesperson Dmitry Peskov told reporters the Kremlin keeps control over the air conditioning around their president so that he does not get sick amid high temperatures in Moscow, according to a new report from state-controlled Russia Today.
"We regulate air conditioners in the premises more carefully and avoid drafts," Peskov said, according to RT.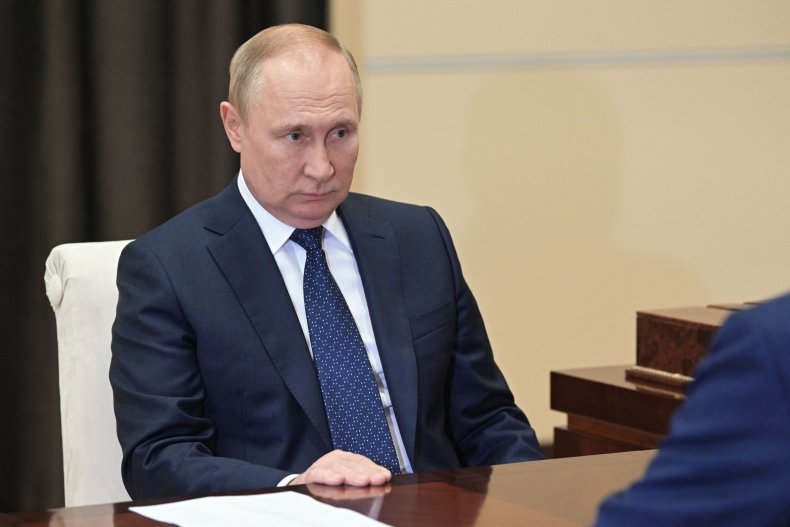 The remarks came just days after the latest questions emerged about Putin's health after he was seen coughing during a meeting with Iranian government officials—though Putin sought to downplay the coughing, saying the cough came from sitting near the air conditioner to escape the high heat in the Iranian capital, according to RT.
Putin Health Concerns
Rumors about Putin's health have circulated amid his invasion of Ukraine, including last week when a video of Putin's arm appearing not to move sparked debate about his health.
Some questioned if his arm not moving stemmed from a health condition, but experts said it may come from his KGB training, when he likely would have been taught to keep his right arm ready to draw a gun at all times.
Others have also raised concerns about his health. British journalist John Sweeney, who has long covered Putin, wrote in the new book Killer in the Kremlin that he has seen changes in the way Putin appears, describing him as looking "like a hamster" due to his puffy cheeks.
While most of the rumors and theories surrounding Putin's health lack substantial evidence, U.S. intelligence leaders previously told Newsweek they believe Putin underwent cancer treatments in April.
Kremlin Denies Rumors
Russian authorities have denied rumors that Putin is suffering from any health conditions. Last week, Peskov called them "ducks," a Russian euphemism for hearsay—and rumors about his health have not collected evidence to be considered verifiably true.
"Ukrainian information specialists, in quotation marks, both American and British, have been throwing various ducks about the state of the president's health in recent months. It's nothing but ducks," Peskov said.
Russian foreign minister Sergey Lavrov denied the rumors in May, telling reporters: "President Vladimir Putin appears in public every day. You can watch him on screens, read and listen to his performances. I don't think that sane people can see signs of some kind of illness or poor health."
Newsweek reached out to the Kremlin for comment.