Kremlin 'Exaggerating' Scale of Bakhmut Victories To Divide West—ISW
A U.S. think tank has said the Kremlin is "exaggerating" minor victories in its efforts to capture the Ukrainian city of Bakhmut in a bid to divide the West.
The industrial city of Bakhmut in the Donetsk region remains a focal point in the ongoing war, as Russia seeks to secure its first battlefield victory since the summer of 2022. While many analysts say the city has little military significance, it has remained the scene of some of the war's most intense fighting. So far, Russian forces and fighters from the Wagner Group have failed to make any strategic advances in attempts to capture Bakhmut.
The Institute for the Study of War (ISW), a think tank based in Washington D.C., noted in its daily assessment of the conflict on Sunday that Russia continues to conduct information campaigns that "support a continuous strategic objective of deterring or slowing the West's provision of material support to Ukraine."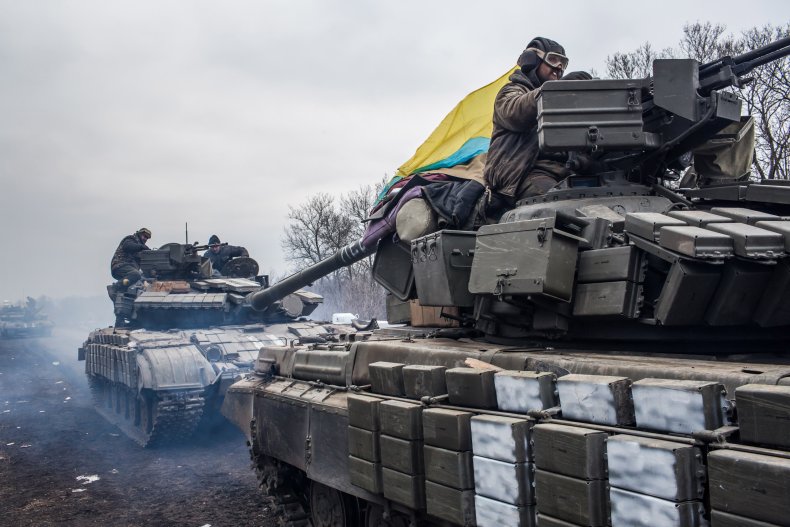 Since Russian troops withdrew from the Kyiv region and redeployed to the eastern Donbas region in the spring-summer of 2022, the Kremlin has been re-framing its information campaigns to "exaggerate the importance of every tactical advance."
Russia "will continue to weaponize information operations to directly support discrete military operations in Ukraine—especially after it has regained the initiative on the frontlines in eastern Ukraine," the think tank said.
The ISW assessed that Moscow is now resuming a narrative "exaggerating Russian frontline victories" with its ongoing offensives in the city of Bakhmut and Lyman in the Donetsk region.
"The Russian Ministry of Defense (MoD) is proudly parading victories over captured settlements around Bakhmut," it said.
The impact of such information operations from the Kremlin, however, is waning, the ISW said, noting that both Ukraine and pro-war Russian nationalists have "become less willing to accept claims of inevitable Russian victory at face value because of the year of Russian military incompetence."
"But these information operations can nevertheless regain traction if Russian forces begin to make significant gains, and Russian information operations that appear to be ineffective now can nevertheless set conditions to become much more potent when circumstances change," the ISW said.
Such information operations support the Kremlin's "overarching" strategic aims of splitting the West from Ukraine, deterring or delaying the provision of Western military aid and "generally undermining Western support for Ukraine and the cohesion of the Western coalition," the ISW concluded.
Ukraine is set to receive powerful new tanks from Western allies over the coming months, including 31 M1 Abrams tanks from Washington. Ukrainian President Volodymyr Zelensky has also been pleading with allies in recent weeks for fighter jets.
Newsweek has contacted Russia's foreign ministry for comment.
Do you have a tip on a world news story that Newsweek should be covering? Do you have a question about the Russia-Ukraine war? Let us know via worldnews@newsweek.com.