Russian Company Offers Reward for Destroying U.S. Abrams Tanks
A Russian company is offering cash rewards for soldiers who destroy or capture Western-made tanks in Ukraine, days after Washington said it would supply Kyiv with up to 31 M1 Abrams tanks.
Fores, a Russian business based in the Urals which specializes in oil well equipment, published details of the cash bounties on its website on January 27, saying it would pay out up to $72,000 for destroyed or captured Abrams or Leopard tanks and $215,000 for the first Western-made fighter jet shot down.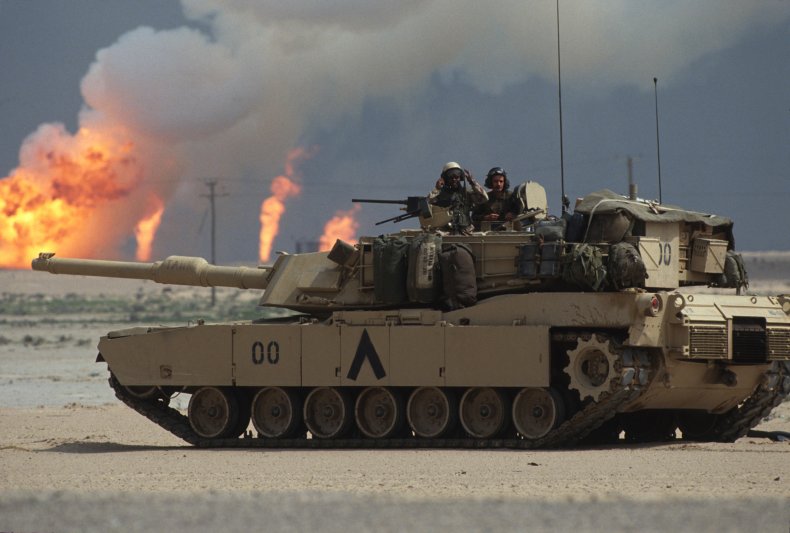 Ukraine is set to receive dozens of advanced tanks over the coming months to help counter Russian aggression in the war that began after President Vladimir Putin's decision to invade the country on February 24, 2022.
The U.S. announced it would send Ukraine the Abrams on January 25, after Germany said it would provide the war-torn country with 14 of its Leopard 2A6 tanks, and allow partner countries to re-export other combat tanks to assist Kyiv.
"Russian servicemen that destroy or capture a German Leopard 2 battle tank or an American Abrams will receive a monetary reward," the company said.
"Fores will pay 5 million rubles [$71,500] for the first trophy. The payment for every next one ... will be 500,000 rubles [$7,200]."
Fores added that if Kyiv should be given F-15 and F-16 fighter jets, it would hand out a prize of 15 million rubles ($214,500) for the individual who is first to down one of the aircraft.
"We are witnessing a process of permanent escalation of the conflict and unlimited pumping of the enemy with weapons," the company said, echoing Russian propaganda.
"The decision to transfer western tanks to Kyiv indicates that NATO does not adhere to the concept of supplying Ukraine with only defensive weapons, which means the need to consolidate and support our army."
It added, "We have been doing this since the early days of the special military operation and will continue to support our servicemen in the future."
German Defense Minister Boris Pistorius said on January 26 that the promised Leopard 2 tanks will arrive in Ukraine at the end of March or the start of April. The British Challenger 2 deliveries could also reach the country by the end of March, while the Biden administration's promised Abrams could take months to arrive, according to reports.
Western countries have so far ruled out sending Kyiv modern Western fighter aircraft. The issue is expected to be on the agenda at a summit in February at the Ramstein Air Base in Germany.
On Sunday, actor and Putin supporter Ivan Okhlobystin published a statement detailing a similar cash incentive for destroying Western-made tanks.
"Certain members of the big Russian business community have authorized me to inform you that they are setting a 10-million-ruble ($143,000) prize for every destroyed Abrams," he wrote on his blog.
Kremlin spokesman Dmitry Peskov has denounced decisions made by the U.S. and Germany to supply Ukraine with tanks as "a rather disastrous plan."
"The main thing is, this is a completely obvious overestimation of the potential [this] would add to the armed forces of Ukraine. It is yet another fallacy, a rather profound one."
Kyiv has for months been appealing for combat tanks from its Western allies.
Russian Ambassador to the U.S. Anatoly Antonov told Newsweek in an interview published last week that the Abrams tanks "will be destroyed."
Newsweek has contacted Russia's Foreign Ministry for comment.
Do you have a tip on a world news story that Newsweek should be covering? Do you have a question about the Russia-Ukraine war? Let us know via worldnews@newsweek.com.