Putin Propagandist Speaks Up for Censored Rappers, Organizes Festival On Crimean Nudist Beach
Rappers in Russia complaining they are victims of a sinister government clampdown now have an unlikely champion in the form of the TV presenter dubbed the Kremlin's "chief propagandist".
Last month, a court in the southern city of Krasnodar briefly jailed renowned rapper Dmitri Kuznetsov, whose stage name is Husky, on charges including hooliganism after he climbed on top of his car for an impromptu performance after his concert was cancelled.
Read more: Russian culture minister claims Soviet poet invented rap music
Earlier in the month, deputy Vladimir Petrov had appealed to Russia's prosecutor general to ban rap concerts because they "advocate suicide, drug addiction, Satanism, extremism and even contain calls for treason against the Motherland," RIA Novosti reported.
But Dmitry Kisleyov, who regularly promotes pro-Kremlin and anti-western views on his weekly show Vesti Nedyeli has said that rappers should "not be demonized" and noted that rappers under fire, like Husky, Basta and Face are "not alien to patriotism."
On the radio station Govorit Moskva he said on Thursday that he plans to hold a concert in the Crimean city of Koktebel, which hosts an annual jazz festival in August.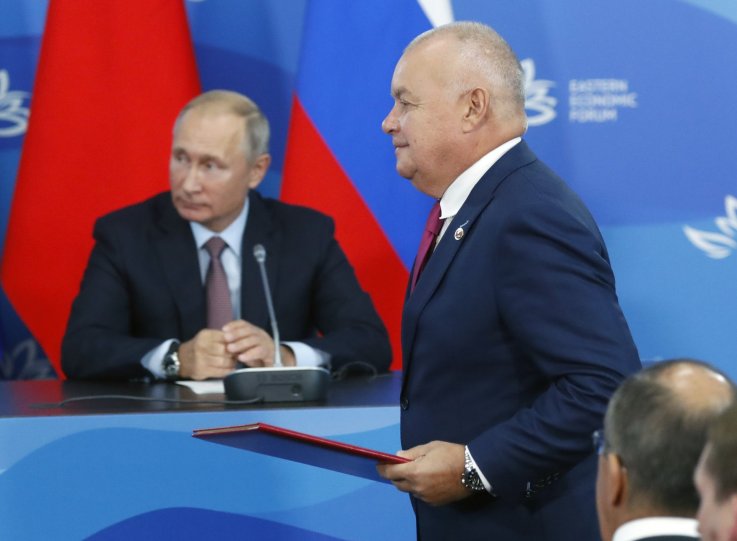 "Rap cannot be banned in the same way that swearing cannot be banned. This is a cultural phenomenon. This gives me no other option that to organize a rap festival. I think we will do a rap festival after the jazz one."
He said it would take place between August 28 to August 30 "on Koktebel beach, which is known as a prominent nudist beach."
Russian government agencies have banned certain songs from YouTube, and the hip-hop group Friendzone had two concerts cancelled last month.
Activists criticized the legal proceedings against Kuznetsov and other rappers staged a concert in his support, The Moscow Times reported.
Key opposition figure Alexei Navalny, who attended the concert, said on his weekly YouTube show that actions against rappers showed how the Russian state wanted to silence the Russian people.
But the rappers appear to have the backing of Kiselyov, who said on the show on Sunday: "It's believed that rap as a culture came from Black America. We got it in the 1990s.
"That's not entirely true, however. The precursor of the Russian rap poetic tradition was Vladimir Mayakovsky, of course," he said, referring to the Soviet Futurist poet who killed himself in 1930.
To a backing track, Kiselyov then read a stanza from Mayakovsky's poem Kharasho (Good) about the 1917 revolution to prove his point which had also been made by Russia's culture minister Vladimir Medinsky.