Kremlin spokesperson Dmitry Peskov possibly confirmed the identities of Russian President Vladimir Putin's daughters after they were sanctioned by the U.S. on Wednesday over the ongoing war in Ukraine.
Though Peskov didn't deny or confirm that they are Putin's daughters, he referred to Katerina Tikhonova and Maria Vorontsova, whose names have been mentioned in the U.S. sanctions package released Wednesday, as "family members."
"Of course we consider these sanctions in themselves to be the extension of an absolutely rabid position on the imposition of restrictions," Kremlin spokesman Dmitry Peskov told reporters, according to Reuters. "In any case, the ongoing line on imposing restrictions against family members speaks for itself."
"This is something that is difficult to understand and explain. Unfortunately, we have to deal with such opponents," he added.
His comments came after the United States announced Wednesday that it will sanction Putin's daughters to freeze any assets that they are believed to have in the U.S. as means of putting pressure on Russia to end the war in Ukraine.
An unidentified U.S. official told Washington Post journalist John Hudson that "many of Putin's assets are hidden with family members and that's why we're targeting them."
Tikhonova is a tech executive who has done work for the Russian government and the defense industry, per Reuters, citing details from the U.S. sanctions package.
Meanwhile, Vorontsova leads federal-funded programs focusing on genetics research that is financially supported by the Kremlin and supervised by Putin.
The Russian president has always kept his family's identities private and Russian officials have often denied who Putin's daughters were or what they do.
Professor Howard Stoffer from the University of New Haven said that Putin is secretive about his daughters because "he doesn't want to be vulnerable to anyone else doing something to him if a lot is known about his family," CNN reported on Thursday.
Putin has never mentioned his daughters' names but confirmed during a TV appearance in 2017 that his daughters are not involved in politics and that they work in science and education, according to Reuters.
The Russian leader said at the time that the reason he doesn't disclose any information about his family is that "they would be immediately identified and not left in peace. It would damage the children's development."
Tikhonova, the youngest daughter, participated in an athletic dance at the World Rock'n'Roll Confederation whose vice president for legal affairs, Manfred Mohab, told Reuters in an interview in 2017 that he worked with her and confirmed that she is Putin's daughter.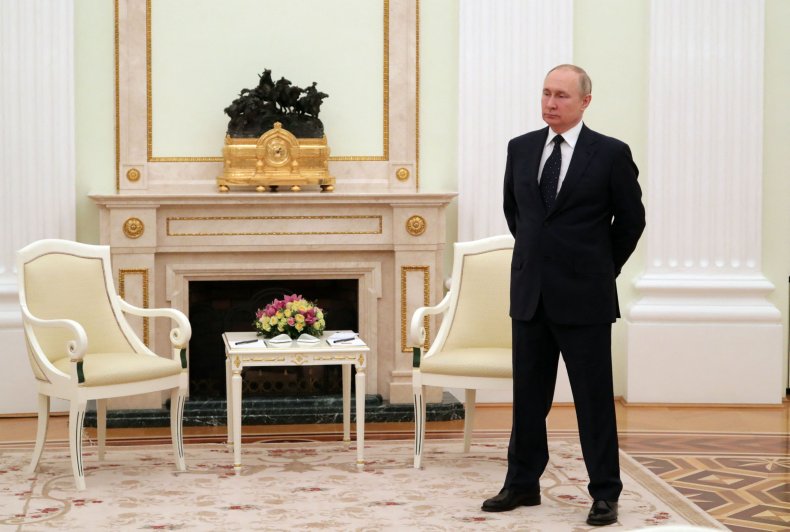 However after Reuters published the article, Mohab reached out to the news outlet to say: "I can't confirm that I know the daughter of Mr. Putin. I have nothing to do with them."
Similarly, deputy chairman of Russian lender Gazprombank, Andrey Akimov, told Reuters in 2015 that he met Tikhonova when she was young and that she is Putin's daughter.
However, Akimov also withdrew his comments and said that he was "surprised and bewildered" after the story ran, according to VICE.
Newsweek reached out to the Russian foreign affairs ministry and will update the story once a response is received.