Putin's Daughters Sanctioned as U.S. Believes They Have Assets in Country
The United States announced Wednesday it will sanction Russian President Vladimir Putin's two daughters.
The sanctions targeting Maria Vorontsova and Katerina Tikhonova will freeze any assets they have in the U.S., the Associated Press reported. An anonymous U.S. official told Washington Post journalist John Hudson that the U.S. has reason to believe that Vorontsova and Tikhonova have assets in the U.S., stating, "We believe that many of Putin's assets are hidden with family members and that's why we're targeting them."
The move means all of Putin's close family members are now cut off from U.S. financial systems, according to the AP. A statement from the White House said the U.S., Group of Seven nations and the European Union are imposing "severe and immediate economic costs" following the "atrocities" Putin's regime has committed in Ukraine, specifically citing Ukrainian reports of mass killings in the city of Bucha.
Disturbing images in Bucha of mass graves and bodies in the streets with their hands tied behind them have been circulating on the internet, causing global outrage and causing many nations to further tighten sanctions against Russia.
In addition to the sanctions against Putin's daughters, the U.S. will also sanction Russian Foreign Minister Sergey Lavrov's wife and children, Russian Prime Minister Mikhail Mishustin, former President and Prime Minister Dmitry Medvedev and members of Russia's Security Council, the White House statement said.
Putin rarely speaks about his family life, so not much is known about 35-year-old Tikhonova and 37-year-old Vorontsova. Tikhonova is the deputy director for the Institute for Mathematical Research of Complex Systems at Moscow State University, while Vorontsova is believed to be a pediatric endocrinologist. It is unclear what kinds of assets they have in the U.S.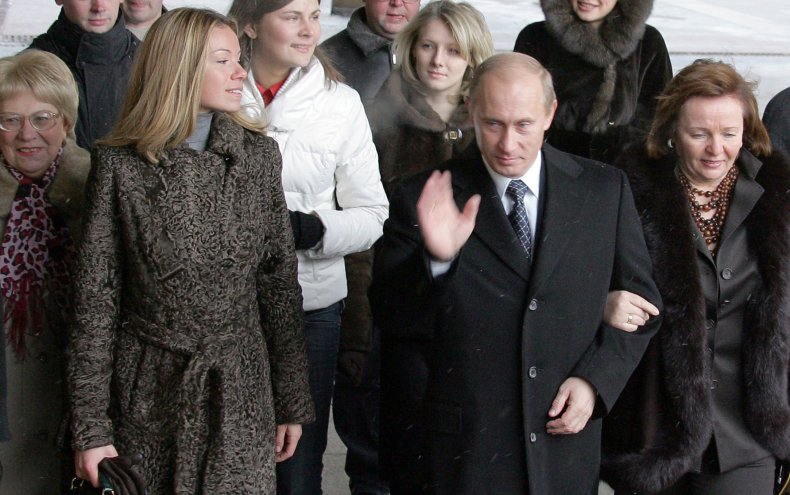 The latest round of sanctions also target Sberbank, Russia's largest financial institution, and Alfa Bank, Russia's largest private bank. Any assets from the banks tied to the U.S. financial system will be frozen, and Americans will be prohibited from doing business with them. According to the White House statement, Sberbank holds nearly one-third of the Russian banking sector's assets.
The statement added that experts predict Russia's GDP will contract as much as 15 percent this year, "wiping out the last 15 years of economic gains." It also said inflation in the country is already above 15 percent and more than 600 private sector companies have left the Russian market.
"The United States and more than 30 allies and partners across the world have levied the most impactful, coordinated and wide-ranging economic restrictions in history," it said, adding that "Russia will very likely lose its status as a major economy, and it will continue a long descent into economic, financial and technological isolation."
Update 04/06/22 12:20 p.m. ET: This story was updated to add more information and background.