Kremlin Official Sees NATO Preparing for War With Russia
Russian Foreign Minister Sergey Lavrov on Friday said he believes NATO and the European Union (EU) are building a coalition that could eventually wage war with Russia.
Russia state media outlets reported Lavrov made the comments while speaking at a news conference in Baku, Azerbaijan, following a meeting with Jeyhun Bayramov, Azerbaijan's minister of foreign affairs.
During the conference with reporters, Lavrov discussed the EU's Thursday decision to grant candidacy status to Ukraine and Moldova. The move by the EU, which is the first step in the process to full membership, was seen as sign of support for Ukraine in its war with Russia. (Both Ukraine and Moldova applied to join the union soon after Russia began its attacks on Ukraine in late February.)
RT, a Russia state news outlet, reported that Lavrov also made a comparison to recent actions by NATO and the EU to the strategy used by Adolf Hitler before the Nazi dictator attacked the Soviet Union.
"Hitler rallied a significant part, if not most, of the European nations under his banner for a war against the Soviet Union," the foreign minister reportedly said. He added that "now, the EU together with NATO are forming another—modern—coalition for a standoff and, ultimately, war with the Russian Federation."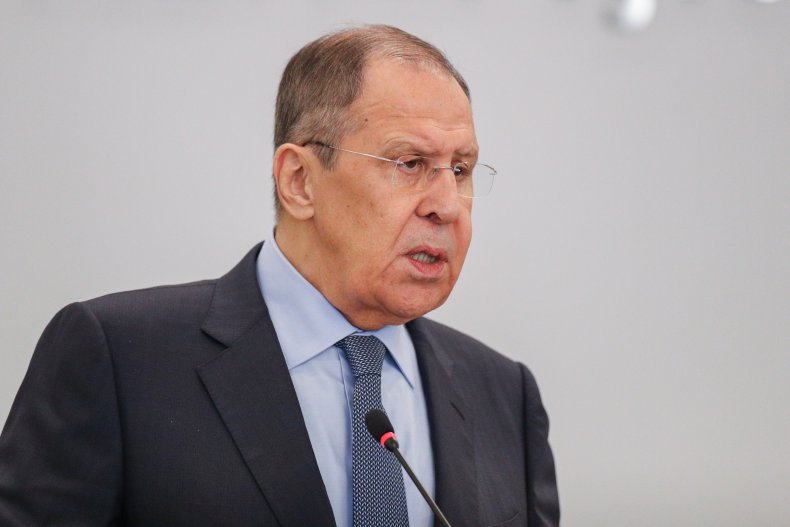 Friday marks the second time Lavrov has evoked the name of Hitler in recent weeks. On May 1, he compared Ukrainian President Volodymyr Zelensky, who is Jewish, to the Nazi leader. Those comments were quickly condemned by Israeli Foreign Minister Yair Lapid, who demanded an apology from Lavrov.
Lapid called Lavrov's comparison of Zelensky to Hitler "a terrible historical mistake" in an interview with Israeli news site Ynet. He added, "It is an unforgivable, scandalous statement."
Mikhail Podolyak, a Ukrainian adviser to the presidential office, was also among those who criticized Lavrov for likening Zelensky to Hitler.
"Frank anti-Semitic statements by Lavrov, accusations of Jews in WWII and the Holocaust are further evidence that Russia is the legal successor of the Nazi ideology. Trying to rewrite history, Moscow is simply looking for arguments to justify the massacres of Ukrainians," Podolyak said on Twitter.
Since the start of its invasion, the Kremlin has repeatedly said that one of its key goals in invading the neighboring country is to "de-nazify" Ukraine. Russian President Vladimir Putin has also used possible NATO expansion as one reason to justify the conflict, though Finland and Sweden both applied to join the alliance after the outbreak of the war. He has also warned NATO and the U.S. about becoming directly involved in the war.
Newsweek reached out to the Kremlin for comment.