Kremlin Risks Rising Tensions in Russia with Delinquent Army Payments: ISW
The Kremlin's difficulties paying soldiers fighting in Ukraine may be increasing tensions in Russia, according to a new report from the Institute for the Study of War (ISW).
Russia has recently been struggling make good on promises to pay troops bonuses for joining the war effort, according to an ISW assessment of the Russian offensive campaign that was released on Wednesday. The failure to provide the promised compensation is "increasing social tensions within Russian society," according to the report, while the debt incurred could place a significant strain on the Russian economy for "decades."
"The Kremlin is continuing to rely heavily on financially incentivizing Russians to fight in Ukraine, which will likely continue to strain the Russian economy for decades," the ISW report states. "Russian officials have been promising salaries to volunteers and mobilized men that are more than twice the average Russian civilian salary before and during Russia's full-scale invasion of Ukraine."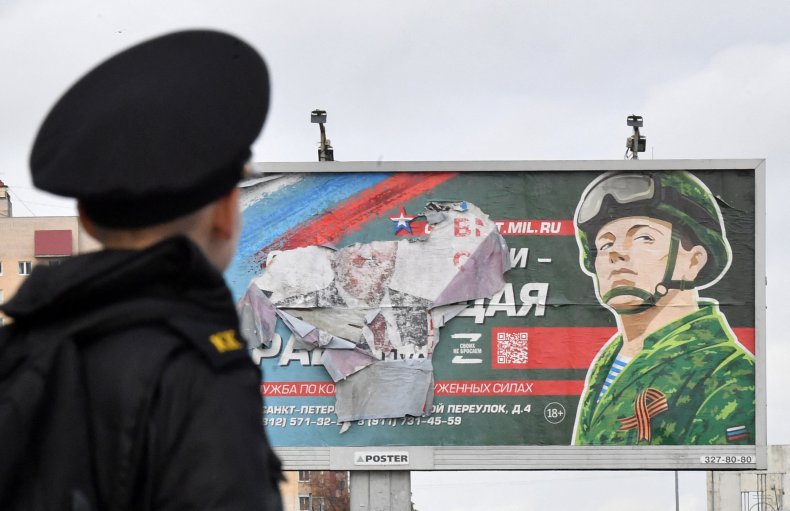 The report goes on to say that the Russian government "has been attempting to deflect part of the cost" of military resources onto Russian citizens but "will likely need to tap into the federal budget more heavily soon."
ISW cites videos, many from Russian Telegram channels, that appear to show troops arguing over payments. One video that went viral on Twitter appears to show soldiers complaining to military officials that they were not given the 300,000 rubles (almost $5,000) that they were promised for joining the Russian army.
"Russian mobiks [mobilized troops] are demanding the 'promised' one-off payment of 300,000 rubles, which the military rep says was never actually promised to them," Twitter user @wartranslated wrote while tweeting the video. "They yell that the deputies should go fight themselves in this case."
Wednesday's ISW report also cites posts from families of soldiers to a social media page of Alexander Gusev, the governor of Russia's Voronezh region, which claim that the soldiers had not been given the 120,000 rubles (around $2,000) that they were promised.
"The Kremlin will need to continue to pay what it has promised to maintain societal control and some resemblance of morale among Russia's ad hoc collection of forces," the ISW said.
Additionally, the report says that the Kremlin is "igniting conflict" in the Russian military due to unequal treatment between different military groups. A video shared to Telegram on October 31 purportedly shows a group of contracted soldiers drunkenly brawling with mobilized troops during a dispute over "personal belongings and military equipment."
The report was not the first indication that tensions could be brewing in Russia due to troops not receiving money they are owed. ISW reported in August that Russian reservists were complaining about missing payments and benefits.
A report published by independent news site The Insider last month asserted that troops mobilized in Russia's Belgorod region were complaining about living conditions and a lack of payment.
The Ukrainian Armed Forces also claimed last month that Russian troops and "relatives of the dead" were not receiving their promised compensation.
Newsweek reached out to the Russian Ministry of Defense for comment.