Russians Drafted by Putin Complain They Aren't Receiving Pay, Food: Report
Following Russian President Vladimir Putin's partial mobilization of troops in the ongoing war against Ukraine, some soldiers have complained about not receiving food or money after they were drafted, according to a report.
Independent news site The Insider published a report on Wednesday showcasing some soldiers that were mobilized in the Belgorod region criticizing their living conditions. According to the independent Moscow Times, in a a video published by The Insider, one solider can be heard complaining that he has not received any money since being drafted and said, "We've lived in animal conditions for a week....We've spent an absurd amount of money just to feed ourselves, not to mention on ammunition."
The report also said that many of the soldiers drafted to fight in the region have become sick after they were stuck outside for several days. Newsweek has been unable to independently verify the contents of the video published by The Insider.
Putin's partial mobilization was prompted by a series of counteroffensives by Ukraine as it fought to take back several regions under Russian control.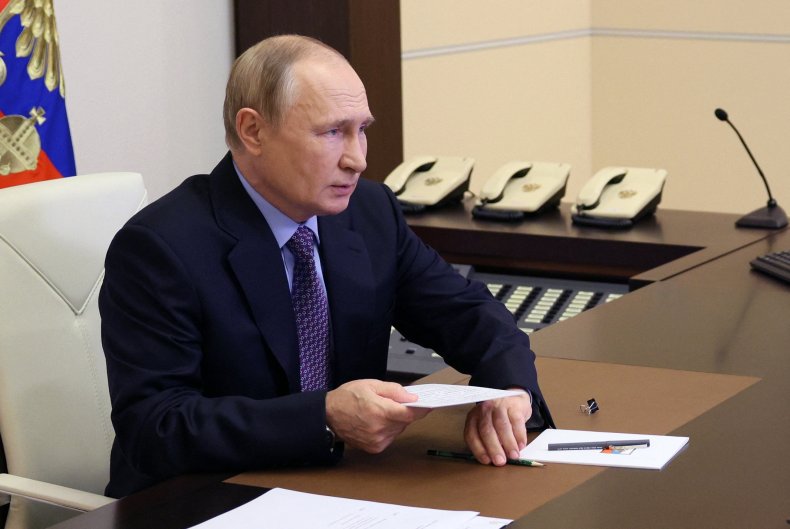 The partial mobilization was met with some protests in Russia, but Putin later announced that he was annexing four regions of Ukraine and declared them part of Russia.
In a recent assessment of Russia's campaign, the Institute for the Study of War (ISW), a U.S. think tank, said Putin was failing to please three key groups—Russian military bloggers, veterans and siloviki (people with meaningful power bases and forces of their own).
"Russian failures around Lyman galvanized strong and direct criticism of the commander of the Central Military District (CMD), Alexander Lapin," the assessment said. "This criticism originated from the siloviki group, spearheaded by Chechen strongman Ramzan Kadyrov and Wagner Group financier Yevgeny Prigozhin.
"Kadyrov and Prigozhin represent an emerging voice within the regime's fighting forces that is attacking the more traditional and conventional approach to the war pursued by Russian Minister of Defense Sergey Shoigu and the uniformed military command."
ISW geospatial team lead and Russia analyst George Barros told Newsweek that "Putin is already doing everything he can to please these factions."
"He's putting milbloggers on TV and trying to promote the transparency they've been calling for," Barros said. "More candid Russian MoD reports about Russian defeats we've seen in recent days are part of that."
Newsweek reached out to the Russian Foreign Ministry for comment.