What Will Putin Do Next? Russian Leader Faces Difficult Choices
Russian President Vladimir Putin said the four provinces in Ukraine that Russia recently annexed would be "stabilized," suggesting he might prioritize holding this territory he now considers Russian even if predicting his next move is difficult.
On Wednesday, in a video speech to acknowledge Teachers' Day in the country, Putin claimed the annexed Ukrainian regions would remain Russian "forever," according to a report from the Washington Post.
However, following the speech, the Post reported, a spokesman for Putin told reporters said that areas in some of the annexed territories were still controlled by Ukraine and that Russia would need to retake those territories.
Moscow does not fully control any of the Donetsk, Luhansk, Zaporizhzhia and Kherson regions that Putin has claimed are now Russian and Kyiv's forces have continued their advance in the south and east of the country.
This comes as a botched partial mobilization, retreats by Russian forces and condemnation from pro-Kremlin military bloggers highlight pressure points to the war in Ukraine as winter approaches.
"He doesn't have many good options at this point, especially with the current posture, especially in eastern and southern Ukraine," retired Vice Admiral Robert Murrett said, "his forces are being pushed back on both of those fronts really dramatically."
Murrett, deputy director of the Syracuse University Institute for Security Policy and Law, told Newsweek that the 300,000 conscripts Putin has called up would not be able to be put in play "before the weather changes and the winter weather sets in."
"The biggest factor in this kind of war is morale and Ukrainian forces have that morale— they are motivated and dedicated to defending their own country and you just can't create that artificially."
Murrett said he expected Putin's strategy to include looking at "the pain he will be able to inflict," on Kyiv's European partners, using energy as a weapon in the hope that "would weaken their resolve in supporting Ukraine."
The withdrawal of Russian troops from the strategically significant town of Lyman last week added to growing public criticism of the military's top brass by influential pro-Kremlin military bloggers and some prominent figures.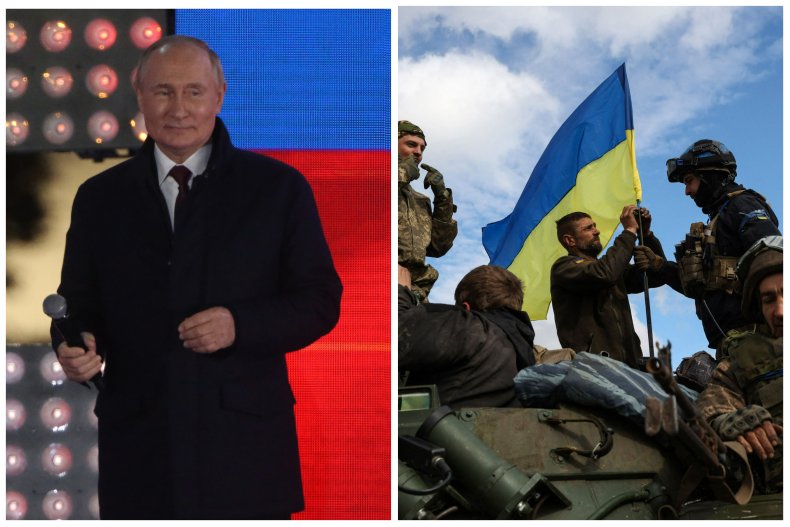 Chechen president Ramzan Kadyrov singled out General Alexander Lapin, commander of Russia's Central Military District, and senior officers for blame for the most recent losses. Criticism of Russia's military command was also endorsed by Yevgeny Prigozhin, founder of the Wagner Group, a private military company, which along with Kadyrov's forces, are playing a key role in Putin's invasion.
The Institute for Study Of War (ISW) said this week that Putin is struggling to appease these factions as he faces pressure to put the country on a more conventional war footing.
"Putin can also fire more generals," said Brent M. Eastwood, defense and national security editor for Washington, D.C. foreign policy magazine 1945.
Lapin, as well as Chief of the General Staff Valery Gerasimov, are "on the hot seat," Eastwood told Newsweek. "I would be surprised if Gerasimov goes, since he is the most esteemed general, but Putin is desperate for a winning combination of senior leadership. He needs a hero."
Eastwood believes that Putin has to buy time until winter when he hopes that the mobilized reservists can be trained and transported to the front in numbers.
"Until that happens, Putin and his generals will have to write off certain territory they control now and fall back to consolidate around existing strongholds, so they don't have to defend as much territory," he said. "Putin will also order more attacks on Ukrainian critical infrastructure including power and water sources to make the civilians suffer."
Dale Buckner, CEO of international security company Global Guardian, which has intelligence teams on the ground in Ukraine, said that following Russia's losses, Putin's one real option within conventional warfare was to "defend, delay and hold" the newly annexed regions.
"All else will slowly but surely be taken back by Ukraine forces throughout the winter," he told Newsweek. "The Russians for all intents and purposes have already lost the war and their best option is to declare 'victory' in these four annexes and request a diplomatic compromise to formally annex the territories listed."
Putin has upped the ante with annexations which show his determination to escalate the conflict as concerns grow over whether he may resort to nuclear weapons to wrest back the initiative.
Experts doubt that Putin would do this as it would not hand him any military advantage, but former CIA Moscow station chief, Rolf Mowatt-Larssen told CBS News it would be "terribly irresponsible" for Western leaders not to take Putin's nuclear threats seriously.
Buckner said such a move would be one of "two extreme options that do not actually solve his problems but shows strength in front of his population in order to control them."
He said the other, more strategic, option for Russia would be using chemical weapons to either hold terrain and expand its annexed territory while showcasing resolve. However, Buckner believed a diplomatic agreement redrawing the lines with both Ukraine and Russia was the most likely end to the war.
He believed that there was only a five percent chance Putin would use a tactical nuclear weapon that would be intended to display his power, claim victory to save face and retreat completely out of Ukraine.
"The obvious risk to utilizing a tactical nuclear weapon is the U.S-NATO response combined with the potential escalation of a global nuclear war."