Putin Ally Pleads for Reinforcements in Ukraine, Receives Blunt Response
A request for Russian military assistance from the head of a Moscow-backed rebel in Ukraine's Donbas region has been batted away by the Kremlin.
Facing fierce shelling from Ukrainian forces, Denis Pushilin, head of the self-proclaimed Donetsk People's Republic (DNR), requested additional assistance from the Russian government in a video published on his Telegram channel on Monday.
Pushilin accused Kyiv of using "prohibited methods of warfare," and that the central districts of Donetsk were being shelled while other settlements in the republic were under fire.
"In this regard, an understanding was reached that all the necessary additional forces of the allied forces, primarily of the Russian Federation, will be involved," he said.
Despite 30 "enemy firing points being suppressed," he said the "enemy still has enough weapons capable of inflicting fire strikes on our settlements." He went on to say citizens in the republic had been warned to "stay in safe places and not leave children unattended."
In 2018, Pushilin became the head of the DNR, which has Moscow's backing. Its independence, along with that of the Luhansk People's Republic, was recognized by President Vladimir Putin days before he ordered the invasion of Ukraine.
Asked about Pushilin's comments, Kremlin spokesman Dmitry Peskov told reporters such decisions were the "the prerogative of the Ministry of Defense, since this is a continuation of a special military operation," referring to the approved term for the war in Ukraine.
Peskov said Wednesday that the cities of Luhansk and Donetsk were facing "intensifying" shelling, and that there had been additional operational requests.
When asked how Putin as Russia's commander-in-chief would respond to Pushilin's request, Peskov said such questions "are for our military," according to the newspaper Moskovsky Komsomolets.
Newsweek contacted the Russian Defense Ministry for comment.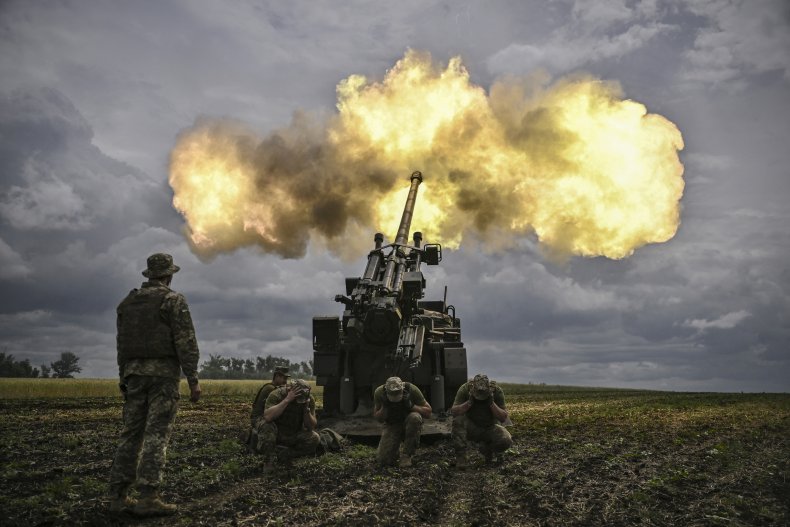 Pushilin's request comes as the mayor of Severodonetsk, Oleksandr Stryuk, says the industrial part of his city and its perimeter, connecting the neighboring city of Lysychansk, were still under Ukraine's control.
Stryuk said on Telegram that Russian forces were trying to storm the city from several directions. Despite reports of all bridges to the city having been destroyed, he said it still had not been completely cut off.
Russia said it would allow a "humanitarian corridor" from the Azot plant in Severodonetsk, where hundreds of civilians are reportedly sheltering alongside Ukrainian soldiers whom Russia has demanded lay down their weapons.
However, UN Humanitarian Affairs Office spokesperson Saviano Abreu said the intense fighting meant that it could not guarantee safe access to civilians.
"The lack of water and sanitation is a big worry," Abreu told the BBC. "It's a huge concern for us because people cannot survive for long without water."