A Kremlin official acknowledged that Russia has sustained "significant losses" of Russian troops in its military invasion of Ukraine but did not specify an exact number of casualties.
Kremlin Press Secretary Dmitry Peskov said on Thursday during an interview with Sky News that the Russian military casualties were "a huge tragedy for us" and hinted at the invasion possibly coming to an end.
Since Russia's "special military operation" began in February, there have been questions surrounding how many Russian troops have died or been injured during the battle. The Russian Ministry of Defense said more than 1,300 troops have been killed, NATO estimates that the number is somewhere between 7,000 to 15,000, and Ukraine stated there have been over 16,000 Russian casualties.
"[W]e do hope that in coming days, in the foreseeable future, this operation will reach its goals or will finish it by the negotiations between Russian and Ukrainian delegation," Peskov said during the interview.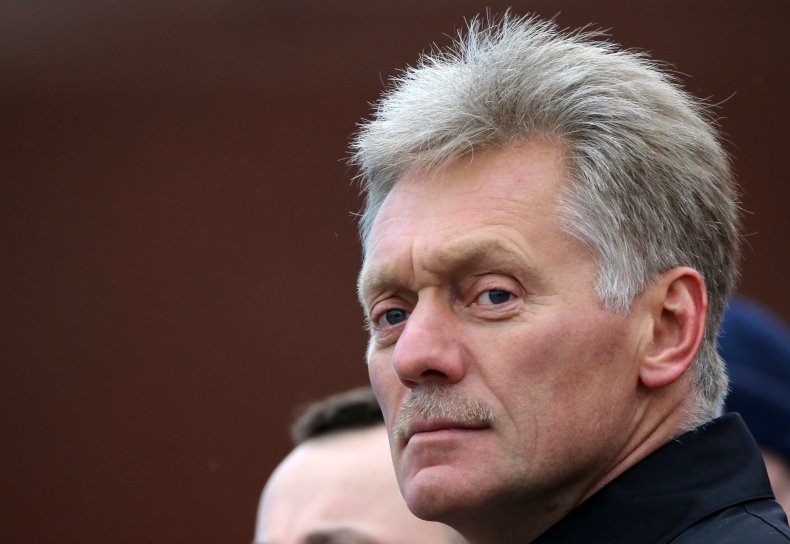 The pro-Kremlin news outlet Komsomolskaya Pravda posted a story in March citing Russian Defence Military officials that nearly 10,000 soldiers had been killed in Ukraine. However, the numbers were quickly scrubbed from the story and the unaltered article was no longer on the website.
Peskov previously said that disclosing the figures of the casualties is the "exclusive prerogative" of Russia's Ministry of Defense, CNBC reported. Since the beginning of the invasion, the ministry has given very limited updated figures.
"On the numbers, we agreed from the very beginning that we do not have the authority to voice them during the special military operation," Peskov said, according to CNBC.
The General Staff of the Armed Forces of Ukraine said in a Facebook post on Thursday that Russia is struggling to recruit soldiers due to the major losses of military personnel from combat operations in Ukraine. It added in another post on Thursday that Russia is trying to replenish its units and looking into those who have already been discharged from the service.
"It turns out that citizens of the Russian Federation do not want to go to military service under contract, as they understand that they will soon be sent to a war zone in Ukraine," the post said according to an English translation.
The Ukrainian military also claimed that some Russian troops won't fight in the war and that their "moral and psychological condition" is low. Additionally, according to New Focus, the Russian-language news outlet based in Siberia, at least 11 members of Russia's Rosgvardia National Guard are refusing to participate in the war.
The Ukrainian general staff did not give evidence to these claims. Newsweek has contacted the Ukrainian and Russian defense ministries for comment.
Update 4/7/22, 4:28 p.m. ET: This article was updated with additional information.
Update 4/7/22, 3:18 p.m. ET: This article was updated with additional information.