Kremlin Upgrading Russia's Bomb Shelters Amid Fear of Attack: Report
The Kremlin has ordered bomb shelters to be upgraded throughout Russia, according to a Monday report by The Moscow Times.
The online outlet wrote that current and former Russian officials have said the Kremlin ordered inspections and repairs on shelters and bunkers amid rising fears that the country could be targeted by strikes during its war with Ukraine.
In October, the Kremlin issued a decree that ordered regions in western Russia to prepare for the possibility of strikes and provided instructions regarding facilities that ensure people's safety during attacks. However, The Moscow Times reported that open-source data shows the process of repairing bomb shelters has taken place all over Russia.
Steven Myers, a former member of the U.S. State Department Advisory Committee on International Economic Policy and the National Security Membership Committee, told Newsweek that he found The Moscow Times' report to be "very credible."
"This would be a rational and prudent action for the Russian government to be taking in any event," he said. "One of Russia's greatest vulnerabilities is the concentration of its population, particularly in the Moscow/Saint Petersburg corridor."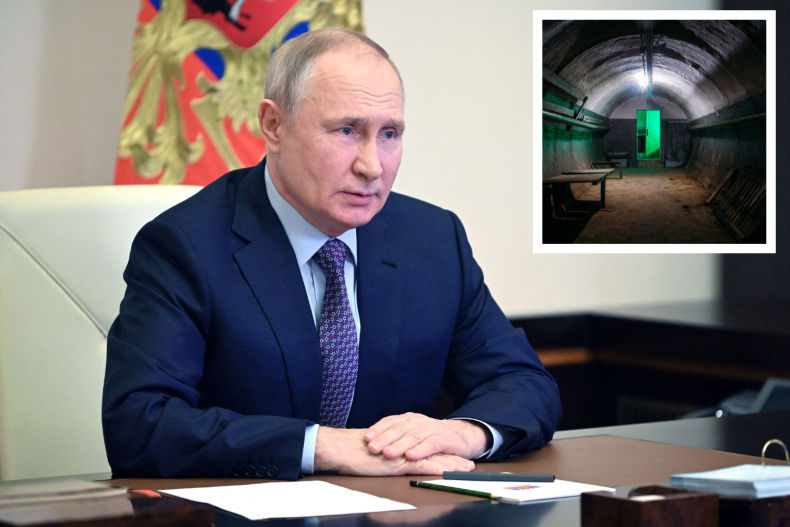 The Moscow Times described the state of many Russian bomb shelters and bunkers to be deteriorated relics of the Soviet era that "have been mothballed for decades."
"But as the war in Ukraine drags on, local authorities appear to be spending hundreds of millions of rubles to again make them fit for habitation," reporter Pyotr Kozlov of The Moscow Times wrote.
The online publication detailed how authorities in regions throughout the country had spent heavily to upgrade shelters since the war in Ukraine broke out. These authorities reportedly undertook these actions after receiving orders from Moscow.
The story also said hundreds of invitations for bids can be found on an official online portal looking for companies to repair bomb shelters throughout Russia.
George Mason University Schar School of Policy and Government professor Mark N. Katz told Newsweek that the portal could lead to the cynical theory that the "main point of the upgrade may be to obtain Russian government money for the probably well-connected contractors who win the bids to undertake the bomb shelter upgrades."
However, he said Russia may have come around to the notion that "Ukraine will do unto them what they have done unto Ukraine."
Another potential theory, Katz said, is Moscow may be "planning something that it anticipates could lead to Russia being bombed."
"It may be that Moscow is doing this to bolster its narrative that Russia is under attack from Ukraine and the West—if not now, then soon," Katz also said.
But this tactic "may actually be scaring the Russian populace," Katz added.
William Reno, professor and chair of the political science department at Northwestern University, agreed that the shelter upgrades may just be a way to feed Russian President Vladimir Putin's narrative that the Ukraine conflict is really "a war between Russia and the West; hence one needs bomb shelters."
"There is no tactical value in using resources to upgrade Russia's bomb shelters," Reno told Newsweek in an email, adding, "Ukraine doesn't possess the capacity" to hit targets far beyond the borders it shares with Russia.
Newsweek reached out to the Russian Ministry of Foreign Affairs for comment.