Kristen Bell and Dax Shepard attend therapy separately to complain about each other — but it's making them stronger than ever.
Bell made the revelation on The Ellen DeGeneres Show, revealing to guest host Chelsea Handler that during the pandemic they "were at each other's throats" and decided to go to the same therapist separately so they "could talk s*** about each other."
The celebrity couple have been together for over a decade now and appear to be one of Hollywood's closest items. Starting from their first meeting to now, let's take a look back on the relationship timeline of Bell and Shepard.
When Did Kristen Bell and Dax Shepard Meet?
In 2007, both Kristen Bell (Frozen) and Dax Shepard (CHiPS) were invited to a dinner party where they would meet their future spouse. However, Bell revealed on Today that there were initially no sparks between them.
Both actors are originally from Michigan and two weeks later they met again at a Detroit Red Wings hockey game where they started flirting for the first time.
But it wasn't smooth sailing when they began dating. In 2017, Bell told PopSugar that they broke up for around three months in the early stages of their relationship. She said he sat her down and told her he was still dating other people. Bell continued: "I, like, liquefied and fell to the ground, but I felt incredibly respected that he had the balls to tell me we weren't in the same place.
"He called me and he was like, 'I don't know what I was thinking. I was dating someone else but they're just not as interesting as you,'" she said.
They announced their engagement in January 2010 but it would be many more years before they tied the knot.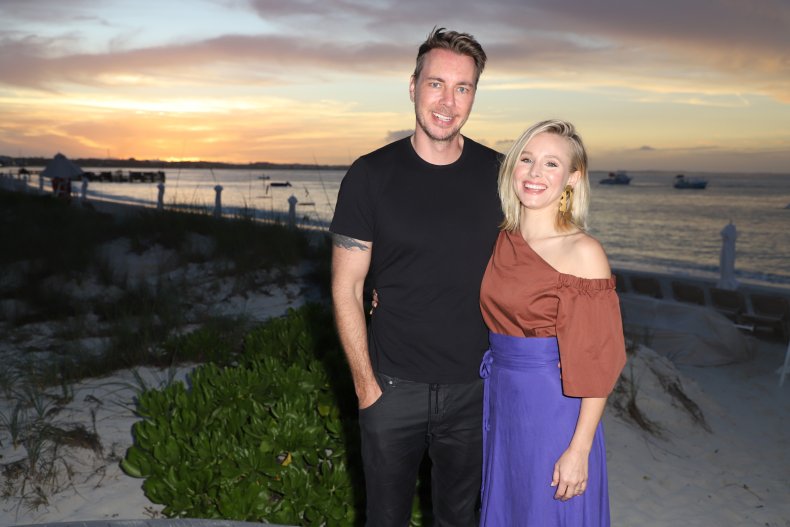 Have Kristen Bell and Dax Shepard Worked Together?
Bell and Shepard have collaborated professionally several times throughout their relationship.
They first starred in the rom-com When in Rome (2010) with Bell playing the lead role, and Shepard in a bit-part role as a suitor who falls for Bell's character. In 2012, they played boyfriend and girlfriend in the action comedy Hit and Run. The all-star cast also featured Bradley Cooper, Kristin Chenoweth and Tom Arnold.
Bell signed up to star alongside Shepard in the 2017 comedy CHiPS, which Shepard wrote and directed. The film was panned by critics.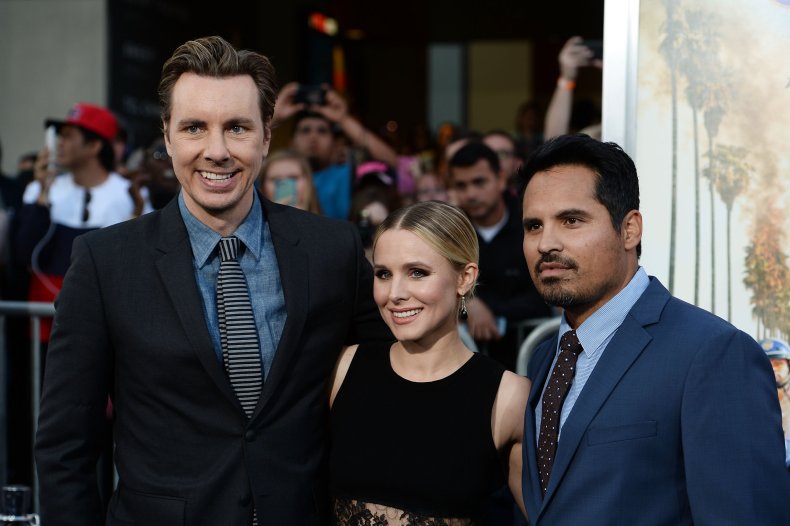 They've also taken their working relationship away from the screen, as they founded a plant-based baby care product line company called Hello Bello. Their environmentally friendly products are sold in Walmart and online.
Shepard also hosts his own successful podcast series called Armchair Expert. His wife was his first guest and she's appeared several times during the series' long run.
When Did Kristen Bell and Dax Shepard Get Married?
Although they got engaged in 2010, they held off on getting married until the state of California legalized same-sex marriage.
On June 26, 2013, section 3 of the Defense of Marriage Act was scrapped by the Supreme Court, and Bell used the opportunity to propose to Shepard.
Including hashtags and Pride-related emojis she wrote on Twitter:"@daxshepard1 will you marry me? Xo"
They got married on October 17, 2013 at the Beverly Hills Courthouse, costing them $147 in total. Bell later admitted on The Late Late Show with James Corden in 2017 that neither of them remember the exact date of their wedding. She said they're reminded every year because her mom texts her to wish her a happy anniversary.
How Many Kids Do Kristen Bell and Dax Shepard have?
Bell and Shepard have two daughters, Lincoln and Delta born in March 2013 and December 2014.
The couple have remained protective of their children, supporting a bill to prevent the paparazzi from photographing them. The California Senate Bill 606 passed in 2013 with testimony from Halle Berry and Jennifer Garner.
Bell recently posted a sweet Father's Day tribute to her husband Shepard which features her children with their faces concealed.