The competition on America's Got Talent has started to heat up, with the long-running reality series entering Week 4 of auditions on Tuesday, June 21.
The latest episode was one of the most eventful to date, with Sofia Vergara awarding her golden buzzer to Lebanese dance troupe Mayyas. Audiences were also treated to some jaw-dropping and emotional auditions spanning the fields of singing, dancing, comedy, magic, and more.
One of the stand-out acts of the evening was Kristen Cruz, who received a standing ovation from the judges and studio audience following her performance of "I See Red" by Everybody Loves an Outlaw.
Cruz received four yeses from the judges and stands a chance of performing in the live shows in August 2022, taking her one step closer to winning the $1 million prize and headline Vegas slot.
So, who is Kristen Cruz? Newsweek has everything you need to know.
Who Is Kristen Cruz?
Kristen Cruz is a 19-year-old singer and music student from Irving, Texas.
Some America's Got Talent fans may recognize Cruz from her presence on TikTok. On her channel, she covers all types of music including pop, soul, and songs of worship. Most of her videos include her belting out her songs while making coffee and smoothies.
She currently has 2.2 million followers on TikTok and counting, with a video of her singing Miley Cyrus' "Nothing Breaks Like A Heart" racking up 6.3 million likes so far. Overall, she has over 3.1 billion views on her TikTok channel.
Cruz even introduced herself as a "singer" who "makes drinks" to the AGT judges Simon Cowell, Howie Mandel, Vergara, and Heidi Klum.
Cruz shared that her dream is to "inspire people, to make them feel that you don't have to be anything but yourself. I don't have to be the industry standard."
While Cowell, Klum, Mandel, and Vergara were blown away by Cruz's rendition of "I See Red" for her audition round, they're not Cruz's only celebrity fans.
On her Instagram, where she also shows off her incredible voice, she is followed by Grey's Anatomy star Ellen Pompeo, West Side Story's Arian DeBose, and actor David Arquette.
She also has her own music available to listen to now on Spotify and Apple Music. According to her Spotify page, she already has 25,300 monthly listeners.
In 2020 she released her first two singles "Essence of the Moment" and "Ride". Earlier this year, she released a follow-up, "Dancing in the Sky."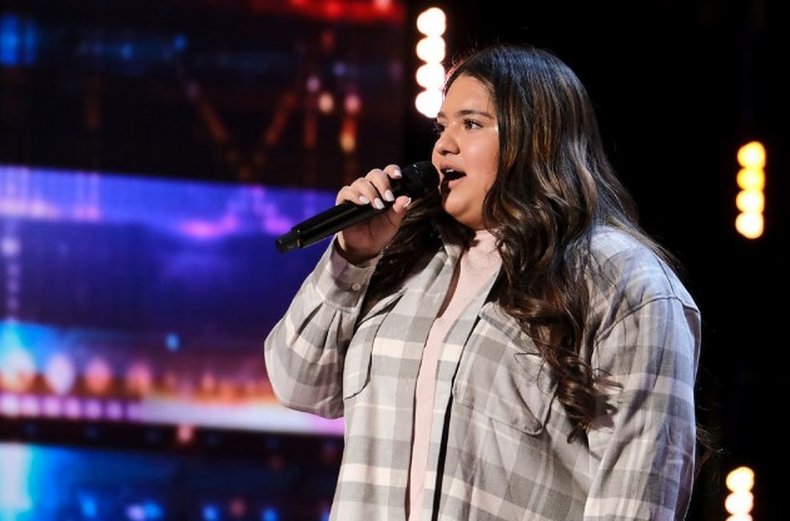 The judges absolutely loved her performance, with Cowell calling her audition "unbelievable."
He then joked: "Was that really you singing?"
"I was surprised also because we have a lot of overconfident singers who come out here and they're dreadful...Your voice is what I would call 'seasoned.' You're not like someone just starting. Your range, your tone. You have great taste by the way because it was a great, great choice of song."
Mandel added: "You open your mouth and you're on fire!"
Klum gushed: "I love everything about you. You are a star already in the making. You just have a real gift, you just have 'it'.
Vergara was also a big fan of Cruz, exclaiming: "The moment you started singing you became so powerful, so confident. It was unexpected, and it was sexy!".
Fans have been sharing their love for Cruz's AGT audition online since it aired on Tuesday's show.
One fan tweeted: "This young lady is phenomenal! Her voice reminds me of Adele with a bit of Janice Joplin....just fantastic! She should've gotten the golden buzzer! Awesome job Kristen Cruz! #AGT"
A second fan added after watching Cruz's audition: "Awesome! Her version of this song is better than original. Can we please get a release on Amazon Music or Apple Music!!!?"
A third fan chimed in: "She knocked me off my feet . . . Her excellent raspy? Aged, antique, older, "seasoned" voice is spectacular!!!"
You can follow Cruz on TikTok at @kristenncruz and on Instagram at @kristenncruz.
America's Got Talent airs Tuesdays at 8 p.m. ET on NBC