The audition rounds for America's Got Talent 2022 continued on Tuesday, June 21 and there was no shortage of jaw-dropping acts spanning the world of magic, singing, dancing, comedy, and more.
Each act that survived the dreaded red buzzer and got given at least three yeses from the judging panel was taken one step closer to a chance of winning the $1 million prize and Las Vegas headline slot.
From 19-year-old certified superstar Kristen Cruz to Sofia Vergara's spellbinding Golden Buzzer act, there are a lot of wonderful moments to unpack from America's Got Talent Week 4.
Luckily, Newsweek has the breakdown of the show's Top 5 moments from Week 4.
The Top 5 Moments From AGT Week 4
1. Sofia Vergara's Golden Buzzer Act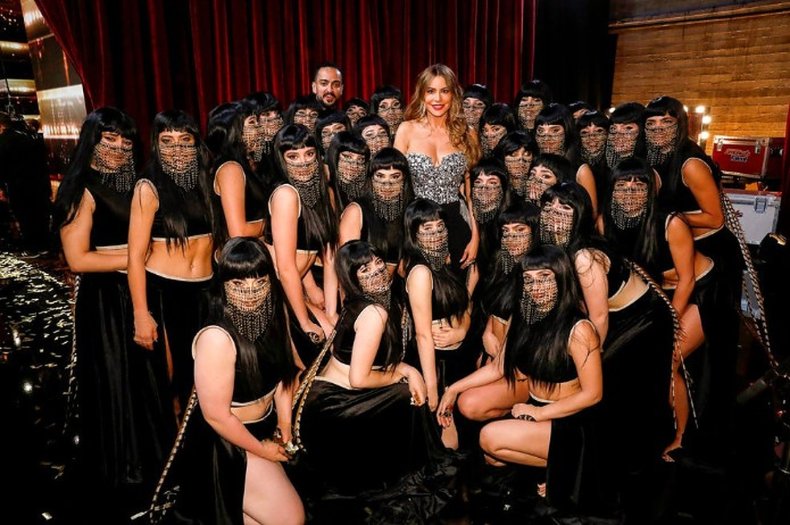 Lebanese dance crew, The Mayyas, were the lucky recipients of Sofia Vergara's golden buzzer, sending them through to the AGT live shows, which are set to begin in August.
The all-female dance crew, formed by choreographer Nadim Cherfan, told AGT cameras before their audition they came to the U.S. to pursue their dancing dreams.
Speaking directly to the judges and live audience ahead of their jaw-dropping routine, one dancer explained their dance troupe name Mayyas, means "the proud walk of a lioness."
She also shared the group's reason for auditioning, reflecting: "Lebanon is a very beautiful country. But we live a daily struggle. Unfortunately, being a dancer as a female Arab...is not fully supported yet."
Before the music began, the Mayyas teased the judges their routine would "hypnotize" them, and Vergara was completely under their spell, pressing her golden buzzer when their flawless performance ended.
After the Mayyas' performance, Vergara commented: "There are no words to explain to you what we were feeling over here. It was the most beautiful, creative dancing I've ever seen."
After her fellow judges Simon Cowell, Howie Mandel, and Heidi Klum sang their praises, Vergara reached forward for the golden buzzer, stating: "It's time for us to vote, but I want to say something first. I would be so honored to empower you even more in this journey because you deserve it. And I want to be part of this!"
2. Kristen Cruz
Kristen Cruz, 19, blew the judges and audiences away with her moving performance of "I See Red" by Everybody Loves An Outlaw.
Her rendition of the song was so good that she received a standing ovation from all four judges and the live audience. Judge Simon Cowell even gave Cruz his reassuring double thumbs-up and AGT fans will know it is not something he gives to acts on a whim.
After Cruz's performance, Cowell joked: "Unbelievable. Was that really you singing?
"I was surprised also because we have a lot of overconfident singers who come out here and they're dreadful...Your voice is what I would call 'seasoned.' You're not like someone just starting. Your range, your tone. You have great taste by the way because it was a great, great choice of song."
Judge Howie Mandel added: "You open your mouth and you're on fire!"
Heidi Klum gushed: "I love everything about you. You are a star already in the making. You just have a real gift, you just have 'it.'"
Sofia Vergara was also a big fan of Cruz, exclaiming: "The moment you started singing you became so powerful, so confident. It was unexpected, and it was sexy!"
3. Justin Rupple
Justin Rupple stunned the AGT judges and audiences with his hilarious impression act.
For his AGT audition, Rupple, a comedian, actor and voice actor did uncanny impressions of celebrities Jim Carrey, Ryan Reynolds, Seth Rogen, and Harrison Ford to name a few, leaving the AGT audience in stitches.
He received four yeses from the judges and a standing ovation from the crowd, leaving Rupple in tears.
Praising Rupple's act, comedian Howie Mandel commented: "Sometimes where I lack, and the two places I lack with impressionists is number one, not knowing who they're doing and number two, not having material and I think you check both of those boxes. I thought it was really unique in showing us how you arrive at that.
"That was really funny, really interesting and I haven't seen that done before. We love you."
Rupple is no stranger to reality TV, having appeared on First Impressions with Dana Carvey and audiences may recognize him from his work voicing Tuffnut on How to Train Your Dragon, and Operation Chromite alongside Taken actor, Liam Neeson.
4. Kristy Sellars
Pole dancer and Australia's Got Talent winner Kristy Sellars proved judge Simon Cowell wrong about the art of pole dancing.
Ahead of Sellars' performance, Cowell quipped to his fellow judges that pole dancing was "pointless," however, Sellars' mesmerizing routine, which included an animated backdrop allowing her to tell her story, resulted in Cowell ditching his opinion.
Giving Sellars a yes for the next round, Cowell admitted: "You never know how these ideas are going to work on stage, but this in the room was just phenomenal."
Sellars also had the resounding support from Cowell's fellow judges, with Klum adding: "You have such an amazing vision, and you really brought pole dancing to a whole new level."
Mandel gave Sellars the biggest compliment of all, calling her performance a "Vegas show."
5. Kieran Rhodes
Singer Kieran Rhodes had the judges and AGT audience in tears with his audition.
The 20-year-old singer, who taught himself how to play piano and to sing, began his audition by performing Billy Joel's "She's Got a Way" before Cowell interrupted him and asked him to sing another song.
Rhodes then stunned the judges with his moving performance of an original song "Disengage," which he wrote to help him overcome depression.
After Rhodes's audition, Vergara shared: "I could hear you play and sing for hours. You have it all."
To nobody's surprise, Rhodes received a well-deserved four yeses from the judges.
America's Got Talent airs Tuesdays at 8 p.m. ET on NBC.