Liberals Demand Kroger Boycott After Elaine Chao Joins Company's Board
The appointment of former Transportation Secretary Elaine Chao to the board of Kroger has sparked calls for a boycott of the supermarket chain.
Kroger announced on Monday that Chao had been elected to the board of directors with CEO and Chairman Rodney McMullen describing her as "an experienced national and global leader."
McMullen's statement added that she had "deep knowledge of corporate governance, strategic and workforce management" as well as "extensive experience at the highest levels of U.S. government."
Many took to Twitter to criticize the appointment of Chao, who had been investigated by the Transportation Department's inspector general's office in 2020 over the alleged misuse of her position during her time in the Trump administration.
The probe looked into claims that Chao, who is the wife of Republican Senate Minority Leader Mitch McConnell, had improperly helped family members and their shipping company, Foremost Group, owned by her father and sister.
Potential ethics infractions included using administration staff and resources to promote the company, along with claims Chao had asked staff members to do tasks for her father.
The inspector general's office referred the case for criminal prosecution in late 2020 but the U.S. Attorney's Office for the District of Columbia and the Department of Justice's Public Integrity Section decided not to prosecute, citing no evidence of criminal wrongdoing.
A spokesperson for Chao told Newsweek that the Transportation Department's inspector general's office investigation did not make any conclusion regarding the compliance of the then-secretary or any other federal employee with any ethical principle or rule.
"This report exonerates the (ex) secretary from baseless accusations and closes the book on an election-year effort to impugn her history-making career as the first Asian American woman appointed to a President's Cabinet," the spokesperson said in a statement, which also referred to her "outstanding record as the longest tenured Cabinet member since World War II."
But Twitter users referred to the probe as being disqualifying for a role on the supermarket board, as they wrote messages carrying the hashtag #BoycottKroger.
Democratic strategist Kaivan Shroff tweeted to his 93,000 followers that Chao had "exploited her position and resources as Trump Transportation Secretary to help her family," adding that, "now @Kroger is putting this corrupt person on their board. Disgraceful. #BoycottKroger."
A Twitter user with the handle No Justice, No Peace wrote: "I have shopped @Kroger for 30 years, in spite of some of my issues with them, but this is the last straw.
"I will NOT put 1 cent of my $$'s into Elaine Chao's bank account. #BoycottKroger."
MLC tweeted: "I spend on average $175 a week on groceries @kroger. That's $9100 a year. My small $9100 is nothing to them. But, if we can get more of us to #BoycottKroger it will certainly make an impact."
Another user tweeted: "I've filled my prescriptions at Kroger for over 20 years but putting Elaine Chao on the board of directors is unacceptable. Time to fill them elsewhere. #BoycottKroger."
Meanwhile, Mike Sington, a senior executive at NBC Universal, tweeted that people should note that if they intend to boycott Kroger, they should be aware it also owns "several large store chains" which includes Dillon's, Food 4 Less and Ralphs.
Chao, who is the first Asian-Pacific American woman to serve in a president's cabinet, has been elected to the Kroger board until she stands for re-election at the annual meeting of shareholders in June 2022.
In a statement to Newsweek, a Kroger spokesperson said: "Elaine Chao's career of service to our country and to causes like the United Way and Peace Corps will contribute to the diverse set of skills and perspectives of our board of directors, and we are proud that Kroger's Board reflects the diversity of our communities and workforce."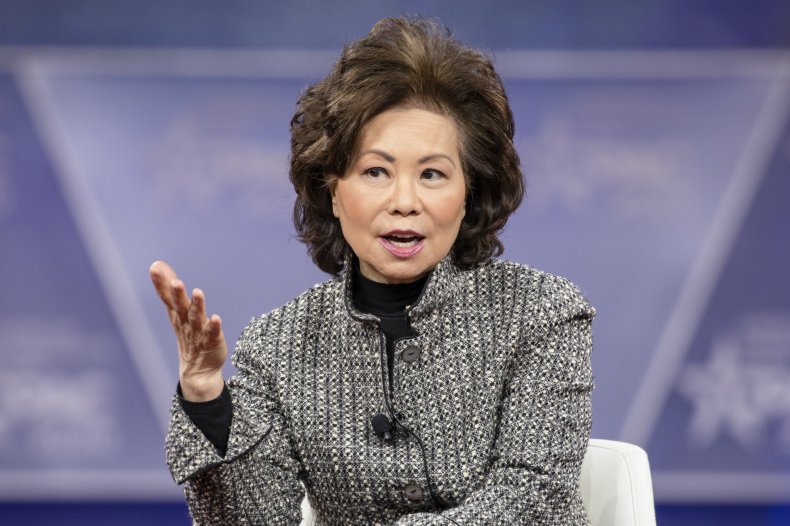 This story has been updated with responses to Newsweek from spokespeople for Chao and Kroger.