Tim Scott Challenger Krystle Matthews Hopes to Lure Republicans Who've Turned on Trump
Senator Tim Scott (R-SC) referred to the years former President Donald Trump was in the White House as "the good old days" during his re-election campaign launch on Monday.
And as he aims to be returned to his seat in the upper chamber in 2022, some might deem alignment with Trump an astute move—with the former president having won the state, and his ally Senator Lindsey Graham (R-SC) also securing re-election there last year.
But Krystle Matthews, a Democratic South Carolina state representative who is running a bid to unseat Scott in 2022, thinks that might not be the case.
Speaking to Newsweek, she referenced the split in the Republican Party over Trump—which was exacerbated further by the violent events at the U.S. Capitol on January 6.
On Scott's praise of Trump's term, Matthews added: "I think he has definitely misjudged the feeling in the state. And I think that is going to come back to hurt him."
She said: "Republicans have split into two, there are those not looking to sell out what they see as American values."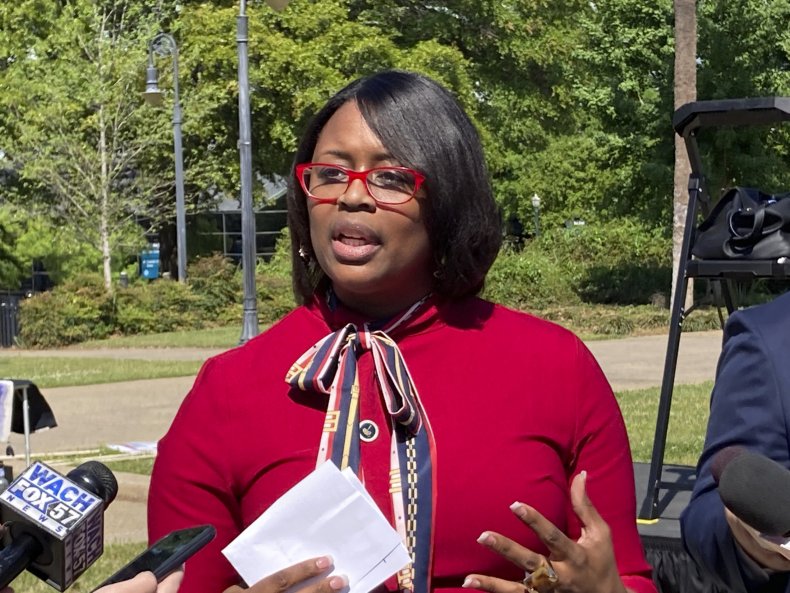 And with Scott aligning with Trump—who gave the senator his "complete and total endorsement" in March—Matthews suggested the votes of Republicans who disapprove of the former president could be up for grabs in the Senate election.
She continued: "Those are the ones I'm going to end up getting. They know I stand for truth and integrity if nothing else. I'm true to myself.
"People do not appreciate when somebody is just doing the right thing to try and get a vote."
And Matthews, who ousted a four-term GOP incumbent when she won her state seat in 2018, insists her own actions in the race (were she to be elected) would not be based on being potentially "politically expedient"—which she suggested Scott's decisions have been.
"I have Republicans who support me because I'm not willing to sell my integrity," Matthews said.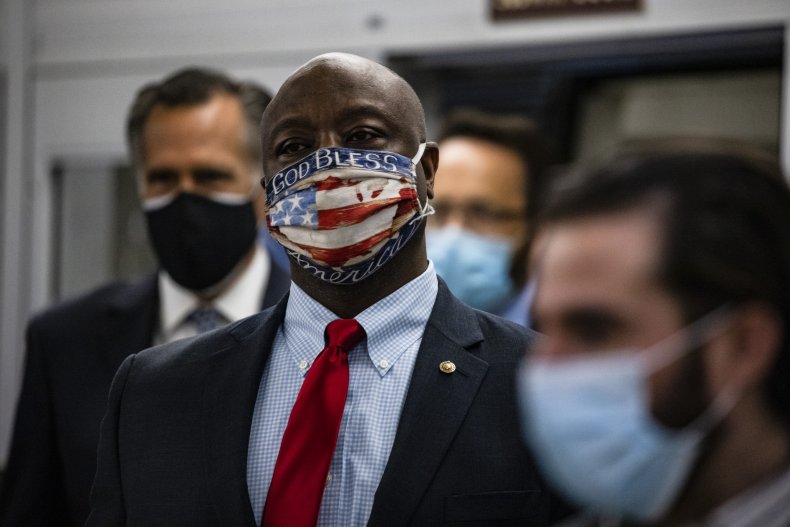 But while Matthews will point to differences she sees between herself and Scott, she insists she'd be running regardless of who it was against—feeling now is the right time and she is the right person for the job.
"We've been in a political atmosphere that's been so polarized. I don't mind highlighting the differences between us [her and Scott] but he's not the reason I'm running," Matthews said. "I'm just doing what's in my natural course."
In this, she addressed aspects of Scott's voting record—highlighting his vote, alongside every other Republican in Congress, against the American Rescue Plan.
"Thank god that our state does not only get what our Senators vote for," Matthews said.
"If we did, nobody in our state would have got the stimulus checks."
As a single mother of five, who works at Boeing as an engineering planner, boosting the voices of working families is a key goal.
"Working families need a voice at the table," Matthews said.
"We often keep talking about people at the bottom. You don't have to be homeless and hungry to be falling through the cracks."
Matthews highlighted the resources families need, pointing to help with child care and educational needs.
"Even when I get frustrated at how people are being pulled in extreme ways, most of us want a lot of the same things," Matthews said. "But lately it's moving to this 'either or' mentality. Most of us just want what makes sense."
South Carolina has never before elected a woman to be Senator for the state. At present, there are also no Black women in the Senate.
"We have to stay at the table," Matthews said. "I'm encouraging people like myself to stay in the fight."
As well as encouraging those people already civically engaged to stick with, her campaign is also aiming to boost the numbers of people who will vote in 2022.
On her tactics, Matthews has spoken of her desire to engage with those who have been "turned off" by politics and who might not have voted in recent elections.
When launching her campaign in April, she spoke of a goal of registering 150,000 new voters across South Carolina. "We're targeting a lot of people who have been turned off, turned away or just looked over," Matthews said.
As Matthews aims to take on Scott, she is not the only Democratic hopeful who has announced plans to do so, and faces competition come the primary. But, similarly to her stance on Scott, Matthews has said her focus is on her own campaign—not those of potential rivals.
"I'm not watching anybody else's campaign," Matthews said. "I'm focused on my own race. "I'm not going to change who I am to run a race.
"I know why I'm in it, and that is what fuels my passion. I'm here for the long haul."
Newsweek has contacted Scott's office for comment.