Lindsey Graham Says 'I Miss Trump' During Fox News Interview
Senator Lindsey Graham (R-SC) has told Fox News that he misses former President Donald Trump during a viral interview in which he also dismissed President Joe Biden's meeting with U.K. Prime Minister Boris Johnson as "all fluff and happy talk."
In an appearance on The Ingraham Angle on Thursday night, the GOP senator accused the Biden administration of not being tough enough on China and Russia. Graham said: "We've had two cyberattacks on our economy coming from Russian territory, by Russian organizations I think are given a pass by the Russian government. They are probably working together, to be honest with you.
"And you had growing evidence that the coronavirus came out of a lab in China, not nature, and is Biden asking the Europeans to do anything to push back against Russian cyberterrorism? Is he even talking about what should we do to rein China in? No. Of course this is just all fluff and happy talk. I miss Mr. Trump."
Graham went on: "Let's just be honest. The bad guys were afraid of Trump. Who's afraid of Biden? The Europeans are talking about doing a trade deal with China as China dismantles Hong Kong's democracy and is engaging in genocide against the Uyghurs. So, this just blows my mind.
"They're talking about going back into the Iranian nuclear deal even though Iran hasn't changed its behavior at all. I can tell you one thing, the Israelis miss a stronger American president."
The G7 meeting that begins in Cornwall, southwest England, on Friday is Biden's first overseas summit since taking office in January. The president will hold talks with the leaders of the other six nations that make up the group—the U.K., Canada, France, Germany, Japan and Italy. He had a separate meeting with Johnson on Thursday, discussing topics including Brexit, cybersecurity and climate change.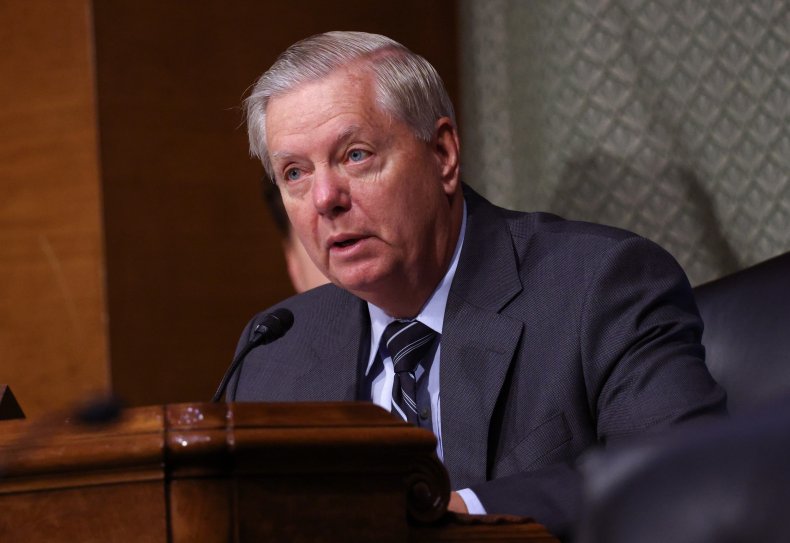 In another Fox interview aired on Thursday, Graham said he wasn't convinced by what Chinese scientists had told a team of international researchers during their visit to Wuhan. He described Peter Daszak, a member of the research team, as "detached from reality" about how China operates.
Graham went on a Fox media blitz on Thursday, also writing an op-ed for the broadcaster's website that claimed Trump lost the election last November because the president's theory that COVID-19 originated in a lab had been dismissed.
"There is no doubt in my mind the combination of prominent scientists coming out strongly against the lab leak theory, along with officials from the State Department shutting down additional inquiries, ended up being two of the most consequential events in the 2020 election cycle," Graham wrote.
"Had they given credence to this charge, the whole tenor, tone and focus of the 2020 election would have turned on a dime."
The South Carolina senator has been a staunch Trump advocate for the past few years, but the two men's relationship hasn't always been straightforward. In the run-up to the 2016 election, Graham called his fellow Republican a "jackass" while Trump described the senator as a "disgrace."
In March this year, after Trump delivered a combative speech to the Conservative Political Action Conference, Graham said he had the power to destroy the Republican Party.
But he also said the former president could rebuild it as a bigger and more diverse coalition. During an interview with Axios, Graham added that Trump had a "dark side" but also "some magic there."