KSI Says He'd Beat Floyd Mayweather, Backs Logan Paul Against Mike Tyson
YouTuber KSI has claimed he could beat Floyd Mayweather Jr. in a boxing bout—and backed his onetime opponent Logan Paul as the victor should he ever step into the ring with Mike Tyson.
KSI's boxing career started in 2018 and has included two matches against Paul, with whom he recently spoke for the latest episode of his Impaulsive podcast.
British-born KSI, 28, said during their chat that he could "[beat] up Mayweather," who retired from boxing in 2017 with a 50-0 record.
Paul responded: "It's funny you said you could beat him. I wanted to ask you about this—you probably think you could beat most people?"
"I feel like that's the mentality you have to have," said KSI, who added: "People will be like: 'What? KSI thinks he could beat Mayweather? Shut up.'
Paul, 26, went eight rounds against Mayweather, 44, when they faced off against in an exhibition fight in June.
Joe Weller, who fought KSI in his debut boxing match in 2018, said: "Looking at the internet, the majority of my Twitter are saying, 'Logan Paul just beat Floyd Mayweather.'
"I was expecting Floyd to just end it soon. Make a statement saying, 'Boxing is not a game. You YouTubers get out of it.' The fact that Logan Paul got to the end, fair play, proper respect. I think Logan Paul won. If there was a winner, I think Logan Paul won."
KSI then said to Paul: "I think you could beat [Mike] Tyson. You've got to remember, this isn't Tyson who's 18, this is Tyson who's [55]. People don't understand, we train like boxers."
Following Paul's bout with Mayweather in June, KSI, real name Olajide Olatunji, tweeted a suggestion that he was the "best boxer in the world."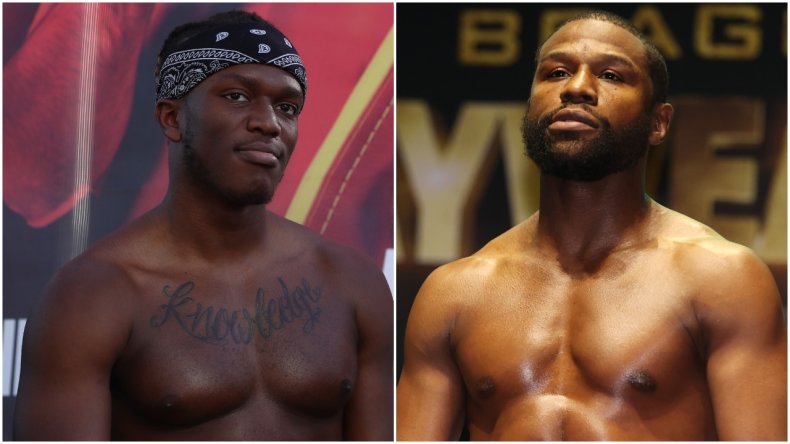 Paul fought KSI in 2018, with the contest ending in a draw. In a 2019 rematch, Paul was defeated, with KSI declared the winner by split decision.
And following Paul's controversial bout with Mayweather, KSI wrote on Twitter: "So...You're saying I'm now the best boxer in the world?"
Meanwhile, Paul has expressed his own confidence that he could beat Tyson, saying on his podcast in June: "Bro, he's old, old!"
Paul continued: "Someone mentioned Mike Tyson, like how funny is it? One great at a time. Or is it like you can only fight one?
"My lawyer mentioned it and he was like: 'No, Tyson will rip your head off, you don't stand a chance.' I'm like: 'Bro, I literally just went through all of this, you can't tell me I can't beat Mike Tyson.'"
Tyson, widely considered to be one of the greatest heavyweight boxers of all time, returned to the sport for an exhibition bout against Roy Jones Jr. in November.