YouTuber KSI Wants Fans 'To Expect the Unexpected,'Talks Fighting Logan Paul
According to YouTuber JJ "KSI" Olatunji, "everything has just gone [his] way." While his career began nearly a decade ago by posting simple FIFA gameplay clips, the British-born content creator has continued to push the limits of his medium. This year he won a boxing match against Logan Paul, created a song with Lil Baby and Rick Ross and managed to consistently release content with millions of views each.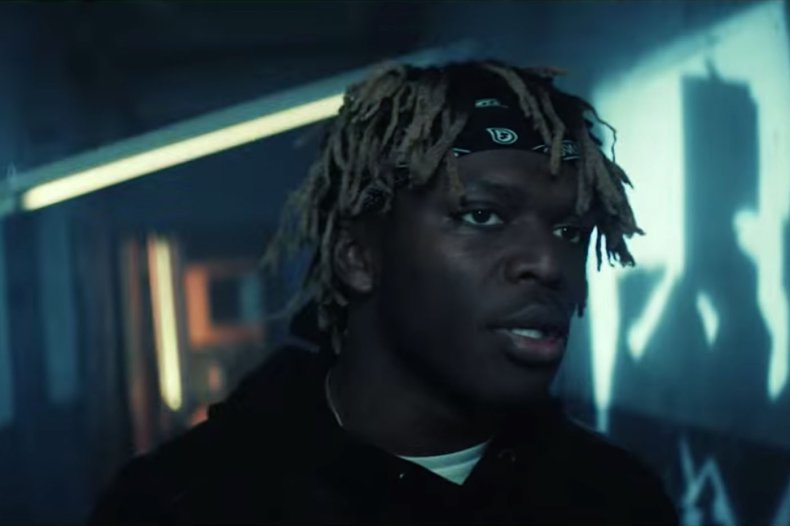 When KSI posts a video for his nearly 21 million subscribers, it could star him sitting in front of a camera making fun of memes or take the form of a star-studded music video with the industry's top professionals. "People love my content because they don't know what to expect," Olatunji told Newsweek. "People who have been watching me from the beginning don't know what I can do next. They expect the unexpected from me."
This constant bob and weave mentality evolved from years of working with a YouTube algorithm that encourages producers to adapt or die. Playing the same football simulator till the end of time was not an option for Olatunji, as he noticed the potential for his channel to grow. Creating the Sidemen, a collective of YouTuber personalities, and boxing Joe Weller, another popular YouTuber who challenged Olatunji to a fight, were pivotal moments that helped him stand out from the crowd.
His second match with Logan Paul in November featured over 2.25 million viewers watching live and lived up to its promoted title as "the biggest event in internet history." After two hard-fought matches, Olatunji still doesn't trust the Pauls and has no relationship with them currently.
"(Jake and Logan Paul) do stuff for the views and the likes and don't think about the consequences," Olatunji said. "They act stupid, random and childish."
The year hasn't been entirely wins, however, with Olatunji having a very public feud with his brother Deji. Family squabbles at Christmas made their way online, with each brother's repeated videos responding in blow-for-blow fashion. According to Olatunji, the "views" and "subscribers" that Deji's videos pulled in were alluring, causing him to create more videos to earn more publicity. Though the pair are currently on good terms, the ordeal has permanently impacted the lives of both brothers.
"At the time, it was a complicated thing that shouldn't have happened in public," Olatunji said. "Because we've grown up in this social media world, people feel like you have to tell everyone everything because that's how you get to one million followers. Sometimes you need to keep things to yourself. That's life."
Living in the public eye is something he's grown accustomed to, but KSI still doesn't share everything online. The real Olatunji, one who isn't masked by the preconceived notions of parasocial activity, is still fairly close to the one fans know. "it's funny when a fan comes up to me in public and probably knows more about me than I know about myself," he said. "That's kind of cool. I just have to live with and accept it."
With his "Down Like That" videos featuring Lil Baby and Rick Ross at 17 million views and counting, KSI continues to prove YouTubers can be legitimate entertainers. "YouTube has reached a point where celebrity dudes want to get involved," he said. "I already knew we were at this level. We've been at this level for a while and it's taken a while for everyone to catch up."