Kurds Strike Deal with Putin and Assad in Syria: 'We Had to Choose Between Compromises and the Genocide of our People'
Kurdish-led forces in north-eastern Syria have struck a deal with Russia and Syrian President Bashar al-Assad in an effort to repel Turkey's march into the country—as upwards of 750 Islamic State militants (ISIS) escaped from detention centers and more criticism was heaped on U.S. President Donald Trump.
When Trump announced U.S. troops would be withdrawn from Syria's north east last week, seemingly giving the green light for a Turkish invasion, he was accused of betraying the Kurds—a longtime American ally in staving off ISIS in the region—and a number of experts and analysts warning that the move would give the minority group no choice but to negotiate with Russia and Assad.
Now with Turkey's Operation Peace Spring intensifying and its incursion going far deeper into Syrian territory than anticipated, the Kurdish-led Syrian Democratic Forces (SDF) have done exactly that, stating it had no other choice when faced with possible extermination and after America turned its back.
"We know that we would have to make painful compromises with Moscow and Bashar al-Assad if we go down the road of working with them," Mazloum Abdi, the SDF's commander-in-chief, wrote in an article for Foreign Policy on Sunday. "But if we have to choose between compromises and the genocide of our people, we will surely choose life for our people."
The deal—brokered on Sunday between Syria, Russia and the Kurds—hands over the Kurdish-controlled, semi-autonomous border towns of Manbij and Kobani to Damascus, with Syrian state media announcing that Assad's army was moving north "confront Turkish aggression on Syrian territory."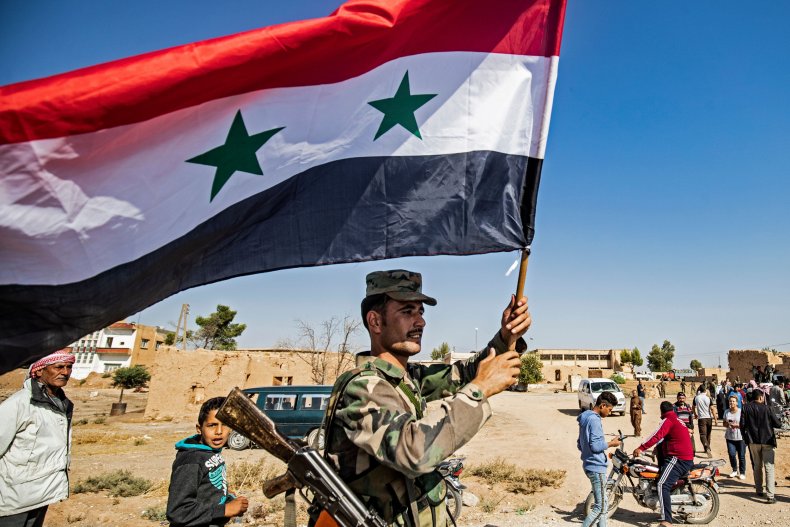 It is likely to extend to all of north-east Syria and was confirmed in a statement released by the Autonomous Administration of North and East Syria (NES) on Sunday night.
"To counter and prevent this [Turkish] attack, an agreement with the Syrian government, which is responsible for protecting the borders of the country and preserving Syrian sovereignty, has been reached for the Syrian army to enter and be deployed along the Syrian-Turkish border," said the NES.
The deployment is to "support the Syrian Democratic Forces to counter this aggression and liberate the territory which the Turkish army and its hired mercenaries entered," the statement added.
It comes as scores of civilians are feared to have been killed in the Turkish offensive, with upwards of 130,000 displaced according to United Nations estimates, and Turkey showing no signs of slowing.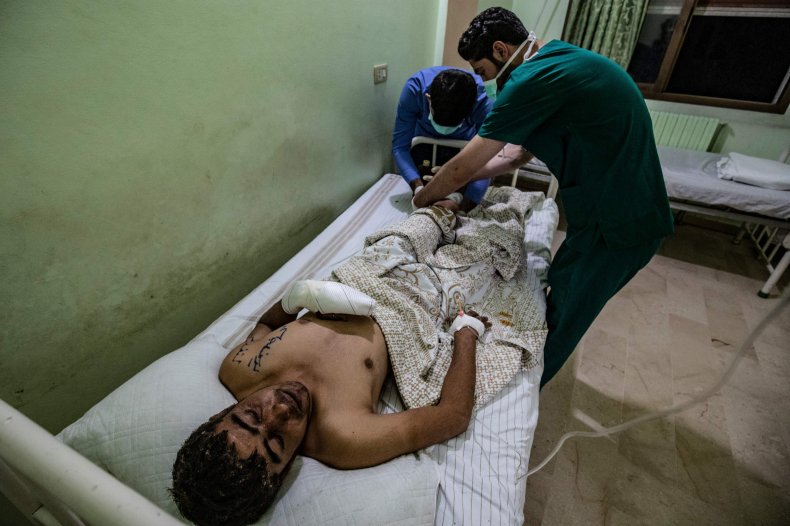 On Saturday Turkish-backed militants executed the Secretary-General of the pro-Kurdish Future Syria Party, Hevrin Khalaf, on the side of a road in Tal Abyad. Footage showed a bullet-riddled car said to have been used by Khalaf, surrounded by militants.
Brett McGurk, who served as the special presidential envoy for the anti-ISIS coalition until he resigned over Trump's Syria strategy in December 2018, described the situation as a "total disaster," adding that Trump's abandonment of the Kurds was "careless and callous".
"Syria has been a humanitarian disaster on epic scale," McGurk said on Twitter. "Assad is a war criminal who deserves a bad accident, but the U.S. over two administrations, with a major inter-agency and international effort, defeated the ISIS caliphate, and stabilized one third of the country, at very low cost.
"The deaths came from the SDF, nearly 11,000 total, and they were not just 'fighting for their land' as Trump petulantly says.
"They were fighting where we asked them to fight based on a military campaign design to pressure and then defeat ISIS across two theaters.
"Trump seems to believe it's easy to raise an army and fight an enemy like ISIS. It's not. It takes years of work and it may be impossible now as the world sees a historic success upended in six days after a call with a foreign leader and in the most careless and callous manner.
"Bottom line: it's shameful to leave partners to their fate and the mercies of hostile actors with no thought, plan or process in place. I wish my former SDF colleagues the best as they find new patrons. We won a war together. That's something nobody can take away from us."
Senate Minority Leader Chuck Schumer announced on Sunday that congressional Democrats will soon offer a resolution urging Trump to "undo" his decision to remove U.S. troops in Syria in order to protect the Kurds.