Kushner Told Woodward Trump 'Got the Country Back from the Doctors' in Discussing U.S. COVID Response
Recently released recordings from an April 18 interview with journalist Bob Woodward have revealed that Jared Kushner, senior White House adviser and son-in-law to Republican President Donald Trump, said Trump was "getting the country back from the doctors" when he sought to quickly re-open the country's economy soon after the coronavirus pandemic first hit.
The first COVID-19 case in the U.S. occurred in January 20. Trump declared the pandemic a national emergency on March 13. Following statewide shutdowns of schools, non-essential businesses and public places, Trump said on March 24 that he wanted the country reopened by Easter, April 12.
With the White House's blessing, Kushner spoke with Woodward as part of his research on his then-forthcoming book about the Trump presidency entitled Rage.
"The last thing was doing the [re-opening] guidelines, which was interesting, and that in my mind was almost like Trump getting the country back from the doctors, right?" Kushner told Woodward. "In the sense that, what he now did is open up."
"There were three phases: the panic phase, the pain phase and then the comeback phase," Kushner continued. "That doesn't mean there's not a whole lot of pain and won't be pain for a while. But what that basically does is we've put rules to go back to work. Trump is now back in charge, it's not the doctors. We have a negotiated settlement."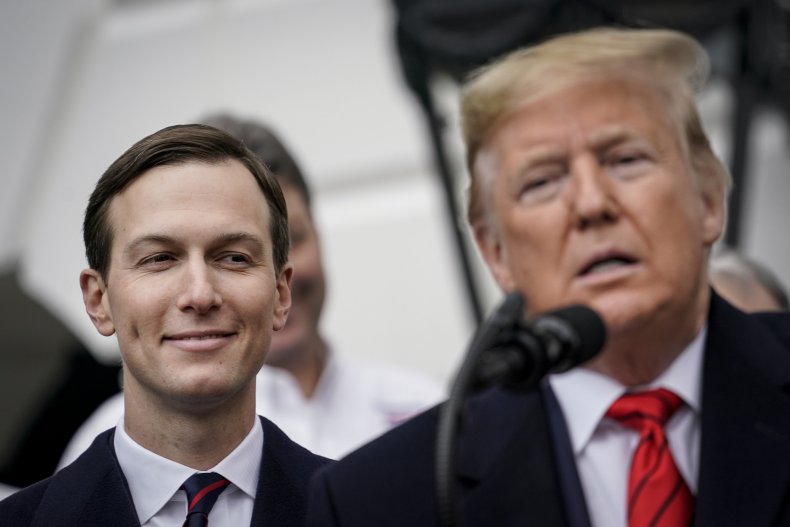 Kushner's remarks show the Trump administration's adversarial approach to doctors throughout the pandemic.
In July, four former directors of the U.S. Centers for Disease Control and Prevention (CDC) accused Trump of "subverting scientific expertise" and "unnecessarily putting lives at risk." In a Washington Post op-ed, they wrote, "No president ever politicized [the CDC's] science the way Trump has."
Previous to the op-ed, Trump had criticized the CDC's guidelines on how to reopen schools safely, calling them unnecessary and costly.
Shortly after schools reopened, the U.S. saw an increase in COVID-19 cases among children of all ages. While children had made up 2 percent of all U.S. cases in April, they made up 10 percent of all cases by September, according to the American Academy of Pediatrics.
On Monday, Trump said that doctors overreport COVID-19 deaths for financial gain. However, Ashish K. Jha, dean of the Brown University School of Public Health, called Trump's claim "Facebook junk" and many other doctors and medical associations said over-reporting could cause doctors to face criminal charges, potentially threatening their licensing.
In early October, The New England Journal of Medicine published its first-ever editorial in the publication's over-200-year history stating that Trump had "failed ... a test of leadership" in his response to the ongoing COVID-19 epidemic.
Newsweek contacted the White House for comment.