Kyiv Citizens Asked to Use Molotov Cocktails Against Russian Invaders
Ukrainian officials have instructed civilians to prepare Molotov cocktails to fight off invading Russian troops.
"We urge citizens to inform us of troop movements, to make Molotov cocktails, and neutralize the enemy," the Ukrainian ministry of defense said on social media, urging citizens to build homemade petrol bombs.
The alert came as the ministry said Russian forces appeared to have infiltrated a residential district of Kyiv.
Videos posted on social media showed Russian tanks driving through Obolon, located just north of downtown Kyiv.
"We ask citizens to inform about the movement of equipment! Make Molotov cocktails, neutralize the occupier!" The ministry said in a Twitter post on Friday. "Peaceful residents—be careful! Do not leave the house!"
Anton Gerashchenko, Ukraine's government adviser, told reporters via text message that Russian forces were attacking the nation's capital city in the early hours of Friday morning.
"Strikes on Kyiv with cruise or ballistic missiles continued," he said, according to CNN.
Ukrainian President Volodymyr Zelenskyy described himself as Russia's "number one target."
"My family is the number two target. They want to destroy Ukraine politically by destroying the head of state," he said during a televised address on Thursday. He told citizens he will stay in the capital and "stay with my people."
Earlier on Friday, Ukraine's armed forces issued an alert saying that Russian troops had stolen vehicles from the National Guard of Ukraine, and were using them for "sabotage" purposes.
"Kyiv, we need your help. If you see these vehicles, immediately report to the police," the armed forces of Ukraine said in an appeal on social media.
"The Russian military seized two vehicles of the Armed Forces of Ukraine, changed into the uniform of the Ukrainian military and moved at high speed to the center of Kyiv. They are followed by a column of Russian military trucks," Ukraine's Deputy Defense Minister Hanna Malyar said.
"A convoy of Russian military trucks are following them. They will surely be neutralized," Malyar added.
Three U.S. officials told Newsweek on Thursday that they expect Ukraine's resistance would be neutralized in just days should Kyiv fall to Russian forces.
"After the air and artillery end and the ground war really starts, I think Kyiv falls in just a few days," one former senior U.S. intelligence officer said.
"The military may last slightly longer," the former intelligence officer added, "but this isn't going to last long."
All U.S. officials spoke on condition of anonymity.
An air raid alert was issued in the nation's capital early on Friday. Kyiv's citizens were told to seek shelter immediately.
"Immediately head to the nearest shelter!" the press service of the Kyiv City State Administration said in a statement.
At least one residential building in the capital was hit by shelling as Russian forces descended from the north.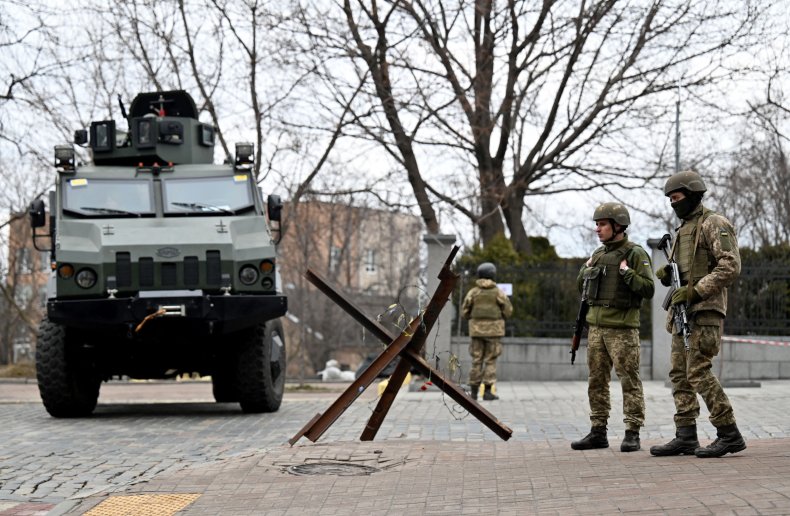 Update 02/25/22 at 5:26 a.m. ET: This article has been updated with additional information.