Zelenskyy Says He's Russia's 'Target No. 1' and His Family 'Target No. 2'
Amid Russian missile attacks in Ukraine's eastern region and capital city, Ukraine President Volodymyr Zelenskyy says that Russia has marked him as its top enemy and Russian forces are seeking to kill him.
"The enemy marked me as target number one, and my family as target number two," Zelenskyy said during a televised address on Thursday, according to Belarus-based journalist Hanna Liubakova. Zelenskyy's statement comes a day after the U.S. told the United Nations' human rights chief, Michelle Bachelet, that Russia has created a hit list of "identified Ukrainians to be killed or sent to camps."
The list's likely targets include Russian and Belarusian dissidents exiled within Ukraine, journalists and anti-corruption activists as well as other religious and ethnic minorities, according to Bathsheba Crocker, U.S. ambassador to the United Nations.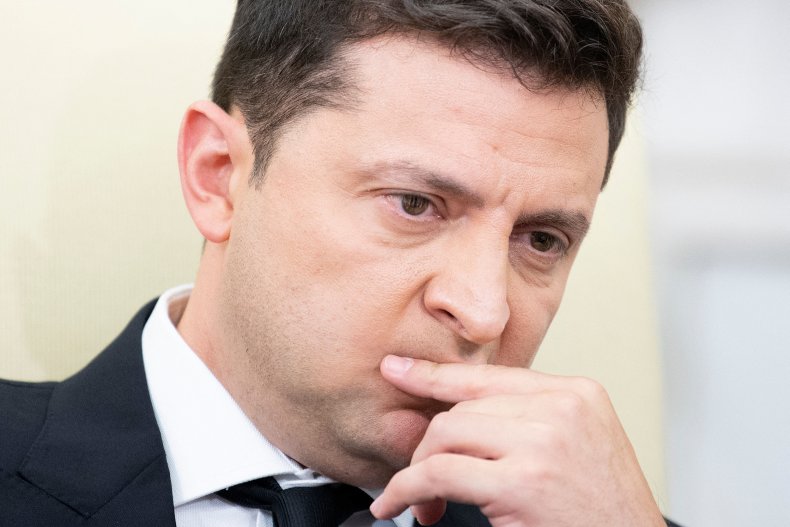 Despite being targeted, Zelenskyy disavowed reports claiming that he had fled his country. He said he will stay in Ukraine's governmental center within Kyiv, according to the Russian news website Espresso TV.
"I stay in the capital, I stay with my people," Zelenskyy said. "During the day, I held dozens of international talks, directly managed our country. And I will stay in the capital. My family is also in Ukraine. My children are also in Ukraine. My family is not traitors. They are the citizens of Ukraine."
Zelenskyy's Thursday speech largely honored Ukrainians who died fending off Russian invaders. He said that 137 Ukrainians had died and 316 were wounded, adding that Ukraine had taken Russian prisoners of war and also shot down several Russian aircraft. He then asked for his citizens to help take up arms against Russian invaders and provide medical care for the wounded.
Zelenskyy said that other countries had voiced support for Ukraine, but he added that his country has been "left alone" to fight in its own defense.
"Who is ready to fight with us? Honestly, I do not see such," he said.
Video captured earlier in the day captured fiery debris falling from the sky. Some of the debris apparently struck an apartment building in the capital city. Fighting damaged two buildings in the city. Three people were injured, one in critical condition, according to Kyiv Mayor Vitali Klitschko.
Russian warships also began firing on the tiny Ukrainian-owned Zmiinyi Island. The attack, which was live-streamed, resulted in the death of all 13 troops stationed there.
Earlier on Thursday, Zelenskyy's advisor Mykhailo Podoliak compared Russia's attack on Kyiv to Germany's attack against Ukraine in World War II. In that conflict, Germany brought the country almost completely under its control.
"Our capital was bombed at such a time and in such a way twice in history," Podoliak said. "Just like in 1941, now the attacker can only get the hatred of the people and nothing more."
Newsweek contacted the Ukrainian embassy in the U.S. for comment.