One of 13 Killed on Ukrainian Island Live-Streamed Attack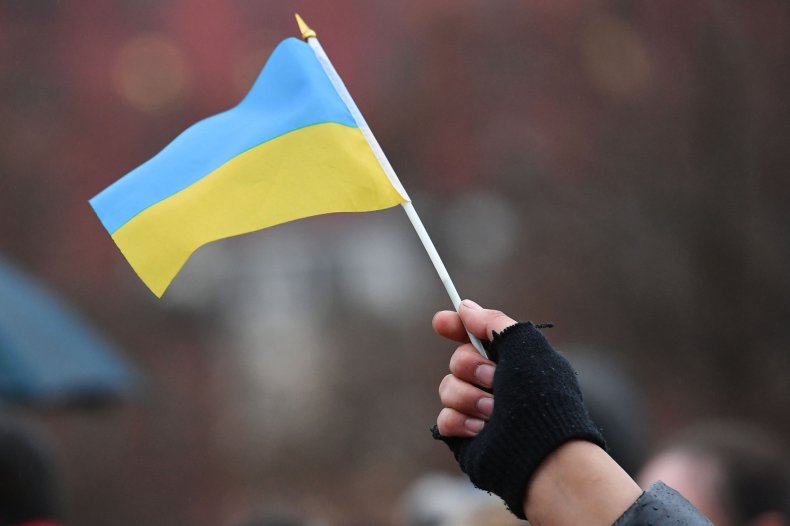 One of 13 Ukrainian soldiers killed in a Russian military offensive was live-streaming just before losing their life.
The small contingent of soldiers posted on Ukraine's Snake Island were all killed as Russia invaded the country on Thursday. A radio communication from a Russian Navy warship warned the soldiers to surrender just before the island was shelled, prompting the defiant Ukrainians to respond by telling the Russians to "go f*** yourselves."
"This is a Russian military warship," the Russians said in a recording of the communication, according to a translation by The Daily Mail. "I suggest you lay down your weapons and surrender to avoid bloodshed and needless casualties. Otherwise, you will be bombed."
The Ukrainian soldiers can be heard saying "this is it" and briefly discussing how to respond to the Russian ultimatum before deciding on an answer. One of the soldiers is then heard responding: "Russian warship, go f*** yourselves."
A soldier stationed outside on the tiny island, which is also known as Zmiinyi Island and is of strategic importance due to its location near Romanian territory in the Black Sea, was live-streaming as the soon-to-be deadly skirmish unfolded.
A short clip of the live stream posted to social media shows the soldier ducking while the Russian warship opens fire, only moments before they and their 12 fellow soldiers were killed.
Ukrainian President Volodymyr Zelenskyy later confirmed the deaths in a news conference, lauding the soldiers for not surrendering and announcing that they would be posthumously awarded the title of "Hero of Ukraine."
Zelenskyy said that the soldiers were only 13 of at least 137 Ukrainians killed during the first day of the Russian attack.
"Today Russia attacked the entire territory of our state," Zelenskyy said. "And today our defenders have done a lot. They defended almost the entire territory of Ukraine, which suffered direct blows.... Unfortunately, we have lost 137 of our heroes today—our citizens. Ten of them are officers; 316 are wounded."
"On our Zmiinyi Island, defending it to the last, all the border guards died heroically," he continued. "But did not give up. All of them will be posthumously awarded the title of Hero of Ukraine. May the memory of those who gave their lives for Ukraine live forever."
Zelenskyy went on to assert that, in addition to strikes on military targets, Russia had also been attacking civilians. He said that the Russians "kill people and turn peaceful cities into military targets," vowing that the "vile" attacks would "never be forgiven."
Ukraine's Ministry of Defense has claimed that the assault has also resulted in around 800 Russian deaths. Russian President Vladimir Putin has claimed that Russian military are on a "peacekeeping" mission.
Newsweek reached out to the Embassy of Ukraine in Washington, D.C., for comment.