Lin Wood Attempting to Get Back Kyle Rittenhouse's $2m Bail Money
A controversial lawyer who helped raise the $2 million bail money for Kenosha double murder suspect Kyle Rittenhouse is now seeking to have the money returned to his organization at the end of the 18-year-old's trial.
Lin Wood, a defamation lawyer-turned-conspiracy theorist and influential figure in the radical QAnon movement, is attempting to have the money he pulled together to help get the teenager out of jail in November 2020 given to his #FightBack Foundation.
Rittenhouse is accused of killing two people and seriously injuring another during shootings at Black Lives Matter protests in Kenosha, Wisconsin, in August 2020.
The pro-Donald Trump attorney, who is currently facing sanctions for his dismissed lawsuits seeking to challenge the result of the 2020 election, managed to raise the $2 million to free Rittenhouse following a successful fundraising campaign backed by a number of conservative figures, along with fellow attorney John Pierce.
There is now a dispute between the lawyers and Rittenhouse's family about where the money should go after his upcoming murder trial.
In a letter sent last on September 17 to Kenosha County Circuit Court Judge Bruce Schroeder, Kenosha attorney Xavier Solis, apparently acting on behalf on Wood, argued that the money should be returned to the FightBack foundation.
"These funds were transferred by the Fightback Foundation to the Pierce Bainbridge Law Firm's trust account and paid by attorney John Pierce on behalf of, and as an agent for, the Fightback Foundation," Solis wrote.
"Accordingly, the $2 million shall be returned to the Fightback Foundation, if and when such funds are released consistent with Wisconsin law and pursuant to court rulings releasing the bail money back to the individual or entity that posted the cash bail."
The letter was shared by the "Kyle Rittenhouse Defense Fund" Twitter account, which claims to be working with the suspect and his family.
"While we're busting our humps trying to raise money and see Kyle acquitted, Lin Wood is sending letters to the court DURING Kyle's hearing to demand $2M in donations FOR KYLE be given to HIM," the account tweeted. "Lin Wood...keeping it classy as always."
In a statement to Newsweek, Wood said the information in the tweet is a "lie."
He added: "No request was made for return of the bail to me. The request was filed by #FightBack, a 501(c)(4) Texas non-profit foundation. The bail was paid by #FightBack from donations and must legally be returned to #FightBack."
Under state law, Rittenhouse's bail would be returned to whoever posted it if the 18-year-old is found not guilty of the charges against him.
If he is found guilty, a judge could order the money be paid for court fees and other costs, as well as used to provide restitution to the families of Rittenhouse's alleged victims—Joseph Rosenbaum and Anthony Huber—or any medical expenses or lost income to the injured man, Gaige Grosskreutz, according to the Milwaukee Journal Sentinel.
Wood is no longer part of Rittenhouse's defense team. Pierce was also fired by the family in February, two months after Kenosha County Assistant District Attorney Thomas Binger argued that the money being held in trust for the defendant "may instead be used to repay attorney Pierce's numerous creditors."
Pierce claimed on Twitter earlier this year that he was still owed money by the Rittenhouse family for expenses he incurred while representing Rittenhouse, reported the Milwaukee Journal Sentinel.
In a statement to Kenosha News on Wednesday, Wood said the money Fightback donated was only to be used for Rittenhouse's bond and a portion of his legal expenses and not for the 18-year-old or his mother, Wendy Rittenhouse, as he argues that would have violated tax rules for non-profits.
"#FightBack had no legal relationship with Kyle or Wendy. I understand monies were given for Kyle and Wendy's personal expenses, but those funds were handled by John Pierce and #FightBack had nothing to do with them," Wood said.
"After #FightBack posted the bail for Kyle, John Pierce informed the foundation that we should stand down on our efforts for Kyle's defense costs, as a new group was taking over all fundraising for Kyle. #FightBack promptly ceased its efforts after John made the request.
"Under the law, the bail money must be released to #FightBack at the appropriate time."
Earlier this year, Wendy Rittenhouse publicly condemned Wood and Pierce by accusing the pair of using her son "for their own political s***."
Speaking to the Law & Crime podcast Objections: With Adam Klasfeld, she also said Wood wanted to keep her son in jail to protect him from an upcoming "Armageddon" which would take place on Election night in November 2020.
Wendy Rittenhouse also accused Pierce and Wood of "playing with [her] emotions" by repeatedly telling her that her son would soon be freed.
In a previous statement to Newsweek regarding the claims, Wood said: "The criminal defense lawyers made all decisions regarding Kyle. I am not a criminal defense attorney and did not make those decisions.
"I did express concerns about Kyle's safety due to social media threats on his life."
Pierce has been contacted for further comment.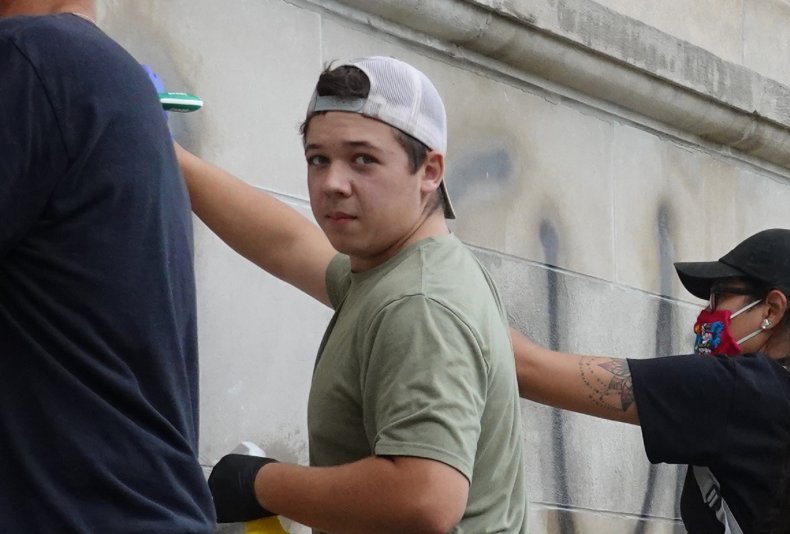 UPDATE 9/23/21 10:07 a.m. ET: This article was updated to include comment from Lin Wood.