Tucker Carlson Advertiser Mike Lindell, CEO of MyPillow, Helps Bail Out Kyle Rittenhouse
Kyle Rittenhouse, who was arrested after allegedly shooting two people during an August demonstration in Kenosha, Wisconsin, posted $2 million in bail on Friday with the help of MyPillow founder and CEO Mike Lindell.
Rittenhouse was charged with first-degree intentional homicide, attempted homicide, reckless homicide, recklessly endangering safety and illegal possession of a firearm in connection with the shootings. Rittenhouse's attorney Lin Wood has said that Rittenhouse was acting in self-defense. In August, Wood created a foundation designed to take donations for Rittenhouse's defense. On Friday, Wood announced Rittenhouse's release from jail and name-checked Lindell as one of those who made a contribution.
"KYLE RITTENHOUSE IS OUT OF JAIL," tweeted Wood on Friday. "God bless ALL who donated to help #FightBack raise required $2M cash bail. Special thanks to Actor Ricky Schroder @rickyshroder1 & Mike Lindell @realMikeLindell for putting us over the top."
"Kyle is SAFE," Wood continued. "Thanks to ALL who helped this boy."
Newsweek reached out to Lindell for comment.
Rittenhouse had become a cause celebre for some conservatives after the shooting who believed the teenager to be a patriot who acted in self-defense.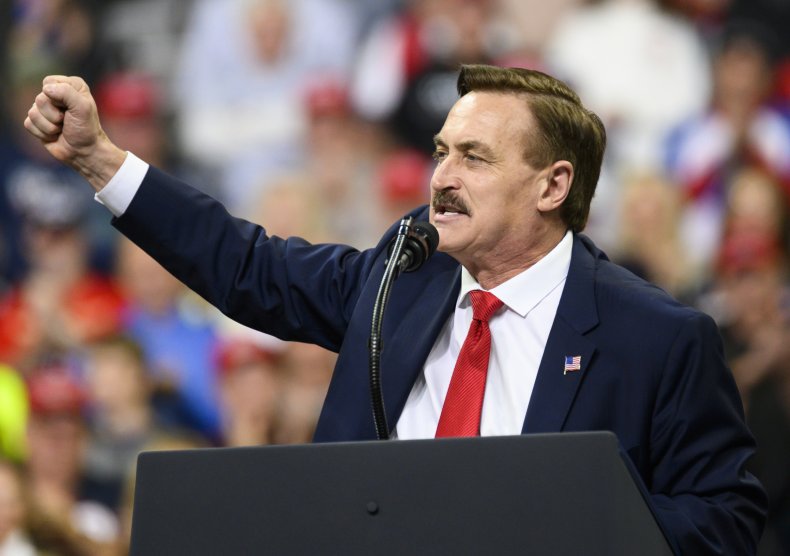 Lindell, perhaps best known for his seemingly ubiquitous television advertisements, is a Republican who served as the Chairman for Trump's re-election campaign in Minnesota. In March, Lindell appeared at a press briefing at the White House alongside Trump.
"Our president gave us so much hope, where, just a few short months ago, we had the best economy, the lowest unemployment and wages going up," Lindell said. "It was amazing."
Trump told a September campaign rally in Minnesota that Lindell should run for governor. Lindell was in attendance at the event.
"He has my complete and total endorsement," Trump said. "You should run. You'd be a hell of a governor."
In October, Lindell said he would run for Governor of Minnesota if it voted Republican in the November elections. The Associated Press projected a Minnesota win for Democratic President-elect Joe Biden after the elections.
After Fox News host Tucker Carlson made controversial remarks about the Black Lives Matter movement in June, many of Carlson's advertisers stopped sponsoring his program. Lindell, however, continued to run MyPillow commercials on Carlson's show. According to the television tracking firm iSpot, 37.8 percent of the advertising shown on Carlson's program between January 1 and June 30, 2020 were MyPillow ads.
"I feel blessed to be able to advertise on all of the major networks and national cable stations, including on Tucker Carlson Tonight," Lindell told the Washington Post in June. "I advertise MyPillow to help people across the country. I support my business, our customers and my employees."
Lindell has not exhibited the same attitude towards CNN. In September, Lindell appeared in an interview with Anderson Cooper regarding a COVID-19 treatment called Oleandrin. Lindell said he had been taking Oleandrin for months and that it had helped protect him from the coronavirus. Cooper alleged that Oleandrin had no merit as a therapeutic and compared Lindell to a "snake oil salesman."
After hiring Wood as his attorney, Lindell demanded that Cooper issue an apology for the segment.
"Cooper's interview of my client is the most outrageously unprofessional 'hit piece' interview I have ever viewed," Wood wrote in a September letter to CNN Executive President and General Counsel David Vigilante.