Kyle Rittenhouse Refuses to Become Poster Boy for Conservatives
Kyle Rittenhouse has moved to distance himself from American conservatives who have latched onto him after he was acquitted by a Wisconsin jury.
Rittenhouse, 18, was found not guilty over the deaths of Joseph Rosenbaum and Anthony Huber, who were shot on August 25, 2020.
He was also found not guilty of the attempted first-degree intentional homicide in the shooting of Gaige Grosskreutz after the jury returned to deliver the verdict on Friday.
Following the verdict, numerous Republican and conservative figures celebrated the verdict and with lawmakers offering internships to the teenager.
Representative Paul Gosar (R-AZ) offered to arm wrestle fellow House lawmaker Rep. Matt Gaetz (R-FL) "to get dibs" for Rittenhouse as an intern.
Far-right author Dinesh D'Souza shared a tweet following the verdict announcement that plotted an imagined scenario that would create "a nightmare for the left."
The November 20 post read: "Career path for #KyleRittenhouse: 1. Intern for @mattgaetz 2. Run for state rep in Wisconsin 3. Run for Congress when he turns 25.
"What a way to turn his notoriety, created by the Left, into a nightmare for the Left. Success is the best revenge."
White supremacists, including on-the-run American Robert Rundo, also cheered the verdict on Telegram and continued to use Rittenhouse's image as part of propaganda banners and graffiti that promoted white supremacist causes.
But, Rittenhouse has appeared to distance himself from Republicans and conservatives keen to latch onto his notoriety.
In a teaser clip for his upcoming interview with Fox News host Tucker Carlson, he said he supported the Black Lives Matter movement.
He said: "This case has nothing to do with race. It never had anything to do with race. It had to do with the right to self-defense.
"I'm not a racist person. I support the BLM movement," Rittenhouse added during his first TV appearance following his acquittal.
"I believe there needs to be change. I believe there's a lot of prosecutorial misconduct, not just in my case but in other cases. It's just amazing to see how much a prosecutor can take advantage of someone," he said in an extended portion of the interview, obtained by Mediate.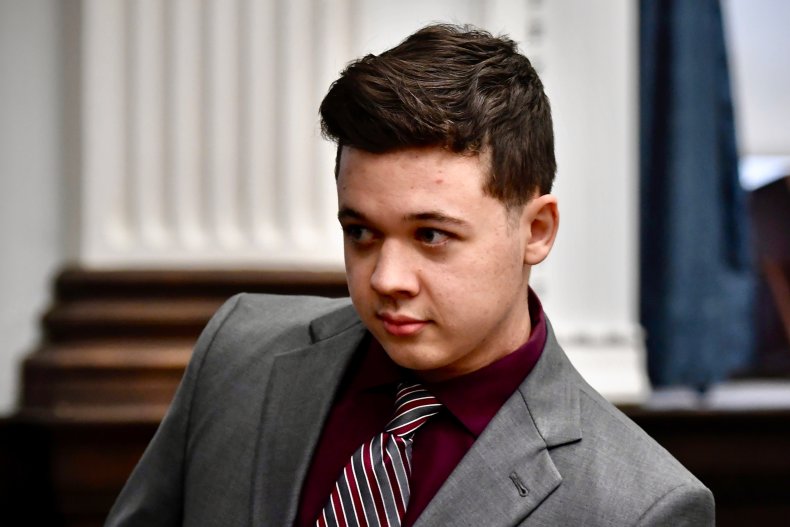 Rittenhouse's vocal support for the BLM movement sets him at odds with registered Republicans who overwhelmingly oppose it, according to an ongoing poll by Civiqs.
His attorney Mark Richards distanced his client away from American conservatives following the acquittal on Friday and called out those profiting on the case.
Richards said: "They're raising money on it and you have all these Republican congressmen saying come work for me," he said. "They want to trade on his celebrity and I think it's disgusting."
He also hit back at Donald Trump Jr. for encouraging a gun rights group to send an AR-15, the style of rifle Rittenhouse used in August last year, as an "award."
Richards told Insider: "He's an idiot. I don't have to expand on that because it speaks for itself."
He also told CNN's Chris Cuomo on Friday there are "too many guns in our society," a statement that goes against widespread Republican support for the Second Amendment.
The Rittenhouse verdict divided Americans, with many protesting the decision in cities across America.