Tucker Carlson, Kyle Rittenhouse Live Updates: Chris Cuomo Slams Fox News, Tucker Carlson
Kyle Rittenhouse sat with Fox News host Tucker Carlson for an exclusive interview following his acquittal that aired Monday evening.
Live updates for this event are now over.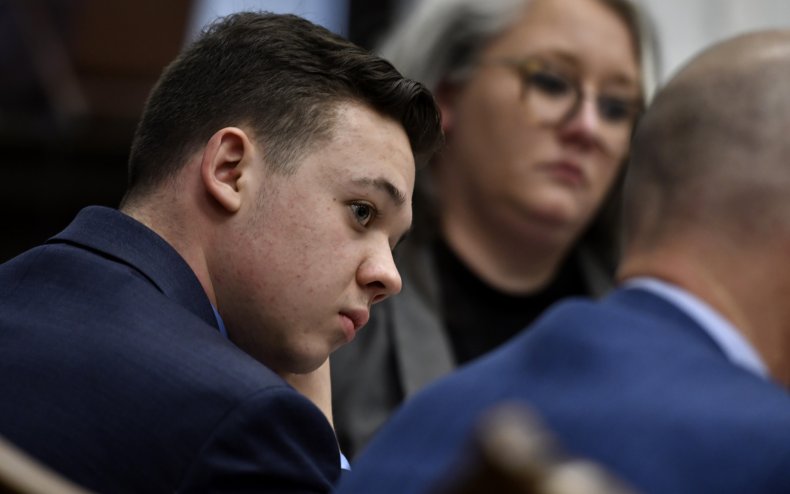 Chris Cuomo slams Fox News, Tucker Carlson for Rittenhouse interview
CNN's Chris Cuomo bashed Fox News and Tucker Carlson for their Monday night interview with Kyle Rittenhouse.
Cuomo began his 9 p.m. show by stating that they had a big guest appearing, the 18-year-old's defense attorney Mark Richards, who would be discussing Rittenhouse's post-acquittal interview "that just aired on the network with news in its name, but it hasn't been acting like a news organization."
"Even tonight, now, Kyle Rittenhouse who wants to tell his story, who wants to be understood for his own words and his own deeds—not what the media likes, not what the left likes, not what the right likes—sat across from a man who is known for coloring perception and creating animus in society, the same animus that's feeding on Kyle Rittenhouse," Cuomo said. "And that complicates things."
He continued, "and for a 17-year-old who says they went somewhere to protect a community their father worked in, that they felt a connection to, he's become everything that is ugly about the battle between white and black and right and wrong and justice and injustice in this country."
'We all know how the FBI works:' Rittenhouse slams feds
Kyle Rittenhouse took aim at the Federal Bureau of Investigation and called the threats of violence against him "sickening."
"Are you confident that the government will protect you from these threats because that's of course the government's job?" Tucker Carlson asked the 18-year-old.
Rittenhouse replied, "I hope so, but we all know how the FBI works."
Conservatives on Twitter echoed Rittenhouse's comments as evidence of corruption within the federal law enforcement agency.
"Kyle #Rittenhouse knows he can't count on the government to protect his life or safety because 'we know how the FBI works.' Even he knows the FBI is more likely to frame him than to protect him," conservative political commentator Dinesh D'Souza wrote.
User Kristy Deer wrote, "Thank you @TuckerCarlson for showing America who Kyle Rittenhouse really is. His comment about the FBI was spot on right!!!!"
It's unclear what the 18-year-old was specifically referring to in his comments but the FBI has been bashed by conservatives in recent years following former President Donald Trump's criticisms of the bureau.
Following his trial, Rittenhouse may change major to law
Kyle Rittenhouse had plans to move to Naples, Florida before the shootings in Kenosha, but isn't sure where he's going to go now—it just won't be in the Midwest.
"I'm hoping I can live a quiet stress-free life and be free of any intimidation or harassment and just go on with my life as a normal 18-year-old kid attending college," Rittenhouse told Carlson, adding that he's a student at Arizona State University.
He said that he does want to go to school on campus, although he's currently enrolled in a nondegree online program, and plans to pursue a career in nursing. Rittenhouse added that he's been looking into changing his major to law because he wants to become a lawyer but he hasn't completely decided.
Carlson asked Rittenhouse if he believes that he can live peacefully in the United States following his acquittal. The 18-year-old replied, "I hope so, but I can't read the future."
Marjorie Taylor Greene, Dinesh D'Souza weigh in on interview
Conservatives took to Twitter to issue their support for Kyle Rittenhouse following his appearance on Tucker Carlson Tonight, filmed two days after Rittenhouse's acquittal.
"I've told everyone what a horrible person Lin Wood is and if you watched @TuckerCarlson tonight then you heard from Kyle Rittenhouse one of the reasons why I think so," Georgia Republican Marjorie Taylor Greene wrote on Twitter. "Lin keeping Kyle in jail instead of bailing him out with ALL that money donated FOR Kyle is absolutely evil."
Greene continued in another tweet that Wood should go to jail for what he did and that she blames him for why Georgia lost Senate seats.
Conservative political commentator Dinesh D'Souza wrote, "Kyle #Rittenhouse strikes me as very sincere, completely truthful, not a racist bone in his body. What these wicked people in the DA's office, the White House, and the media tried to do to him is despicable, inexcusable. I hope he wrecks their lives as they tried to do to his."
On the other side, American writer Touré criticized the Fox News interview.
"Tucker Carlson calling Kyle Rittenhouse a 'sweet kid' and saying 'imagine putting that kid in jail.' This interview is gross pandering," he wrote on Twitter.
Joe Walsh, former Illinois congressman and 2020 Republican presidential candidate, also criticized Carlson's interview by sharing a clip before it aired.
"No. No it wasn't. It WAS Kyle Rittenhouse on trial," Walsh wrote.
'God bless this boy:' Judge Jeanie Pirro praises Rittenhouse
Judge Jeanie Pirro characterized Kyle Rittenhouse as an intelligent, empathetic young man following Tucker Carlson's exclusive interview.
Pirro praised Rittenhouse on how he handled himself during the interview and throughout his trial, which was highly publicized by the media, for remaining calm and never losing his cool.
"This kid has a tremendous future in front of him," she said, adding that Rittenhouse was never angry when asked about his case or statements people have made about him. "Nothing moved him off the truth. This young man is a truth-teller. This young man is far more mature than his years."
Pirro added that even when Rittenhouse was "literally going through hell" he was willing to help in Kenosha and "not say anything about anything else."
Rittenhouse says he's plagued with dreams of the Kenosha shooting
Kyle Rittenhouse said he has dreams every night following the shootings.
In a preview for Tucker Carlson's original documentary following the teen's trial, Rittenhouse says that he regularly has dreams that feel real and show different outcomes of his night in Kenosha, Wisconsin.
"I'm alive but what could have happened," Rittenhouse said, adding that almost every dream ends with him ending up seriously hurt or dead.
Rittenhouse describes Kenosha County Jail as "one-star hotel"
Kyle Rittenhouse described the conditions of the Kenosha County Jail as a "one-star hotel" like a "Super 8," he concluded.
Rittenhouse told Tucker Carlson that he was in a single jail cell with a desk, shower, toilet, TV and was given a tablet and phone to use but claims he did not have running water. He added that he didn't want to bring attention to himself or cause problems with the guards by mentioning that he didn't have water, which resulted in him going without a shower from October 31, the day he entered the facility, to November 20.
"And when I showered, I showered for like, I took like a three-hour shower. I had like blood. My skin was bleeding because my skin was coming off of my body is just the nastiest thing ever," he said.
Rittenhouse condemns Joe Biden for calling him a white supremacist
Kyle Rittenhouse condemned President Joe Biden for calling him a white supremacist.
Rittenhouse told Tucker Carlson that he is not racist and he supports peaceful protests and the Black Lives Matter movement. Carlson asked the 18-year-old how he feels knowing people like Biden have called him a racist following the media's coverage of the case.
"Mr. President, if I can say one thing to you, I would urge you to go back and watch the trial and understand the facts before you make a statement," Rittenhouse said.
He continued that being called a white supremacist isn't a small thing and that it carries actual malice and defamation. Rittenhouse added that it's "sickening" and "disgrace" that people can get away with spreading lies pertaining to his case.
Rittenhouse Wanted to Turn Himself In
Kyle Rittenhouse said he wanted to turn himself in to law enforcement after shooting three men in Kenosha Wisconsin last August, but that police "weren't accepting visitors."
Rittenhouse told Carlson that he tried to tell police about the shootings during the protest but when he approached a police cruiser, he was told to get back and was pepper-sprayed—although Rittenhouse admits he doesn't remember that.
He says that he wanted to turn himself in to police in Kenosha but he wasn't able to because of the barricades and fences up, which led him to turn himself into the Antioch Police Department, about 20 miles away.
Rittenhouse added that he didn't think police were going to arrest him because he had defended himself but a "mob mentality" and videos from the incident led them to. Carlson said that if it wasn't for the video proving Rittenhouse defended himself, he'd "never get out."
'The city of Kenosha failed the community': Rittenhouse slams lack of police
Kyle Rittenhouse said that Wisconsin Governor Tony Evers and the city of Kenosha failed the community.
Rittenhouse told Tucker Carlson that he was in Kenosha on August 25 to help offer to protect businesses. Carlson asked the 18-year-old where the police were during the event and Rittenhouse replied that he's not sure.
"I didn't really think that they got the support they needed, the National Guard should have been called August 23 when the city of Kenosha failed the community. The governor, Tony Evers, failed the community and there should have been a lot more resources to help with that," Rittenhouse said.
What we know about Rittenhouse's Fox News interview
Kyle Rittenhouse last Friday was found not guilty of first-degree intentional homicide and other charges in the fatal shootings of Joseph Rosenbaum and Anthony Huber during protests on August 25, 2020, in Kenosha, Wisconsin.
The 12 member jury, after more than 25 hours of deliberation, acquitted the 18-year-old of five felony charges, siding with Rittenhouse's legal team that he acted in self-defense.
Fox News' Tucker Carlson was quick to reveal following the verdict that his team had been working on a "documentary" following Rittenhouse and his trial, with a portion of the interview set to air on Tucker Carlson Tonight with the rest to be released on Fox Nation sometime in December.
Rittenhouse arrived in Florida over the weekend to tape the interview with Carlson, who has a residence in Boca Grande near a restaurant where Rittenhouse was photographed on Sunday.
How to watch Tucker Carlson's interview with Kyle Rittenhouse
Rittenhouse is set to interview with Fox News' Tucker Carlson on Monday night after a jury cleared him of five felony charges.
The host's show, "Tucker Carlson Tonight," begins at 8 p.m. ET on weeknights with Rittenhouse set to appear on Monday, November 22. The interview is available to watch on the Fox News channel or its steaming platform FOX Nation.
For those without access to network television, Fox News is available for streaming to customers of Hulu + Live TV, YouTube TV, FuboTV and DirectTV Stream. Monthly subscriptions to these platforms begin at $64.99 with many offering free trials.
"It wasn't Kyle Rittenhouse on trial in Wisconsin. It was the right to self-defense on trial," Rittenhouse told Carlson in a clip of the exclusive interview shared on Twitter.
A portion of the interview will air on the Fox News host's show with a Tucker Carlson Originals documentary streaming to follow on FOX Nation in December.
Donald Trump Jr. shared a meme of his father former President Donald Trump giving the Presidential Medal of Freedom to Kyle Rittenhouse.
An image of Rittenhouse's head superimposed over a photo of Trump awarding the medal to conservative economist Arthur Laffer in June 2019 was shared by the former president's son.
He captioned the post, "2024??? Who knows?"
A number of Trump supporters commented on the post saying that it should be sooner than the next presidential election with others suggesting that the 18-year-old run for mayor of Kenosha or as the Republican's vice president.