Kyle Rittenhouse, the 17-year-old suspect facing multiple homicide charges for fatally shooting two people during protests in Kenosha, Wisconsin, last August, reportedly told a friend he expected to serve life in prison after the deadly incident.
New details about his reaction immediately following the protest surfaced in video footage that showed Kenosha Detective Ben Antaramian interviewing Dominick Black, who is accused of supplying Rittenhouse with the rifle used to shoot Joseph Rosenbaum, Anthony Huber and Gaige Grosskreutz on August 26. Rosenbaum and Huber were killed, and Grosskreutz sustained lasting injuries.
Black was arrested earlier this month and is charged with two felony counts of intentionally selling a dangerous weapon to a minor. He is 19 years old. Recounting his memories of the shooting, as well as events that preceded and followed it, Black described Rittenhouse's panic in recorded responses to Antaramian's questioning.
"He's just freaking out. His face is white," the teenager said of Rittenhouse, recalling a conversation between them in the aftermath of the shooting, before Rittenhouse turned himself in.
"He's like, 'I'm going to jail for the rest of my life. I'm done,'" Black continued during the police interview. "He's just scared. I'm just trying to calm him down."
The shooting took place as mass demonstrations erupted across Kenosha near the end of the summer, sparked by the police shooting of 29-year-old local resident Jacob Blake that left him partially paralyzed. A video showed white officer Rusten Sheskey shoot Blake, a Black man, seven times in the back outside of his apartment complex in Kenosha on August 23. The video, recorded by Blake's neighbor, prompted outrage after it quickly circulated online.
Rittenhouse and Black told police they attended one of the final days of protests in Kenosha amid calls to protect business establishments from potential looting and other damages. They were not the only armed people present at the Kenosha demonstrations for this purported reason.
After originally turning himself into police in his hometown of Antioch, Illinois, Rittenhouse was extradited to stand trial in Wisconsin at the end of October. His charges include intentional homicide, reckless homicide, and attempted intentional homicide in the first degree. He would serve a mandatory life sentence for first-degree intentional homicide if convicted.
Rittenhouse was released from custody at Kenosha County Jail on Friday, after posting $2 million bond. One of his attorneys, Lin Wood, shared a photo of Rittenhouse standing alongside John Pierce, another attorney representing his case, and actor Ricky Schroeder to Twitter following the suspect's release. Wood captioned the photo "FREE AT LAST" and thanked donors who contributed to fundraising efforts established to support Rittenhouse's legal endeavors.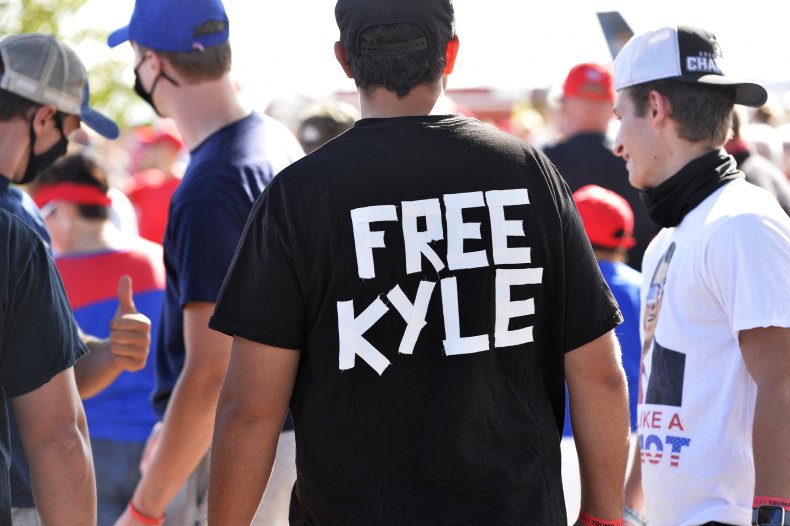 Attorneys claim Rittenhouse acted in self-defense, and their calls for donations received support from numerous conservatives who have rallied behind the teenager's cause.
Pierce and Wood launched an initiative called the Fight Back Foundation in August to raise money for Rittenhouse's defense. Pierce resigned from his role as a board member at organization in September, when the attorney's past financial dealings raised suspicions about the defense fund. Pierce denied allegations that funds raised through the Fight Back Foundation were benefiting his law firm and said he decided to resign "to avoid any potential conflict."
Newsweek reached out to the Fight Back Foundation for further comment, but did not receive a reply in time for publication.