More Than Half a Million Dollars Raised for Kyle Rittenhouse's Defense on Christian Crowdfunding Site
An online campaign hosted by Christian crowdfunding site GiveSendGo has received close to $523,000 in donations for Kyle Rittenhouse's legal defense as of Monday morning.
The campaign was created one month ago, soon after Rittenhouse was taken into custody in Antioch, Illinois, and charged in a shooting in Kenosha, Wisconsin, that left two people dead and a third seriously injured. The campaign surpassed its original goal to raise $500,000 during the past three weeks.
Rittenhouse, 17, is accused of shooting the three victims during protests that erupted late last month after the Kenosha police shooting of Jacob Blake. He is currently charged with intentional homicide and reckless homicide in the first degree, recklessly endangering safety and possession of a dangerous weapon. The teen would face a mandatory life sentence if convicted of first-degree intentional homicide. His lawyers, Lin Wood and John Pierce, claim Rittenhouse acted in self-defense.
The GiveSendGo campaign was created by a group called Friends of the Rittenhouse Family, which is based in Atlanta. The crowdfunding page features an American flag with one stripe colored blue, meant to show support for law enforcement. As the campaign approached its initial fundraising goal earlier this month, its creator—identified as "Rob"—shared an update saying that "Big tech censorship" was attempting to block further donations. The most recent update, posted September 23, said the supposed efforts to halt additional funding have not gone into effect.
"Despite Discover ostensibly banning donations to GiveSendGo as a whole in a disgusting attempt to limit the ability of citizens to spend their money as they wish, they have been unable to practically implement this plan," Rob wrote in the latest crowdfunding update.
The message noted that Friends of the Rittenhouse Family is coordinating with the Fight Back Foundation, where Wood serves as chairman of the board and chief executive officer. The foundation had raised an additional $2.1 million for Rittenhouse's defense as of Monday. Newsweek reached out to the Fight Back Foundation for additional comments but did not receive a reply in time for publication.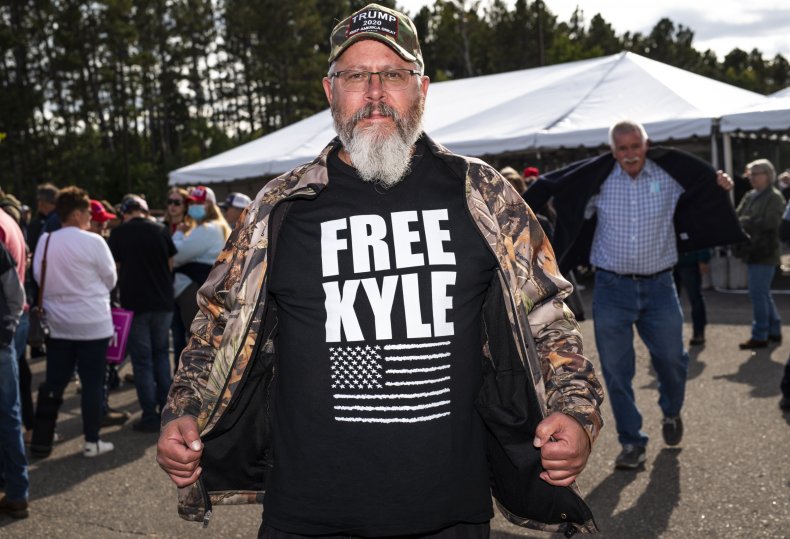 Besides the monetary contributions from thousands of donors, Rittenhouse's case has drawn public support from a number of Republican figures throughout the past month. Shortly after Rittenhouse surrendered to police in Illinois, President Donald Trump suggested the teenager's actions were rooted in self-defense. Last week, Rittenhouse's mother, Wendy, was met with a standing ovation while attending a GOP event in Wisconsin's Waukesha County.
Rittenhouse is being held at a juvenile detention facility in Vernon Hills, outside of Chicago. He appeared at a virtual court hearing in Lake County, Illinois, last Friday, where his defense team said it intends to fight an extradition order that would require the teenager's return to Wisconsin. Illinois Governor J.B. Pritzker previously signed an extradition warrant requested by Wisconsin Governor Tony Evers.