Kylie Jenner's TikTok of Target Trip Amid Private Jet Rage Divides Fans
After receiving negative press for her continuous use of a private jet, Kylie Jenner's latest social media post has taken her to the retailer Target.
The reality TV star filmed as she took an excited trio of children, one of them her daughter Stormi, into Target. While the cute video was praised by thousands of her fans, many responded with sarcasm that Jenner was playing a "normal life simulator" and brought up the recent controversy involving private planes.
A Twitter thread detailing the use of Jenner's jet went viral recently as flight logs showed that the plane was used for a three-minute flight, as well as multiple 15-minute flights.
It's unclear whether Jenner, who recently starred in the first season of The Kardashians on Hulu, was onboard during these journeys.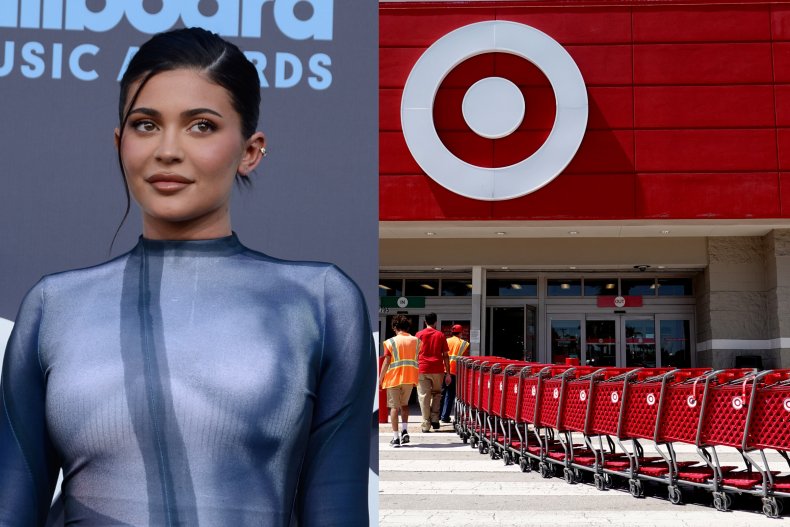 Late on Monday night, Jenner posted the adorable 14-second video, titled "Surprise Target trip with my girls," which showed her pushing a cart filled with children into Target.
She asked the kids if they want any bowls, panning the camera at pots and vases, to which she receives a resounding "no."
The camera then cuts to Stormi looking at the toy section, before we see a number of toys at the checkout.
"Did you take the private jet here too?" asked TikTok user@mem.punim while many other users asked if Jenner had bought or rented out the whole store to look around in.
@dashcity received 60,000 likes for commenting that Jenner was "playing normal life simulator." Thousands of people responded to Jenner's post with praise and compliments, telling her how much of a good mother she is and complimenting Stormi.
Over on Reddit, the user comments were less forgiving.
"Tries to be more "normal" after the jet post, but buys 300$ worth of toys," @Different_Prior_517 wrote. "She's just trying to appeal to us peasants that she's relatable and down to earth after the backlash she got," added @gracewindsor, once again referencing the recent criticism she received for her private jet social media posts.
Taking a more pessimistic view, @oncheedoe007 predicted that Jenner may be getting paid by Target. "Pretty sure this is a undisclosed Ad. Kardashians don't give out that type of promo for free. Kris Jenner would never allow it!!" they wrote, as other users agreed with their prediction.
Newsweek has yet to determine if there was a financial transaction involved.
"What in the damage control" summarized @chuusblackgf.
On Friday, Jenner posted a picture at the airport with Travis Scott and wrote "You wanna take mine or yours?" Behind them were two private jets and a luxury car. The post was widely panned with many accusing them of harming the environment with the excessive use of private flights.
The automated Twitter account @CelebJets shares information about flights taken by planes owned by celebrities.
In the last week, Jenner's plane, a 2019 Bombardier BD-700, has taken multiple flights which lasted less than 20 minutes.
The shortest trip, taken on July 13, took off from Camarillo, California, to Van Nuys, California, with a total air time of 3 minutes. It's unknown whether Jenner was onboard on these flights.
Her usage of the transport was summarized by Twitter user @lifewithsommer who received over 140,000 likes for her take. "80% of people have never taken a plane and Kylie Jenner is out here taking regular 10 minute flights," she wrote. "Her carbon footprint for one ten minute flight, is more than some people make in a year."
Newsweek reached out to Jenner's team for comment.
Correction 7/27/22, 9:40 a.m. ET: This article was corrected to reflect that Kylie Jenner was at the airport with Travis Scott, not Tyga.