Brooklyn Nets star Kyrie Irving as well as other unvaccinated members of New York's professional sports teams will now be able to play home games after New York City Mayor Eric Adams signed an order exempting New York-based athletes and performers from the COVID vaccine mandate on Thursday.
"I'm going to make some tough choices. People are not going to agree with some of them." Adams said during a press conference at Citi Field where he was joined by executives from the Mets and Yankees. "I must move this city forward."
Irving is not the only player that will be affected by the exemption, unvaccinated New York Yankees or Mets players would have been banned from playing in their home games if the mandate was still in place.
Adams' decision to grant the vaccine exemption after months of complaints that Irving and other New York players were blocked from playing in New York, but thanks to an earlier exemption from former Mayor Bill de Blasio, unvaccinated players on visiting teams were allowed to play in the city. "This is about putting New York City-based performers on a level field," Adams said of lifting the vaccine mandate.
"Day one when I was mayor, I looked at the rule that stated hometown players had an unfair disadvantage [compared to] those who were coming to visit and immediately I felt we needed to look at that. But my medical professionals say, 'Eric we're at a different place, we have to wait until we are at a place where we are at a low area and we can re-examine some of the mandates'," Adams added.
The mayor noted that the new exemption from the vaccine mandate for athletes and performers is crucial for economic recovery as it will "attract people to the stadium."
"Today we're joining and saying that we will continue to take steps for New Yorkers, for visitors to come back to the city to ensure that union employees are working to ensure that we open our entertainment venues, our ballparks, our concert stages," Adams said.
"This is about supporting our local vendors, our local stores," Adams said as he recalled walking outside the Yankee Stadium and "hearing those vendors on the ground that benefit from the baseball season."
"Being healthy is not just about being physically healthy, but being economically healthy," he added.
The new exemption comes after Adams said on Tuesday that the city might change its vaccine requirements for private sector and government employees after New York City's health department commissioner Ashwin Vasan called the mandate "indefinite", according to the New York Post.
"If we have to pivot and shift and come back here in a week and say we're going to do something different, we're going to do that," Adams said Tuesday.
Still, Adams stressed on Thursday that "all of us should be vaccinated" against COVID "even our players."
"We will continue to promote vaccinations and booster shots. It's imperative that we do so, that's how we got here," he said. "That's why we have an NBA season because of the vaccination over 90 percent of players did so and I'm hoping that we will reach the 100 percent numbers in both Major League Baseball and in basketball in other professional sports."
Newsweek contacted the Brooklyn Nets for comment but did not receive a response in time for publication.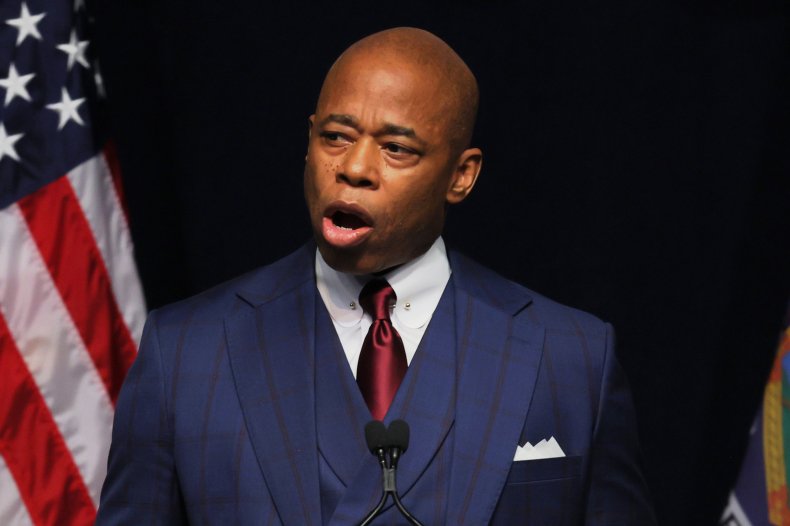 Uncommon Knowledge
Newsweek is committed to challenging conventional wisdom and finding connections in the search for common ground.
Newsweek is committed to challenging conventional wisdom and finding connections in the search for common ground.
About the writer
Fatma Khaled is a Newsweek weekend reporter based in New York City. Her focus is reporting on U.S. politics, world news, and general interest news. Her coverage in the past focused on business, immigration, culture, LGBTQ issues, and international politics. Fatma joined Newsweek in 2021 from Business Insider and had previously worked at The New York Daily News and TheStreet with contributions to Newlines Magazine, Entrepreneur, Documented NY, and Washington Report on Middle East Affairs, among others. She is a graduate of Columbia University where she pursued a master's degree focusing on documentary filmmaking and long-form journalism. You can get in touch with Fatma by emailing f.khaled@newsweek.com. Languages: English, Arabic, German.