New York City's COVID Vaccine Rules May Change in Coming Weeks
New York City Mayor Eric Adams said Tuesday that the city's vaccine mandate for private sector and government employees may change in the coming weeks, days after the city's new health department commissioner called the mandates "indefinite."
"If we have to pivot and shift and come back here in a week and say we're going to do something different, we're going to do that," Adams said in the Tuesday announcement where he also said mask mandates for schools could be lifted if the city's COVID rates remain low. "I'm not going to hesitate to say this is where the numbers are taking us, this is where the science is."
However, Adams acknowledged that the city would endure complaints from industries including sports, as the mandate has kept unvaccinated Brooklyn Nets star Kyrie Irving out of home games this season. It has also been reported that the mandate could affect unvaccinated New York Yankees or Mets players if it is still in place when their home games start next month.
"Right now, we're going to take some complaints," Adams said. "But when this is all said and done, people are going to realize this is a thoughtful administration and we got it right. So baseball, basketball, businesses, all of those things, they have to wait until that layer comes."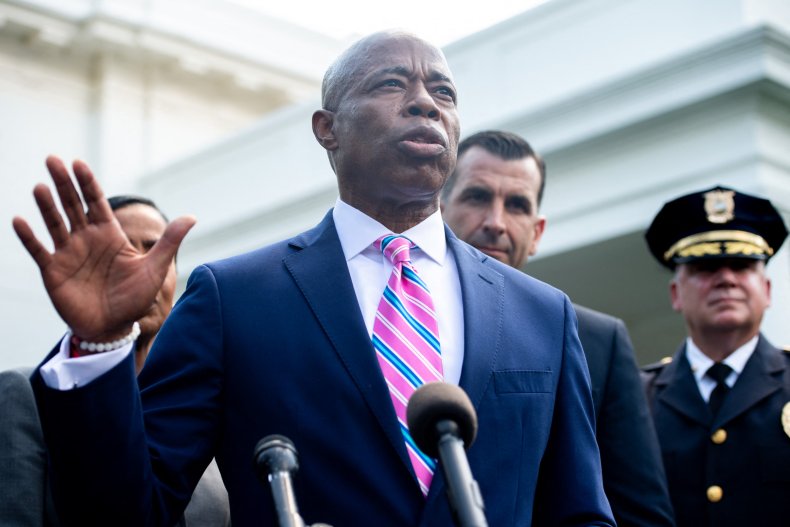 The bulk of the press conference centered around the announcement that preschool children may not have to wear masks in schools starting next month if COVID rates and risk levels remain low.
When questioned on whether there were specific metrics the city was using to identify points to make the policy changes, Adams only said the city was constantly evaluating the "right time" to update the policies.
Last week, Health Department Commissioner Dr. Ashwin Vasan, who was also present at the Tuesday press conference, said he believed the private sector mandate should be classified as "indefinite" until further notice.
Vasan said at the time that the city had not yet set any benchmarks that would lead them to reverse the mandate, which Adams echoed Tuesday, saying that teams like the Nets, Yankees and Mets will have to wait to see what the city's next steps are.
Adams previously said he believes it is "unfair" that the mandate is keeping Irving out while unvaccinated players on opposing teams are allowed to play in games at Brooklyn's Barclays Center.
A lack of healthy players from the surge of Omicron cases led the Nets to bring Irving back as a part-time player for road games in early January, but the team faces a complicated situation if the mandate extends into the playoffs and Irving is not allowed to play in the highest stakes home games of the season.
As MLB opening day approaches, Yankees like Aaron Judge and Anthony Rizzo, who were unvaccinated as of last season, have not confirmed their current vaccination status. Adams' office also said recently that despite baseball being an outdoors sport, the Yankees and Mets home games in the Bronx and Queens, respectively, will be affected by the mandate.
Update 03/22/22, 1:50 p.m. ET: This story was updated with additional information and background.