Kyrie Irving 'Sorry' for Calling Earth Flat: 'At the Time, I Was Huge Into Conspiracies'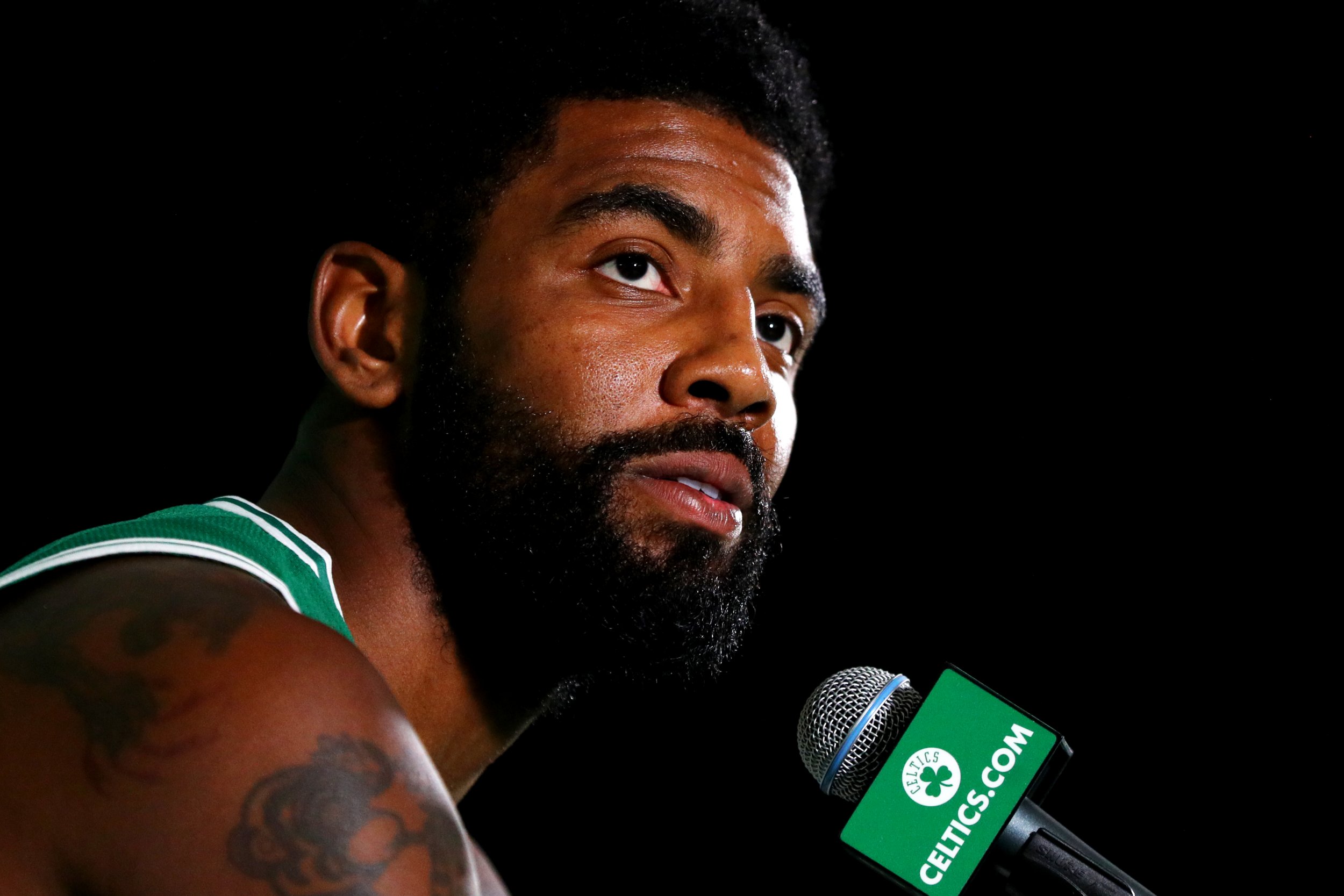 Kyrie Irving has admitted he regrets claiming the Earth was flat and put his faux pas down to being into conspiracy theories.
The Boston Celtics star waded into the topic in February last year during the NBA All-Star weekend while appearing on the Road Trippin' with RJ & Channing podcast, featuring Irving's then teammates in Cleveland Channing Frye and Richard Jefferson.
"This is not even a conspiracy," Irving, who appeared on the episode as a guest, said adamantly.
"The Earth is flat. The Earth is flat. The Earth is flat. All these things that particular groups, I won't even pinpoint one group, that they almost offer up this education [...] They lie to us.
"If you really think about it from a landscape of the way we travel, the way we move, and the fact that—can you really think of us rotating around the sun and all planets aligned, rotating in specific dates, being perpendicular with what's going on with these planets?"
It would appear, however, that Irving has drastically changed his stance on the subject. Speaking to the Forbes Under 30 Summit in Boston, the 26-year-old admitted he had underestimated the impact his comments would have and that he has since been criticized by science teachers who blame him for having to "reteach my whole curriculum."
Irving struck a very apologetic tone as he spoke to the audience on Monday.
"At the time, you're like innocent in it, but you realize the effect of the power of voice," he said, as reported by Reuters.
"Even if you believe in that, just don't come out and say that stuff—it's for intimate conversations. At the time, I just didn't realize the effect [...] I'm sorry about all that.
"At the time, I was huge into conspiracies. Everybody's been there. Everybody's been there like, 'Whoa! What's going on with our world?!"
While the first overall pick of the 2011 draft stopped short of outlining what he currently believes, this is not the first time he has revisited his claims over the shape of the Earth.
In June, in a lengthy interview with The New York Times, he demurred when asked if he sincerely believed the earth to be flat, instead arguing that it is "fun to have that conversation."
"I wanted to open up the conversation, like, 'Hey man, do your own research for what you want to believe in,'" Irving said of his motivations for peddling the long-debunked theory. "Our educational system is flawed. History has been changed throughout so much time."
When it was pointed out to him that his promotion of "flat earth" influenced young kids to adopt the reinvigorated theory, the 26-year-old continued to play coy.
"Can you openly admit that you know the Earth is constitutionally round?" he asked the reporter. "Like, you know that for sure? Like, I don't know. I was never trying to convince anyone that the world is flat. I'm not being an advocate for the world being completely flat. No, I don't know. I really don't. It's fun to think about though."