Kyrsten Sinema Ambushed at Airport by Activist in Viral Video
Kyrsten Sinema was filmed being challenged by activists over her refusal to support President Joe Biden's large spending package when she returned to Washington D.C.
Video of the incident, which has been viewed over 200,000 times on Twitter, shows the Arizona senator confronted by the activist as she walked through the Ronald Reagan Washington National Airport on her return to the capital on Monday.
Footage shared on social media showed an activist, identified as Kunoor Ojha, walking alongside Sinema while the Senator was on the phone.
In the encounter Ojha asked: "I wanted to ask if you could explain to the American people why you are planning on cutting from Joe Biden's Build Back Better plan."
Ojha continued: "Do you want to cut climate priorities? Is it eldercare that you want to cut, or is it childcare?"
Sinema can then be seen holding her hand out to Ojha, appearing to ask her to stop while continuing to speak on the phone.
But, Ojha continued to question Sinema and later said: "I'm just trying to get an explanation for the American people."
Other activists were also filmed questioning Sinema over her refusal to support the Build Back Better Act.
In footage seen by Newsweek, Sinema did not appear to answer any questions posed by the activists and continued to walk through the airport.
In a response sent to Newsweek, Ojha said: "Senator Sinema is blocking progress on clean energy and climate solutions on elder care and home health care, on education and more—but she won't say why or what she wants to cut.
"If she wants to deny Arizona families' benefits they have worked for and earned in order to make corporate lobbyists happy, she ought to be willing to say so instead of running from questions. Why won't she own up to her position?"
The encounter is the latest of at least three occasions where activists have filmed their encounters with Sinema.
On Sunday, Sinema was pursued into the bathroom of an Arizona college by Living United for Change in Arizona activists who demanded she support the Build Back Better Act.
She was later confronted by a Deferred Action for Childhood Arrivals recipient while onboard a plane traveling from Arizona to Washington D.C.
Footage from the encounter was shared on Twitter by the Arizona Dream Act Coalition and it later emerged the woman who confronted Sinema was Karina Ruiz, who had helped to elect the Senator in 2018.
Newsweek has contacted Sinema for comment.
Tensions have been running high in Washington D.C. as President Biden continues to search for support for his ambitious spending bill.
But, the president has faced a significant challenge from his own party, with Sinema and Senator Joe Manchin (D-WV) being two major hurdles for him to overcome.
The Build Back Better Act is an expansive package that the White House has said will assist Americans following the economic impact caused by the COVID pandemic.
Estimated to cost $3.5 trillion over 10 years, the bill plans to introduce free community college funding, paid family leave, climate change protection measures and Medicare expansion.
Sinema and Manchin have opposed the bill over concerns it is too expensive and their resistance forced House Speaker Nancy Pelosi to push back the deadline for it to be passed to October 31.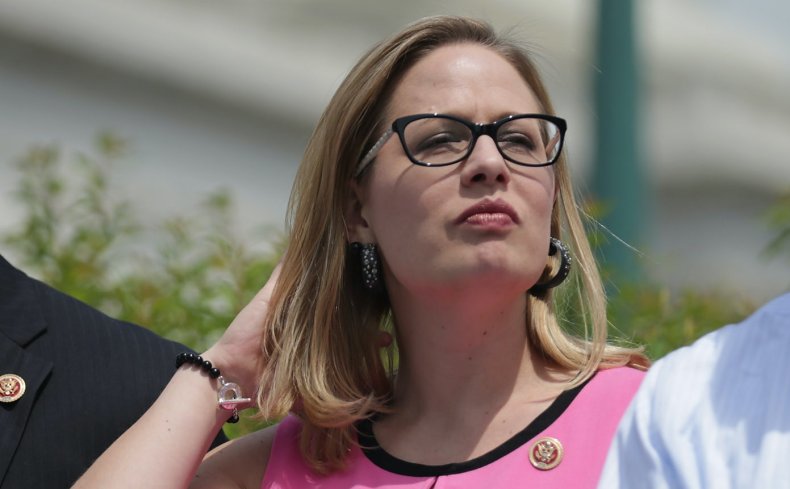 Update 10/5/21, 12:08 p.m. ET: This article was updated with comment from Ojha.