What Kyrsten Sinema Has Said About Corporate Tax Rate
Democrats will be eagerly awaiting Arizona Senator Kyrsten Sinema's verdict on a new inflation-fighting domestic spending package.
Senate Majority Leader Chuck Schumer and West Virginia Senator Joe Manchin abruptly announced on Wednesday that they had reached an agreement on a major bill addressing health care and climate change.
Called the Inflation Reduction Act of 2022, the $739 billion proposal—which falls far short of the ambitious "Build Back Better" plan that President Joe Biden proposed last year—would invest $369 billion on climate change and energy spending and would reduce the federal deficit by about $300 billion, according to a summary. It also seeks to cut federal spending on prescription drugs by $288 billion.
The measure's biggest revenue-raiser is a new 15 percent minimum tax on corporations that earn more than $1 billion in annual profits. That would raise an estimated $313 billion over the next decade.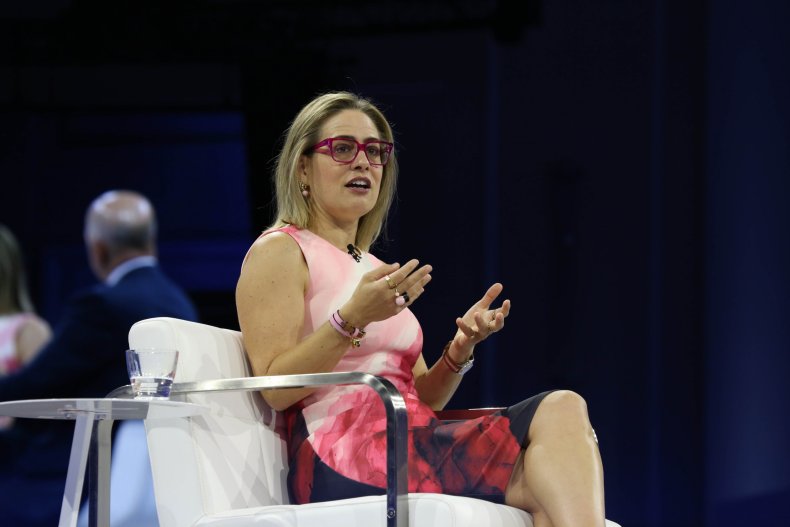 Democrats plan to pass the legislation in the 50-50 Senate through budget reconciliation, which allows them to bypass the 60-vote requirement to overcome a filibuster. But it means they need unanimous support and Vice President Kamala Harris to cast a tie-breaking vote to pass the legislation.
Manchin, a longtime holdout on the party's domestic agenda, had used his crucial vote to force Biden and Democrats to drop more ambitious and expensive versions of a spending bill.
Although he is now on board, the agreement could be tanked by Sinema—a moderate Democrat who has also been a hurdle in the party's efforts to pass a domestic policy plan.
She was still going over the agreement, Sinema spokeswoman Hannah Hurley said, per the Associated Press. Hurley pointed to the senator's comments from 2021 backing a corporate minimum tax.
It "represents a commonsense step toward ensuring that highly profitable corporations—which sometimes can avoid the current corporate tax rate—pay a reasonable minimum corporate tax on their profits, just as everyday Arizonans and Arizona small businesses do," Sinema said in a statement in October last year.
The proposal's inclusion of some $14 billion in new revenue from taxing "carried interest" profits could also present an obstacle to getting Sinema's approval.
Critics say the tax loophole allows wealthy investment managers to pay a lower tax rate than other professionals.
Last year, Sinema told Democratic colleagues that she would oppose any tax increases on either corporate or personal rates while negotiations were underway on a different version of the package, according to The New York Times.
Sinema's spokesperson has been contacted for further comment.
Meanwhile, Biden has called on both chambers of Congress to quickly pass the legislation.
"This is the action the American people have been waiting for," he said in a statement.
"This addresses the problems of today–high health care costs and overall inflation–as well as investments in our energy security for the future."