Kyrsten Sinema Knocked by Ohio Democrat Nina Turner: 'Denying Women a Living Wage Is Sexist'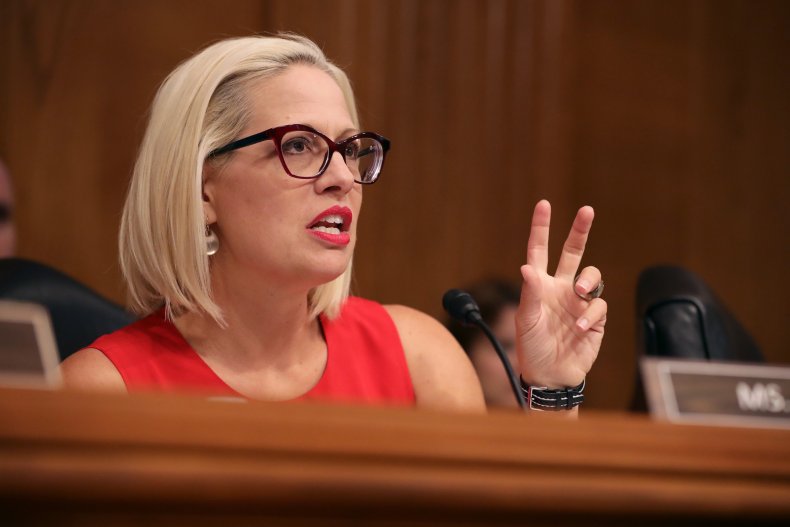 A thumbs-down gesture by a U.S. senator has ignited a debate about feminism.
Senator Krysten Sinema (D-Ariz.) made a thumbs-down motion on Friday when she voted against a provision in President Joe Biden's COVID-19 relief package that would have incrementally raise the federal minimum wage to $15 an hour.
Sinema's action prompted a firestorm of reactions from lawmakers who saw the gesture as flippant or an expression of joy in reaction to knocking down the wage hike. Her thumbs-down angered other Democrats and progressives, who have championed that a minimum amendment would lift millions of Americans out of poverty and reduce annual government expenditures.
"Commentary about a female senator's body language, clothing, or physical demeanor does not belong in a serious media outlet," a spokesperson for the senator said to HuffPost in response to the backlash against Sinema's gesture.
Sinema voted with Republicans and seven fellow Democrats against the amendment to the American Rescue Plan, which the Senate passed on Saturday morning without the minimum wage provision.
"No person who works full time should live in poverty," Sinema said in a statement Friday, adding that the Senate should "hold an open debate" on raising the minimum wage "separate" from discussion of the American Rescue Plan.
The raise for low-wage workers had to be considered as an amendment to the budget reconciliation bill, after the Senate parliamentarian ruled the minimum wage was an "extraneous issue" to the the COVID-19 relief package.
"Denying women a living wage is sexist," retorted Ohio Democratic congressional candidate Nina Turner in a tweet Friday evening.
Turner's response brings to light how the federal minimum wage is as much of a feminist issue as ridiculing a woman's body language.
Raising the minimum wage would be a direct benefit to 19 million women, according to the Center for American Progress (CAP). The COVID-19 pandemic has disproportionately impacted women, forcing them to choose between paid work and unpaid domestic labor, such as homeschooling children.
Increasingly, women have been forced to leave the workforce as a result of that choice, according to a report released Thursday by the International Monetary Fund.
CAP argues that a $15 minimum wage would bolster women in the workforce. Twenty-three percent of women who would get a raise are Black and Latina women who have been significantly affected by the pandemic, holding a large portion of low-wage jobs that pay either $7.25 an hour or above. This would translate to an annual raise of $3,700 in wages for Black and Latina women and $3,500 on average for women.
If Congress had passed the amendment, 1 in 4 women would have gotten a raise. Seven million women who are essential workers would also experience a hike in pay.
Sinema's home state could have also seen the benefits. According to the U.S. Census Bureau, Black and Latina make up 5 and 31 percent of Arizona's population, respectively. Advocates also pointed out on social media that amendment would have given raises for 839,000 people in Arizona, according to the Brookings Institution, and shared a 2014 Twitter post by Sinema in which she expressed raising the minimum wage was a "no-brainer."
Updated 3/7/21, 12:43 PM ET, to include a comment from Sinema's spokesperson.