Kyrsten Sinema Praised for Acceptance Speech: 'We Can Be Friends With People Who Are Different Than Us'
After winning the hotly contested race for Arizona's U.S. Senate seat, Kyrsten Sinema has been praised for her acceptance speech condemning the "petty, personal attacks" that have become rife in U.S. politics and calling on fellow lawmakers to follow the example of the late Senator John McCain.
With Sinema's victory over Republican challenger Martha McSally, the senator-elect said Arizonans had "rejected what has become far too common in our country: name calling, petty, personal attacks, doing and saying whatever it takes just to get elected."
"It's dangerous," Sinema warned. "And it lessens who we are as a country."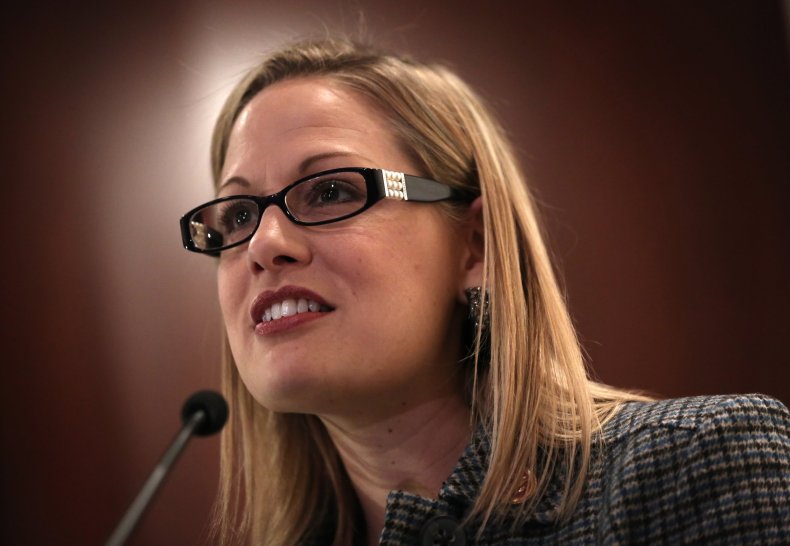 "Arizona proved that there is a better way forward," said Sinema, who is set to become the first openly bisexual senator in the U.S., as well as the first woman elected to represent Arizona in Senate.
"We can work with people who are different than us. We can be friends with people who are different than us. We can love and care about people who are different than us. We can keep people who are different than us safe. We can be good people who care deeply about each other even when we disagree," she said.
"We can start by listening to someone with a different opinion—listening not to rebut or debate, but listening to understand," Sinema continued. "We can articulate our own opinions and beliefs without believing or saying that someone else's are, therefore, wrong. We can embrace difference while seeking common ground."
Sinema pledged to "double down" on such an inclusive approach, vowing to represent the state "not by calling names or playing political games, but by showing up and doing the work to keep Arizona moving forward."
The senator-elect then reflected on the legacy left behind by McCain, who died in August a day after his family announced that he would end treatment for an aggressive brain tumor diagnosed in July 2017.
"A few months ago, we lost a legend who exemplified that spirit and all the best of Arizona," Sinema said. "His example shines a light on the way forward."
Known for his ability to work across party lines, Sinema said McCain "stood for everything we stand for as Arizonans: fighting for what you believe in, standing up for what's right even if you stand alone, and serving a cause greater than one's self.
"Senator McCain is irreplaceable, but his example will guide our next steps forward," she said. "He taught us to always assume the best in others, to seek compromise instead of sowing division, and to always put country ahead of party.
"It's up to us to carry on Senator McCain's legacy," Sinema said.
The senator-elect said that "everyone recognizes" that the country is "broken. And really, we all know the solution. We, the citizens of this great country—we must fix it.
"We must be an active part of the solution. We must be willing to put down our sticks sharpened for battle. We must be willing to turn to our neighbors and pick them up instead," she said.
Read more: Kyrsten Sinema Defeats Martha McSally in U.S. Senate Race, Becomes First Female Senator From Arizona
Quoting McCain, Sinema called on voters to remember the late senator's words: "But we have always had so much more in common with each other than in disagreement. If only we remember that and give each other the benefit of the presumption that we all love our country, we will get through these challenging times.
"It won't be easy," Sinema said. "And it won't happen overnight, but we can work together to meet the challenges our country faces. We can do this differently. For our country, for our future, for Senator McCain, and for each other, I think we must."
After hearing Sinema's speech, many went to Twitter to thank the senator-elect for giving an "uplifting" and "amazing" victory speech.
Sinema's opponent, Representative Martha McSally, also received praise for her concession speech, in which she wished Sinema success "after a hard-fought battle."