Kyrsten Sinema Slams House Progressives for 'Inexcusable' Infrastructure Vote Delay
Arizona Senator Kyrsten Sinema slammed progressive House Democrats Saturday for holding up a vote on the bipartisan infrastructure bill, calling the delay "inexcusable."
The $1.2 trillion bipartisan bill has widespread support among Democrats and some Republicans. It includes funding for roads and bridges, high-speed internet, rail and transit, drinking water upgrades and other priorities meant to shore up the nation's crumbling infrastructure.
The $3.5 trillion bill, which has been pushed by progressives, funds "human infrastructure," like tackling climate change, expanding medicare and providing free-year community college.
The delay came after progressive and moderate Democrats failed to reach an agreement on the two bills. Progressives said they would not vote to pass the $1.2 trillion bill unless it was linked to the $3.5 trillion bill. Up to 50 House Democrats would have voted to kill the legislation, Congressional Progressive Caucus Chair Pramila Jayapal has said.
Meanwhile, moderate Democrats have pledged to vote against the budget reconciliation needed to pass the $3.5 trillion bill unless the House first voted for the $1.2 trillion bill.
Sinema, who has previously expressed skepticism over the $3.5 trillion price tag, said in a statement that she would never "agree to any bargain that would hold one piece of legislation hostage to another."
"The failure of the U.S. House to hold a vote on the Infrastructure Investment and Jobs Act is inexcusable and deeply disappointing for communities across our country," the statement said. "Denying Americans millions of good-paying jobs, safer roads, cleaner water, more reliable electricity, and better broadband, only hurts everyday families."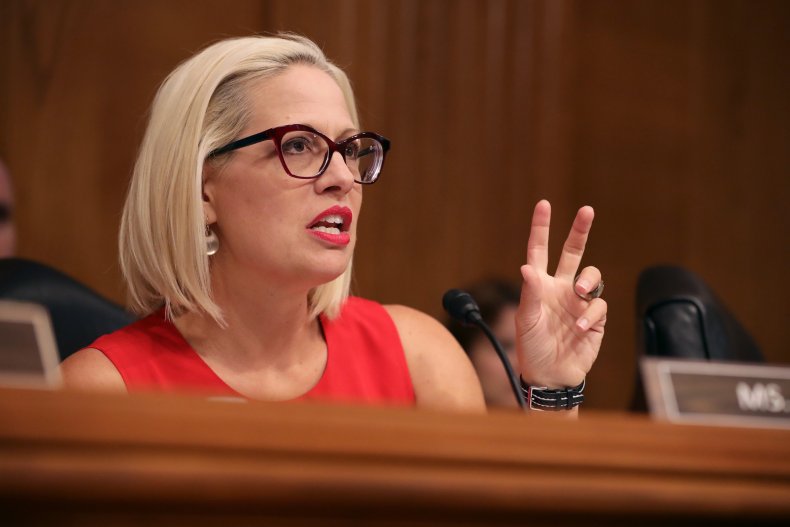 She criticized Democratic leaders, who she said have "made conflicting promises that could not all be kept—and have, at times, pretended that differences of opinion within our party did not exist, even when those disagreements were repeatedly made clear directly and publicly."
She added that canceling the infrastructure vote "betrays" the trust of the American people.
Progressive and centrist Democrats have sought to blame each other for the delayed vote.
Representative Josh Gottheimer, a centrist Democrat who represents a northern New Jersey district, issued a statement Friday criticizing progressives for withholding their vote.
"A small far-left faction of the House of Representatives undermined that agreement and blocked a critical vote on the President's historic bipartisan infrastructure bill," he wrote.
Progressives, including Representative Mondaire Jones of New York, responded. Jones wrote Friday night, "What an odd way of saying 'I'm embarrassed by my failed attempt to force an arbitrary deadline in direct defiance of the Speaker's originally stated plan. I will stop taking the American people hostage moving forward.'"
The bipartisan bill passed the Senate with bipartisan support in August. Nineteen Republicans joined every Democrat in supporting the bill.
The $3.5 trillion bill faces a steep challenge in the Senate, where Sinema and West Virginia Senator Joe Manchin, another centrist Democrat, have raised concerns about it.
In Arizona, Sinema faces opposition from Democrats who have threatened to support a primary challenger against her. Representative Ruben Gallego has been named as a potential challenger.
Newsweek reached out to Sinema's office for comment but did not hear back before publication time.