L.A. Gas Station Nearing $7 for Regular Unleaded Gas, $7.29 for Premium
With gas prices rising, one Los Angeles station's prices are edging toward becoming the highest in the country.
A Shell station off of Olympic Boulevard told Newsweek that its current price for regular gas is $6.99 per gallon, with its premium gas currently at $7.29. Its midgrade gas is just barely less expensive at $7.19 per gallon.
"I don't think we've ever paid that [much for gas] ever," one resident told local news outlet KABC-TV.
According to GasBuddy, a company that tracks fuel prices in the U.S., this price is higher than other prices in the area. For example, a Speedway Express on the same street is reporting regular gas at $4.99 per gallon. The manager of the Olympic Boulevard Shell station was not available for comment on the differences in prices per gallon.
However, this difference in price has long received ire from residents. The station currently has a 1.7 star review out of over 100 ratings on GasBuddy along with a 2.0 on Google Reviews. Many of the reviews left on these sites often say that the price per gallon is too high.
"This station overcharges for gas," wrote one Google user. "Be careful."
"The gas is awfully overpriced here. From my experience, the price is 40% higher than another Shell even one mile away," wrote another.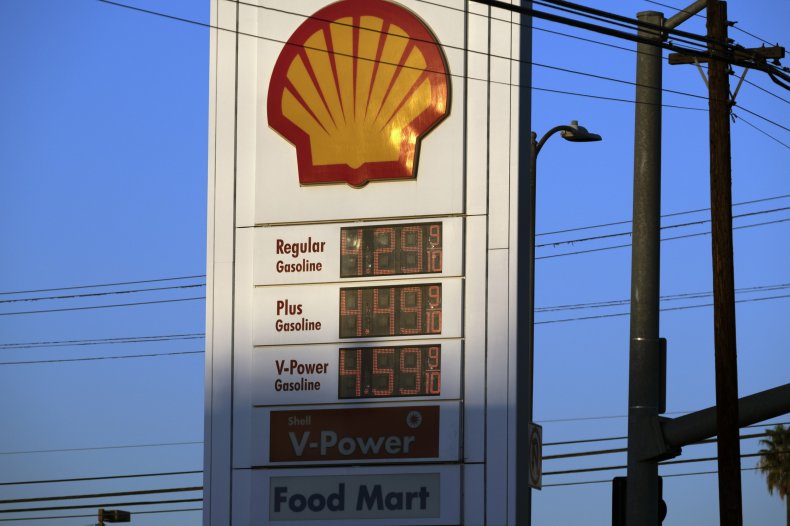 However, this station might not be the only one reporting extreme prices in the coming days. AAA recently said that the average price of gas rose by 8 cents between March 5 and 6 to $4.009. They also said that the current average is quickly reaching the record for highest gas price per gallon of $4.114 recorded in 2008.
"As Russia's war on Ukraine continues to evolve and we head into a season where gas prices typically increase, Americans should prepare to pay more for gas than they ever have before. Shopping and paying smart at the pump will be critical well into summer," said GasBuddy's Patrick De Haan in a statement.
This impact is already being felt nationwide, according to a recent report published by Newsweek. Among the states that have recorded major increases in prices per gallon are Michigan, Georgia and Kentucky. As for California, Newsweek reported that it may continue setting statewide average price records in the weeks ahead.
"You can see how the shockwaves to the global oil market have been almost immediately reflected for consumers here at the pump," AAA spokesman Andrew Gross told Newsweek.
Update at 3/7/22, 1:10 p.m. ET: This story was updated to include additional information.