L.A. Teachers Union Facebook Group Warns Educators Not to Post Vacations Online Due to Bad Optics
A private Facebook group from a teachers union in Los Angeles warned members not to post images of Spring break vacations online after the union voted to remain closed for in-person instruction.
Members of the United Teachers Los Angeles (UTLA) union were told to avoid sharing images of vacations in a leaked private Facebook group to avoid controversy with parents, Fox 11 Los Angeles reported Monday.
"Friendly reminder: If you are planning any trips for Spring Break, please keep that off of Social Media. It is hard to argue that it is unsafe for in-person instruction, if parents and the public see vacation photos and international travel," the post said.
The private Facebook group, called "UTLA FB GROUP-Members Only" has about 5,700 members. UTLA represents teachers across Los Angeles Unified School District, the largest district in the state with about 600,000 students, or roughly 10 percent, of California's public schoolchildren.
The warning came just days after UTLA overwhelmingly voted to remain closed for in-person learning, unless the union's full list of demands are met.
Those demands include that Los Angeles County has less widespread COVID infections, staff are fully vaccinated or provided access to full vaccines, and safety conditions are in put in place, according to the union's website. Los Angeles County is currently in California's purple tier of COVID-19 restrictions, meaning that the area has "widespread" infections with more than an 8 percent positivity rate.
"This vote signals that in these most trying times, our members will not accept a rushed return that would endanger the safety of educators, students, and families," UTLA President Cecily Myart-Cruz said in a statement.
"As much as educators long to be back to in-person instruction, it must be done safely for the sake of students, staff, and families. That has been our guiding principal from Day 1 of this pandemic," Myart-Cruz added.
The voting was conducted from March 1 though 5, with 91 percent of teachers voting to remain closed for in-person instruction, while only 9 percent voted to open. As of Tuesday, it remains unclear when the union's demands could be met.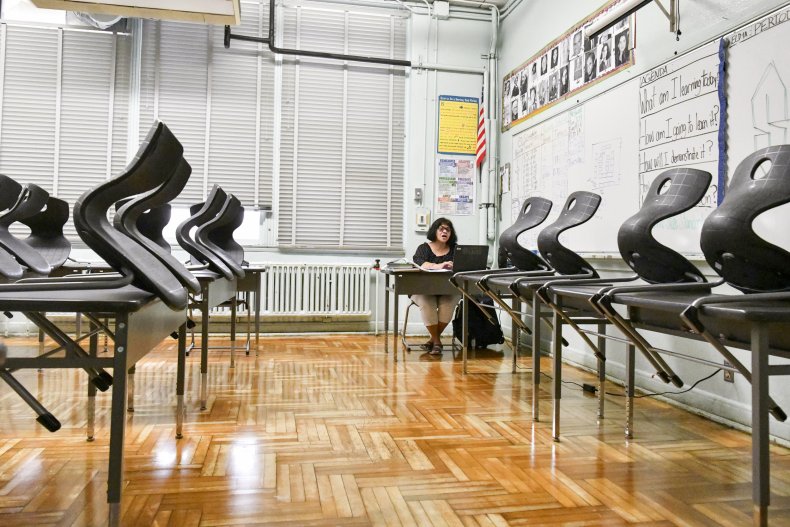 The final vote came just as California Governor Gavin Newsom signed a $6.6 billion plan on March 5 aimed at incentivizing schools to reopen by the end of the month. The bill includes nearly $4.6 billion to assist with supplemental instruction for schools throughout California, and $2 billion to be distributed to schools that reopen for in-person instruction.
The Democratic governor said he is optimistic the legislation "is going to really accelerate openings all across this state," and praised the bill for having "bipartisan support."
"This is the right time to sign this bill, this is the right time to safely reopen for in-person instruction our schools," Newsom said on March 5.
Nonetheless, UTLA slammed the reopening plan as "a recipe for propagating structural racism" by benefiting wealthier, whiter areas with lower infection rates.
"Teaching in a pandemic is not easy. Standing up for students and our most marginalized communities is not easy. But our members continue to do both of these things, day in and day out because that's our job," Myart-Cruz said in statement last week.
On Monday, UTLA responded to the private leaked Facebook group by stating that they "do not want to discourage a robust dialogue" for its members.
"We have a diverse membership and they are able to post their views on personal Facebook pages and in this Facebook group—however UTLA does not monitor nor is responsible for the content. We do not want to discourage a robust dialogue for members in the public square of opinion," the union said in statement to Fox 11 Los Angeles.
As of Tuesday, there have been 1.2 million confirmed cases of COVID-19 in Los Angeles County and 22,041 deaths, according to Johns Hopkins University.
Newsweek contacted UTLA for additional comment but did not hear back in time for publication.