The Los Angeles Dodgers baseball team has, in the space of a week, disinvited, apologized to and reinvited a group of queer activists who dress as nuns to its annual LGBTQ+ Pride event.
The Sisters of Perpetual Indulgence, an "order of queer and trans nuns" who perform community outreach, were due to appear at the tenth annual LGBTQ+ Pride Night at Dodger Stadium on June 16, before their invitation was rescinded following outrage from religious groups.
After the L.A. Dodgers apologized to the group and "members of the LGBTQ+" community, the team faced fresh backlash from those who initially opposed the invitation.
Public inclusion of drag queens has become a key issue in the culture wars, with calls for boycotts of companies that collaborate with them as ambassadors. On Thursday, the city of San Francisco caused a stir after announcing its first drag laureate to champion the local LGBTQ+ community.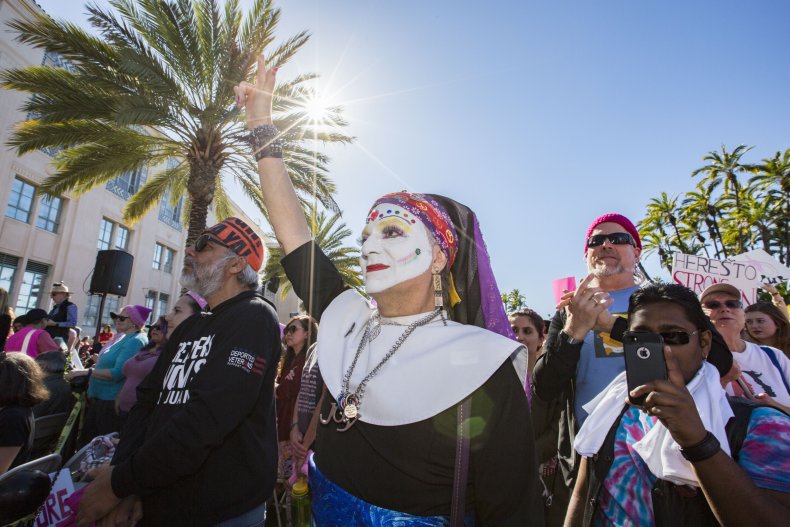 It comes amid a nationwide push by conservatives to restrict LGBTQ+ freedoms, most prominently for transgender individuals as well as drag performers. As of April 25, there were 14 state legislatures considering bills to restrict or ban drag, according to the Gay & Lesbian Alliance Against Defamation.
In a since-deleted press release on May 4, L.A. Pride said the Sisters of Perpetual Indulgence were due to receive a community hero award. Accepting re-invitation to the event, the group said they were "proud" to accept the award.
The Sisters of Perpetual Indulgence have, since 1979 "devoted ourselves to community service, ministry and outreach to those on the edges, and to promoting human rights, respect for diversity and spiritual enlightenment," says the group's website.
However, the group has also performed stunts some Catholics found offensive, including an Easter festival in April which included a "hunky Jesus" contest and a person pole dancing next to another on a cross, according to the San Francisco Chronicle.
News of the invitation drew condemnation from Catholic groups, who decried the group's subversion of ecclesiastical dress.
In a letter to the baseball team on May 16, Brian Burch, president of CatholicVote, a conservative advocacy organization, wrote that he was "extremely disturbed" by the announcement.
He described the Sisters of Perpetual Indulgence as an "anti-Catholic hate group which exists to desecrate and degrade the Catholic faith. Their sole mission is to disgust Christians with the most grotesque acts they can imagine."
Burch added: "If the Dodgers are truly committed to fighting bigotry and promoting inclusivity, as you have often claimed, you must cancel this award."
The following day, Bill Donohue, president of the Catholic League, a civil rights organization, released a statement in which he said the L.A. Dodgers had "besmirched their legacy of combating bigotry," adding: "By rewarding anti-Catholicism, the Dodgers have broken bread with the most despicable elements in American society today."
Marco Rubio, a Republican senator for Florida, also wrote to Major League Baseball Commissioner Rob Manfred, describing the sisters as "men who dress in lewd imitation of Roman Catholic nuns."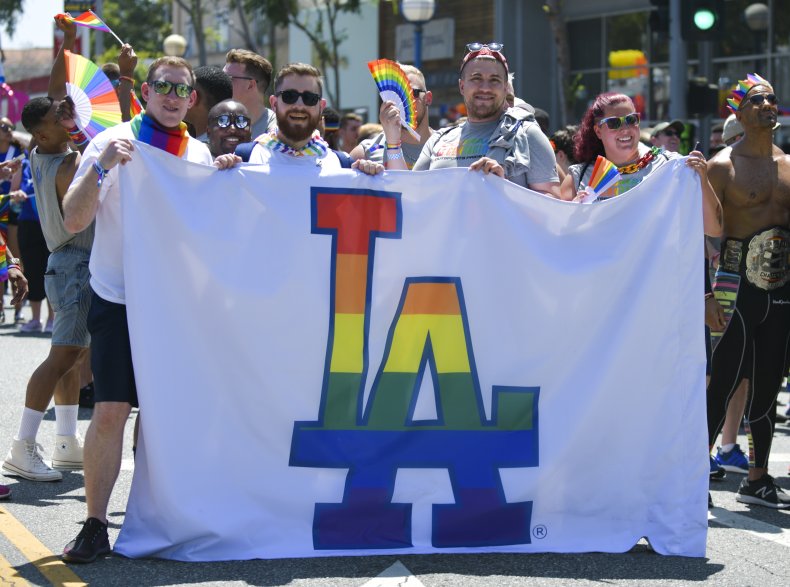 "Do you believe that the Los Angeles Dodgers are being 'inclusive and welcoming to everyone' by giving an award to a group of gay and transgender drag performers that intentionally mocks and degrades Christians—and not only Christians, but nuns, who devote their lives to serving others?" he asked.
Newsweek reached out to the Sisters of Perpetual Indulgence, Major League Baseball, CatholicVote, and the Catholic League via email for comment on Tuesday.
By May 17, the group had been disinvited, being heralded as a "victory" by faith organizations that had complained. Donohue said he had written to Manfred to commend him for "diligence in confronting anti-Catholicism."
"Given the strong feelings of people who have been offended by the sisters' inclusion in our evening, and in an effort not to distract from the great benefits that we have seen over the years of Pride Night, we are deciding to remove them from this year's group of honorees," the L.A. Dodgers said at the time.
The Sisters of Perpetual Indulgence received support elsewhere. On Saturday, Ashleigh Aitken, the mayor of Anaheim, California, invited them to the Los Angeles Angels' own Pride night on June 7.
"Pride should be inclusive and like many, I was disappointed in the Dodgers decision," she added in a tweet.
On Monday evening, the L.A. Dodgers released a statement in which it offered its "sincerest apologies" to the Sisters of Perpetual Indulgence and said it had asked the members "to take their place on the field" after "much thoughtful feedback from our diverse communities."
It added the group had "agreed to receive the gratitude of our collective communities for the lifesaving work that they have done tirelessly for decades."
Shortly after, the Sisters of Perpetual Indulgence released their own statement in which they said members had met with the L.A. Dodgers CEO Stan Kasten, local lawmakers and heads of local LGBTQ+ groups to discuss the controversy.
"We believe the apology is sincere because the Dodgers have worked for 10 years with our community and as well they have asked us to continue an ongoing relationship with them," they said. "In the future, if similar pressures from outside our community arise, our two organizations will consult and assist each other in responding."
Responding to the L.A. Dodgers' statement, Rubio tweeted that the sports team had "shamefully" been "bullied into apologizing."