LA Mayor Faces Backlash For Defunding Police With $150 Million Budget Cut
Los Angeles Mayor Eric Garcetti has angered an L.A. police union representing nearly 10,000 people after Garcetti referred to police officers as "killers" while pledging to remove $150 million from the city police's budget in the coming year.
"We are worried about [Garcetti] and his future and the safety of our citizens. He is clearly unstable," said Jamie McBride, an Los Angeles Police Department (LAPD) detective who sits on the union's board of directors.
While speaking at the First African Methodist Episcopal Church on Thursday, Garcetti said his desire to cut funding came alongside his hopes that the LAPD could make reforms to work on systemic racism that targets black communities.
"[Reform] starts someplace, and we say we are going to be who we want to be, or we're going to continue being the killers that we are," Garcetti said during his speech which was attended by political, community and faith leaders.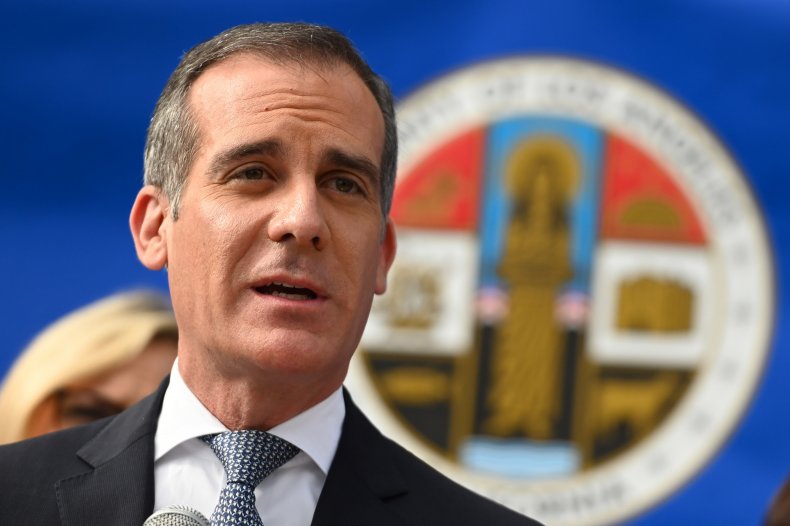 The mayor later clarified his comments, stating, "When I talked about 'killers,' I talked about our collective burden here in this society, that we let black men and women die in this city."
But McBride said he felt as if the mayor's comments "smeared" police officers in L.A. and nationwide.
"Eric, do you really believe that Los Angeles police officers are killers?" McBride said. "The same officers that provide you 24-hour security at your residence 365 days a year? ... The same officers you sent to address your failure to get homelessness under control? I don't think so."
Newsweek reached out to McBride for comment. This story will be updated with any response.
Garcetti announced his plans for police budget cuts on Wednesday, though he didn't specify the areas to receive reduced funding or its potential impact on the police force. He did say he'd like the funds to help improve education, healthcare and job opportunities for the city's black communities.
His decision to reduce the LAPD's funding came after days of protest and pressure from
activists, labor unions and community groups which also held a large demonstration outside of the mayor's residence.
Before the recent wave of nationwide protests began, the LAPD had expected a $120 million increase to its over $1 billion budget. Now, McBride worries a budget cut will endanger the city's citizens.
Speaking with Newsweek on Thursday, Jamani Montague, a member of the national anti-prison-industrial complex organization Critical Resistance, said that the movement to defund law enforcement seeks to replace to the current policing system and judicial incarceration model with "transformative justice," a local-centered approach that manages harm while minimizing negative effects on black communities and others disproportionately targeted by police.