LA Will Cut Water and Power at Large Gatherings After Influencer Parties
Los Angeles Mayor Eric Garcetti has ordered the city to cut off water and power to houses and other venues that host large parties or gatherings in violation of COVID-19 restrictions.
Some California residents, including prominent social media influencers, have continued to host large gatherings despite restrictions aimed at containing the rapid spread of the virus. Bars and nightclubs have been ordered closed but Garcetti said during a Wednesday news conference that some of "those who refuse to follow the science and refuse to follow the rules" had taken it upon themselves to create "nightclubs in the hills" by holding unauthorized house parties.
"Recently we've seen the reports of some large parties and gatherings in flagrant violation of health orders," Garcetti said. "I am authorizing the city to shut off Los Angeles Department of Water and Power service in the egregious cases in which houses, business and other venues are hosting unpermitted large gatherings."
The mayor said that the new policy would go into effect on Friday night. If police respond to a complaint and verify that a large gathering is taking place, those who insist on continuing to hold parties will be notified before having their utilities cut off within 48 hours.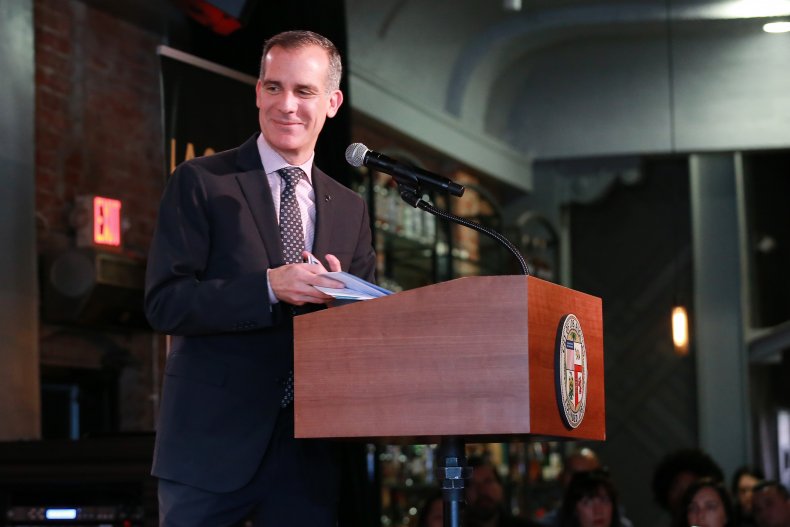 "The consequences of these large parties ripple far beyond just those parties," Garcetti said. "They ripple throughout our entire community because the virus can quickly and easily spread."
Videos recently posted online have depicted prominent social media influencers who reside in Southern California either hosting or attending large parties, with attendees appearing to make no attempt to adhere to preventative measures like wearing face masks or maintaining physical distancing.
City officials in Calabasas, California banned social gatherings after a large party was hosted by influencer Jake Paul last month. Portions of the party can allegedly be seen in a recent music video for Paul's song "Fresh Outta London."
The Los Angeles County Department of Public Health also cautioned against hosting or attending any parties on Wednesday, noting that they are both dangerous and illegal.
"These parties and gatherings with people not in your household hurt all of us," Dr. Barbara Ferrer, the county's public health director, said during a news conference. "Don't host large parties and don't attend a party if you're invited. It isn't worth the risk you run, and it certainly isn't worth the risk you're creating for our collective recovery journey."
Los Angeles has been a major hotspot in California's recent COVID-19 surge. There had been nearly 200,000 cases reported in the county as of Wednesday, with thousands being added each day. Officials say the true number is almost certainly higher due to an ongoing issue with missing data at the state level.
Based on the data that has been reported, California has the most cases of any U.S. state, with around 530,000 cases including almost 10,000 deaths.
Newsweek reached out to Garcetti's office for comment.