Social Media Influencers Keep Posting Videos of House Parties With Nobody Wearing Masks or Social Distancing
In a video posted on Twitter on Tuesday, social media influencer Hunter Ecimovic can be seen at a crowded party where no one appeared to be wearing masks and social distancing guidelines were not being practiced. Ecimovic appears to share a drink with a member of the Canadian comedy team, the Nelk Boys.
Social media personalities have drawn criticism for attending similar parties. Some observers worry that the parties are hotbeds for the asymptomatic spread of the coronavirus. In Tuesday's video, partygoers can be seen dancing and touching each other on the face.
"This is from @HunterEcimovic who has 1.4 mil TikTok followers... the guy at the end has over 3 mil IG followers and 5,8 million YouTube subs," tweeted New York Magazine contributor Yashar Ali on Tuesday.
Warning: the following video contains language which may be offensive to some viewers.
Newsweek reached out to Ecimovic for comment.
In July, a party took place for influencer Larray at the Hype House in Los Angeles. Multiple social media influencers live at the house which has its own TikTok channel boasting over 18 million fans. Footage of the party posted on social media showed attendees failing to observe coronavirus mitigation protocols.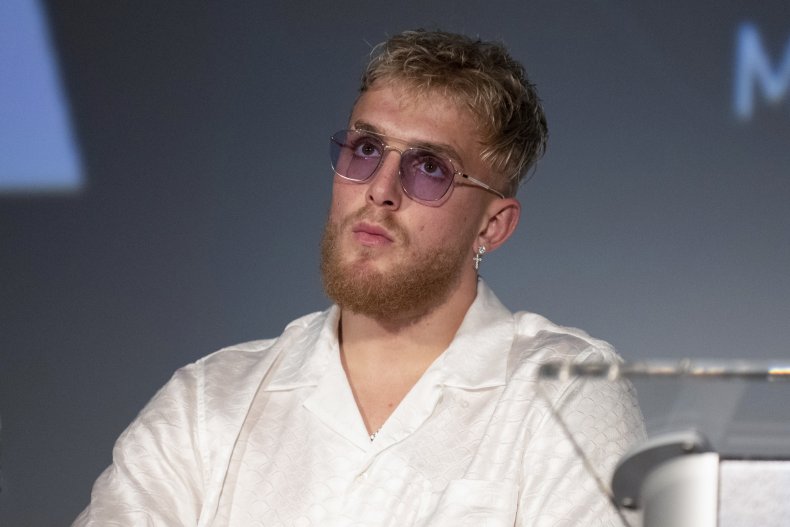 Comedian Elijah Daniel wrote on Twitter that multiple individuals had contracted the coronavirus after the party.
"warning: a lot of influencers have been confirmed to me testing positive for COVID-19 after the influencer parties, like a LOT," Daniel tweeted in July. "And they aren't saying anything & aren't warning people that came in contact with after. If you attended, get tested. yall caused an outbreak. thanks!
YouTube star Jake Paul threw a large party at his mansion in Calabasas, California in July which drew the ire of Calabasas Mayor Alicia Weintraub.
"They're having this large party, no social distancing, no masks," Weintraub told Fox 11 in a July interview. "It's just a big huge disregard for everything that everybody is trying to do to get things back to functioning. It's really just a party acting like COVID does not exist, it's acting that businesses aren't closed."
Scenes from the get-together can allegedly be seen in the music video for Paul's song "Fresh Outta London," which shows crowds of people with no masks. Some individuals can be seen hanging from the bucket of an excavator.
In the wake of Paul's party, the Calabasas City Council voted to prohibit large gatherings. Individuals seen without a face mask inside businesses or in situations where social distancing can be difficult to maintain could be served with a $100 fine.
Paul said in a July interview with Insider that he wasn't sure what to make of the coronavirus.
"No one has answers, our leadership is failing us, and everyone kind of just doesn't know what to do," Paul said. "But I personally am not the type of person who's gonna sit around and not live my life."
California has reported the highest number of positive coronavirus cases in the U.S. with 527,159, according to recent data. On Tuesday, California health officials reported 5,129 new positive COVID-19 cases.